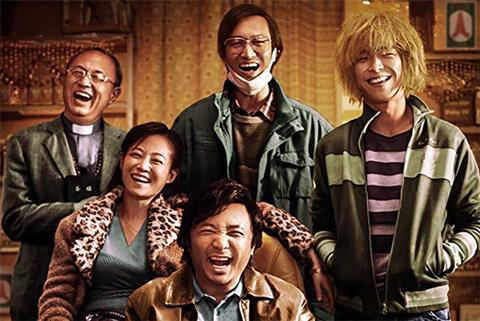 Xu Zheng's Dying To Survive lived up to expectations to be the first Chinese summer blockbuster of 2018 when it amassed $190.1m from its opening weekend.
This represented over 77% of the total box office in the week of Jul 2-8 and brought that week's box office to soar by over 111% week-on-week. Its four-day debut of $190.1m (including previews) is also comparable to the $161m three-day weekend collected by the global launch of Ant-Man And The Wasp.
Dying To Survive also opened 33% higher than Wolf Warriors 2, both based on four-day opening weekends. The latter, Wu Jing's military action drama, opened in the same month last summer (on July 27, 2017) which went on to become (and still is) the highest grossing film in Chinese history.
Dying To Survive, the solo directorial debut of Wen Muye, has connected well with the Chinese audiences in part because of the star power of Lost In Hong Kong actor Xu Zheng (who also produces with Crazy Stone and Crazy Racer director Ning Hao).
But more groundbreaking is its social realist themes, a rare formula for Chinese box office hits. Its success may signal a change of taste in local audiences who tend to embrace action and fantasy films and most often shy away from difficult social issues.
Inspired by a true story, Dying To Survive is quintessentially a social drama, despite some comedic elements, which follows a health supplement merchant who brings in leukemia drugs from India that are considered illicit in China but are more affordable to the patients. He does it initially for the money until he realizes that it is a mission to save lives.
Han Yan's local gambling adventure Animal World, with Li Yifeng and Michael Douglas, dropped to second place with $24.9m for a 10-day total of $61m, while third place went to Universal's Jurassic World: Fallen Kingdom, which added $12.9m for $232.5m after 24 days. The latter has become the second highest grossing foreign film of 2018, after Avengers: Infinity War, and the fifth highest grossing foreign film of all time, surpassing Transformers 5.
Local family animation New Happy Dad And Son 3: Adventure In Russia opened in second place over the weekend but landed in fourth overall. It collected $10m from its first three days, over 30% higher than its second installment in 2016.
Disney/Pixar's Incredibles 2 fell to the fifth with $7.2m for $45.4m after 17 days. Although it is currently the second highest Pixar animation in China, it is still a long way behind champion Coco.
The rest are holdovers: action thriller Escape Plan 2: Hades, with Sylvester Stallone, Dave Bautista and Chinese actor Huang Xiaoming, on $2.6m for $12.7m after 10 days; Xiao Shenyang's comedy The Way Of The Bug on $1.2m for $28.6m after 24 days; local comedy Happiness Is Coming on $0.9m for $12.5m after 31 days; and Wong Kar Wai's 1990 Hong Kong classic Days Of Being Wild on $0.5m for $2.5m after 14 days.
Given its momentum, Dying To Survive will continue to remain the top draw this week. But it will face off against Jiang Wen's highly anticipated Hidden Man which is scheduled to arrive in Chinese cinemas on July 13.