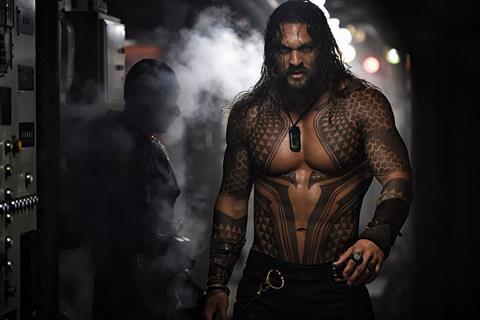 DECEMBER 10 UPDATE: Aquaman surged to the top of the international box office rankings over the weekend thanks to a confirmed $94.2m (RMB 649.1m) haul from China alone that set new opening weekend records.
Ralph Breaks The Internet crossed $250m worldwide, while Venom surged past $850m worldwide, The Grinch crossed $100m internationally, and Mortal Engines launched on $18.1m.
WARNER BROS PICTURES INTERNATIONAL
UPDATED: DC Entertainment's Aquaman tentpole directed by James Wan and starring Jason Momoa, Amber Heard, Willem Dafoe, Patrick Wilson and Nicole Kidman opened on approximately 33,000 3D screens and dominated the Asian giant with 85% market share.
The debut via Warner Bros Pictures International (WBPI) overtook Ready Player One to establish the biggest opening session for a Warner Bros film, as well as a new mark for a DC title. After three days Aquaman has overtaken the lifetime total of Wonder Woman. This was also the biggest December debut, the fourth best for a superhero title, and the fourth best for an imported film this year. The film dives into more than 40 markets this week, including key markets of UK, Russia, Mexico and Brazil.
Fantastic Beasts: The Crimes Of Grindelwald crossed $400m last week and added $22.4m from 80 markets to surge to $425.1m, and $570.5m worldwide. Japan delivered $5.4m in a number one hold to reach $34.6m after three weekends, Germany $3.1m for number two and a $33.3m running total after four, France $2.2m for $28.6m after four, and the UK $1.9m for $37.5m after four. Brazil has generated $15m after four. China remains the lead market on $57.2m.
Creed II grossed $5.2m from 31 for an early $23.2m, fired up by $2.2m in the UK for $8.9m, and $1.2m in Australia for $4.4m, both after two sessions. The next wave of key markets comes in early January. A Star Is Born used a $2.9m session from 57 to reach $173.5m, and $370.6m worldwide. The UK remains the top market on $37.6m, followed by Australia on $22m, France on $15.6m, Germany on $9.4m, Italy on $7.9m, Brazil on $6.6m, Sweden on $6.4m, Spain on $5.3m, and Taiwan on $5.2m. Japan is the final market on December 21. Crazy Rich Asians stands at $64.5m and the top three markets are Australia on $17.5m, the UK on $7.6m, and Indonesia on $5.5m.
FOX INTERNATIONAL
UPDATED: Bohemian Rhapsody soared past $400m thanks to a $28.8m session from 69 markets that propelled the running total to $422.6m and established the drama as the company's second best international performer of the year behind Deadpool 2.
The Freddie Mercury and Queen biopic continued to be in fine voice in South Korea as $5.4m resulted in a number two hold and pushed the tally to $54.3m after six weekends. Italy delivered $4.9m for $13.7m after two, Japan $4.5m for $38.9m after five, France $1.5m for $28.5m after six, Spain $1.4m for $21.3m after six, and Germany $1.2m for $21.1m after six. The UK produced $1.3m for $57.3m after seven, and Australia $1.3m for $25.1m after six.
Steve McQueen's heist drama Widows used $4.5m from 66 to climb to $26.8m. It opened in Germany in seventh place on $484,836, and Indonesia on $328,303 in fourth. France delivered the top hold on $758,272 for $2.4m after two weekends.
UNIVERSAL PICTURES INTERNATIONAL
UPDATED: The Grinch crossed $100m as $28.8m from 59 territories in play elevated the running total to $101.9m. A superb $5.4m number one in Mexico led the nine new territories. Germany was the chief holdover on $3.3m for number two and a $7.7m tally in the second weekend, followed by $2.5m for number two in the UK for $24.9m after four.
In other second weekends, France produced $2.4m for number two for $6.7m, Australia $1.8m for number one for $5.4m, Italy $1.6m for number two for $4m, and Spain $1.3m for number two and $4.3m.
Fantasy adventure Mortal Engines ventured into its first 43 territories for a commendable $18.1m. The top market was Russia with a $4.1m number one bow, and next came South Korea on $1.6m for number five, Indonesia on $1.6m for number one, Taiwan on $1.1m or number two, and Australia on $978,00 for number four.
Action comedy Johnny English Strikes Again has reached $152.9m, while Space Race drama First Man stands at $55.7m.
WALT DISNEY STUDIOS MOTION PICTURES INTERNATIONAL
UPDATED: Ralph Breaks The Internet added $18.5m from 30 material territories to propel the early haul to $117.9m and $258.2m worldwide. A strong start in Spain delivered $4.6m for the second biggest Disney Animation opening in history. The film held on to number one in the UK for the second consecutive weekend, adding $3.1m for $9.4m. The lead market is China on $38.4m, followed by Mexico on $15.1m, then Russia on $12m. The Nutcracker And The Four Realms added $8.5m to reach $99.1m.
LIONSGATE INTERNATIONAL
UPDATED: Adventure Robin Hood starring Taron Egerton added $7.5m from 74 markets to climb to $38.6m and debuted in Spain on $870,000. The lead market is Russia on $4m, followed by the UK on an estimated $3.4m.
SONY PICTURES RELEASING INTERNATIONAL
UPDATED: Venom has crossed $850m worldwide. The superhero film added $1.8m from 43 markets to reach $639.9m internationally from 85 territories, with China the key contributor on $268.3m. The Possession Of Hannah Grace added $5m from 34 for an early $11.8m running total from 45 territories. German local language children's title Tabaluga opened on $946,579 in the territory, and $1.1m including Austria and Switzerland.
PARAMOUNT PICTURES INTERNATIONAL
The Mark Wahlberg and Rose Byrne comedy Instant Family used a $1.7m session from 15 markets to reach $6.3m. After two sessions it has produced $3m in Mexico, $987,000 in Brazil, and $538,000 in the UAE.