Cold War 2 top at Chinese box office between Jul 4 - 10; first time since early February that Chinese films score 1-2-3.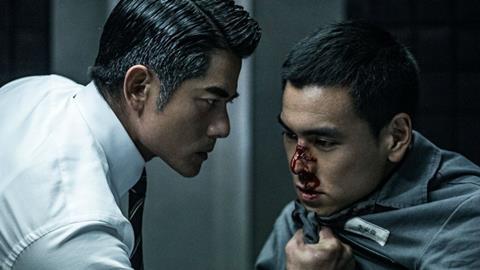 Cold War 2 stormed the box office in the week of July 4 - 10, snatching $44.78m over its three-day opening weekend. The film reunites producer Bill Kong of Edko Films with directors Longman Leung and Sunny Luk.
The Hong Kong crime-action-thriller boasts an A-list cast, including Chow Yun Fat, Aaron Kwok and Leung Ka Fai. Its three-day debut has outperformed its predecessor's final gross in 2012 and the film becomes the first Chinese title to top the weekly chart since late April.
In second place was Big Fish & Begonia, which collected $34.13m from its three-day debut, setting a new record for local feature animations. Distributed by Beijing's Enlight Media, the 3D fantasy-adventure debuted only in third place on its opening day (Friday), but overtook Never Gone on Saturday and Sunday.
Inspired by classic Chinese tales, the animation was 12 years in the making by first-time feature filmmakers Liang Xuan and Zhang Chun.
Never Gone launched in third place with $26.84m from its three-day opening weekend although it received the most screenings among the top three films.
Distributed by Beijing Ruyi Xinxin Film Investment, the youth romance debuted in second place on its opening day (Friday), but dropped heavily on Saturday and Sunday.
It is marketed as a sequel to actress Vicki Zhao's directorial debut So Young, but she is not involved in the new film, which is directed by Zhou Tuoru and stars popular actors Liu Yifei and Kris Wu. Both films are adapted from popular novels by writer Xin Yiwu.
With Cold War 2 in the lead, followed closely by Big Fish & Begonia and Never Gone, a trio of new Chinese films occupied the top three places at the China box office for the first time since Chinese New Year in early February.
Teenage Mutant Ninja Turtles: Out of the Shadows was pushed to fourth with $24.49m after a drop of approximately 2% in its second week. With $50.33m after nine days, it has almost matched the final gross of its predecessor.
Bounty Hunters fell to fifth with $12.53m after a drop of approximately 27% in its second week. The Chinese-Korean action comedy has collected $30.36m after 10 days.
It was followed by Now You See Me 2 with $9.93m for $92.69m (making it the eighth-highest-grossing imported film in 2016) and Independence Day: Resurgence with $6.47m for $73.87m, both after 17 days.
Another new local animation was Rock Dog, which launched in eighth place with $3.92m from its first three days. Distributed by Huayi Bros and directed by Toy Story 2 and Surf's Up's Ash Brannon, the animation is based on a Chinese graphic novel by rock singer Zheng Jun, who is also a producer on the film. An English version for release outside China features the voices of Luke Wilson and Eddie Izzard.
Rounding up the weekly chart were So I Married An Anti-Fan with $3.27m for $12.03m after 11 days and Finding Dory with $1.57m for $37.83m after 24 days.
Last week's box office surged by approximately 25% thanks primarily to the top three films, which amassed over $100m when combined. The ascent will continue as more local releases are rolling out for the summer blockbuster season. This week's new releases include When Larry Met Mary, Tik Tok, For A Few Bullets and Kaili Blues, all scheduled for July 15.