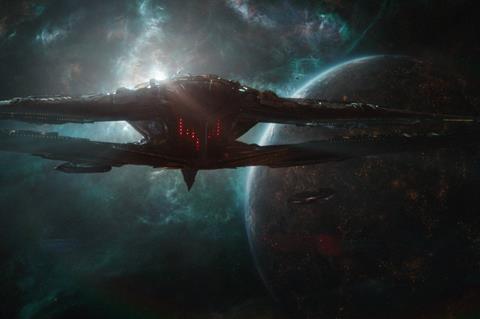 MAY 6 UPDATE: After destroying the North American opening weekend box office record, Avengers: Endgame followed that up with the second highest second weekend ever as $147.4m propelled the running total to $621.3m.
The Marvel Studios smash ranks just behind 2015 release Star Wars: The Force Awakens ($149.2m) in the second weekend pantheon, and stands as the ninth highest release of all time in North America. It overtook Star Wars: The Last Jedi on $620.2m and on Monday will surpass The Avengers on $623.4m to rank seventh. Endgame is knocking on the door of the elite $700m-plus club occupied thus far by only three films – Star Wars: The Force Awakens on $936.7m, Avatar on $760.5m, and Black Panther on $700.1m.
While Endgame continued to storm ahead, there were mixed fortunes for a trio of new releases. The $8m thriller The Intruder starring Michael Ealy, Meagan Good and Dennis Quaid led the way on a solid debut through Screen Gems in second place on $10.9m from 2,222 theatres.
Rom-com Long Shot starring Seth Rogen and Charlize Theron opened at number three on $9.7m from 3,230 venues, and tells of a journalist who reunites with his first crush, who is now running for president. STX's first original animation Uglydolls disappointed in a number four launch on $8.6m from 3,652. It reportedly cost $45m to produce excluding marketing costs. Kelly Clarkson, Nick Jonas, and Pitbull are among the voice cast.
Captain Marvel ranks fifth on $420.8m after nine weekends, and Fox's faith-based drama Breakthrough in sixth reached $33.2m after three. Tom Ortenberg's Briarcliff Entertainment released Spanish-language East LA drama El Chicano in 11th place on $700,261 from 605 theatres. Kate del Castillo and Adolfo Alvarez star.
Top 12 box office reached $195.1m after a 51% drop against last weekend's record-breaking heroics, and gained 20.4% on the corresponding weekend in 2018, when Avengers: Infinity War stayed top to reach $453.1m in its second session.
This week's wide releases are: Pokemon Detective Pikachu through Warner Bros and led by a voice cast featuring Ryan Reynolds; United Artists Releasing's comedy The Hustle starring Anne Hathaway and Rebel Wilson; STX's comedy Poms with Diane Keaton, Pam Grier, Jacki Weaver, and Rhea Perlman; and Fox Searchlight's biopic Tolkien with Nicholas Hoult in the lead role as fantasy author J.R.R. Tolkien.
Confirmed top 10 North America May 3-5, 2019
Film (Dist) / Conf wkd gross / Conf total to date
1 (1) Avengers: Endgame (Buena Vista) Walt Disney Studios Motion Pictures International $147.4m $621.3m
2 (-) The Intruder (Sony) Sony Pictures Releasing International $10.9m –
3 (-) Long Shot (Lionsgate-Summit) Lionsgate International $9.7m –
4 (-) UglyDolls (STX) STXinternational $8.6m –
5 (2) Captain Marvel (Buena Vista) Walt Disney Studios Motion Pictures International $4.3m $420.8m
6 (4) Breakthrough (Fox) Fox International $3.9m $33.2m
7 (3) The Curse Of La Llorona (Warner Bros/New line) Warner Bros Pictures International $3.7m $48.3m
8 (5) Shazam! (Warner Bros/New line) Warner Bros Pictures International $2.5m $135.2m
9 (6) Dumbo (Buena Vista) Walt Disney Studios Motion Pictures International $1.5m $109.8m
10 (7) Little (Universal) Universal Pictures International $1.4m $38.5m