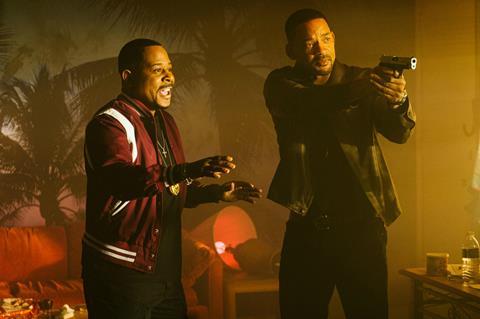 After a 17-year break Columbia Pictures introduced the latest instalment in the Bad Boys action franchise and reaped early rewards as Bad Boys For Life set a franchise-best $38.6m to lead the weekend's international box office.
Awards season heavyweight 1917 climbed to $62m internationally and $139m worldwide through Universal and Amblin Partners in the second session, while Universal's Dolittle stands on the cusp of $50m globally.
SONY PICTURES RELEASING INTERNATIONAL
Will Smith and Martin Lawrence returned to the Bad Boys action franchise after a 17-year break and the results were highly encouraging as Bad Boys For Life set a franchise record $38.6m international bow. That complemented the $59.2m number one North American debut and both sets of results contribute to an estimated $97.8m global weekend.
The action thriller swept into Germany on $5.1m including previews for top spot, and in other table-topping performances arrived in the Middle East on $5.1m (and number one in all 12 markets), Australia on $3.9m, Mexico on $3.8m, and Spain on $2.2m. Bad Boys For Life opened in South Korea, Taiwan and Indonesia on $3.2m over five days, $1.7m and $1m, respectively. Upcoming key markets include France on January 22, Russia on January 23, Brazil on January 30, Japan on January 31, and Italy on February 20.
Columbia Pictures' Jumanji: The Next Level has grossed $709m at the worldwide box office and $438m internationally. Markets outside North America delivered $17m with a Brazilian debut earning $4.3m to finish 10% ahead of that of Jumanji: Welcome To The Jungle.
The UK leads the pack on $42.6m, followed by China on $41.2m, Australia on $28.5m, France on $24.6m, and Germany on $23.1m.
Little Women, which picked up six Oscar nominations last week, used a $6.2m weekend to climb to $44.3m internationally led by the UK on $21.3m, Australia on $7.9m, Spain on $4.4m, Italy on $4m, and France on $3.5m. The period drama stands at $128.7m worldwide. The Grudge from Screen Gems and Stage 6 added $4.1m for an early $16m. The UK is the next major debut on January 24.
UNIVERSAL PICTURES INTERNATIONAL
1917, Saturday night's winner of the best film at the Producers Guild of America awards, brought in another $26.1m through Universal and Amblin Partners territories over the weekend as the international tally climbed to $61.9m and worldwide added $48.2m for $138.7m.
Universal territories contributed $8.6m for a $9.3m running total, fired up by a $3.9m number one debut in France, a $1.9m number two debut in Germany, and a $1.4m number two launch in Mexico.
Amblin Partners territories accounted for $17.5m weekend as the tally rose to $52.7m. In a cluster of second weekend results in territories handled by eOne, the First World War thriller stayed top in the UK on $8.4m following a 13% drop for a $24.5m running total; added $2.5m in Australia to reach $7.2m and rank second; added $1.6m in the Netherlands for $3.9m to rank number one; and added $1.5m in Spain for $4.3m to rank second.
Dolittle, the family release starring Robert Downey Jr that has been assailed by damning reviews, coaxed $17.2m out of international audiences to push the early tally to $27.3m and worldwide to $49.8m.
It opened in 42 markets this weekend as Australia led the way with a $2.4m number three debut, followed by Indonesia on $2.1m in first place, Middle East on $960,000 in second, Colombia on $887,000 in first, and India on $882,000 in first. South Korea was the top holdover on $2.3m for $10.6m after two sessions, while Ukraine has generated $1.9m after two.
WALT DISNEY STUDIOS MOTION PICTURES INTERNATIONAL
Star Wars: The Rise Of Skywalker grossed $10.9m for $534.6m internationally. The sci-fi spectacle that crossed $1bn worldwide last week stands at $1.026bn at the global box office. Frozen II brought in a further $12m internationally to boost the tally to $936.2m, and worldwide to $1.401bn.
Spies In Disguise from Blue Sky Studios earned $8.3m for $74.2m as the global running total reached $132.6m. Jojo Rabbit from the recently rebranded Searchlight Pictures added $4.4m for an even $20m at the international box office, powered by debuts in Italy ($900,000), Spain ($600,000) and Japan ($600,000). The UK has generated $7m after 19 days. Ford V Ferrari from 20th Century Studios stands at $102.9m internationally and $215.8m worldwide.
LIONSGATE INTERNATIONAL
Knives Out earned $3.3m internationally for a $131m running total, and $277m worldwide after eight weeks. The whodunnit added $1.4m in Germany where it ranks third and climbed to $6.8m after three weekends. China, the UK and Australia are the top three markets on $28.1m, $16.3m and $8.9m, respectively, and Japan will be the final market to open on January 31.
WARNER BROS PICTURES INTERNATIONAL
Clint Eastwood's drama Richard Jewell added $3.2m from 37 markets for $8.8m and stands at $30.9m worldwide. Italy is the lead market on $1.3m. Miscarriage of justice drama Just Mercy earned $1.3m from international markets, grossing $718,000 in the UK debut, $205,000 in its Dutch bow, and $139,000 from the first weekend in Taiwan. The film stars Jamie Foxx, Michael B. Jordan and Brie Larson and stands at $20.9m worldwide.
MIRAMAX INTERNATIONAL
Gangster caper The Gentleman grossed $2.5m over the weekend, raising the running total to $18.4m from its first three markets. At this stage, Miramax International sources said Guy Ritchie's film tracks 63% ahead of The Man From U.N.C.L.E., 51% ahead of The Hitman's Bodyguard, and 11% ahead of Knives Out.
The film added $1.5m for $10.4m in the UK via Entertainment Film to rank third; $906,000 for $7.2m in Australia through Roadshow; and stands at $800,000 in New Zealand. The Gentlemen opens in Middle East on January 24 through Eagle (Jan 24) and arrives in Taiwan on the same day through Moviecloud.