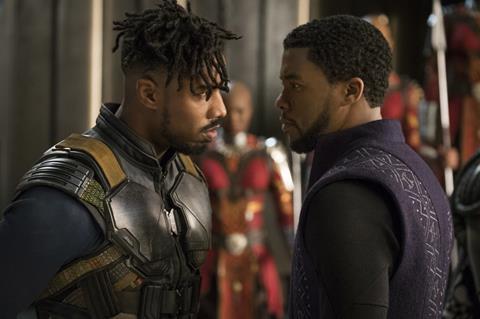 Marvel Studios' Black Panther scored the highest Monday in history at the North American box office as $40.167m beat Star Wars: The Force Awakens on $40.110m.
Over the four-day President's Day weekend the superhero spy thriller grossed $241.964m to overtake Star Wars: The Last Jedi on $241.566m and rank as the second highest four-day weekend behind the aforementioned Star Wars episode on $288.1m.
Through the end of Monday Black Panther's global tally stood at $426.6m.
THREE-DAY WEEKEND REPORT: Marvel Studios' Black Panther delivered a colossal three-day North American opening weekend on an estimated $192m that ranks as the highest February launch and fifth highest three-day launch of all time.
Disney sources estimated that by the end of the four-day Presidents' Day holiday weekend the tentpole will have grossed $218m. The three-day portion alone combines with $169m from 69% of the international footprint for a $361m global debut.
In other notable achievements, Black Panther becomes the 18th Marvel Cinematic Universe release to debut at number one, and the 10th to open on more than $100 in North America.
Ryan Coogler directs Chadwick Boseman as T'Challa the king of Wakanda aka Black Panther. A sterling cast includes Michael B Jordan, Lupita Nyong'o, Danieal Kaluuya, Letitia Wright, Angela Bassett, Forest Whitaker, Martin Freeman, and Andy Serkis.
Elsewhere, Peter Rabbit held firm in second place following a 31% drop in its second weekend on $17.3m for $48.2m through Sony, while Universal's Fifty Shades Freed tumbled 56.1% and two slots to number three on $16.9m for $76.1m after two.
Lionsgate's animation Early Man opened poorly in seventh palce on $3.2m from 2,494 theatres, while Pure Flix opened its Biblical epic Samson at number 11 on a $1.9m from 1,249 venues.
Box office for the top 12 amounted to $260.5m and unsurprisingly gained 118.1% on last weekend. Compared to the same weekend in 2017, the top 12 climbed 92%.
This week's wide releases are: Warner Bros' action-comedy Game Night with Rachel McAdams and Jason Bateman; and Paramount's sci-fi horror Annihilation from Alex Garland starring Tessa Thompson and Natalie Portman.
Estimated top 10 North America February 16-18, 2018 / February 16-19, 2018
Film (Dist) / Est wkd gross / Est total to date
1 (-) Black Panther (Buena Vista) Walt Disney Studios Motion Pictures International $192m – / $242.2m –

2 (2) Peter Rabbit (Sony Pictures) Sony Pictures Releasing International $17.3m $48.2m / $23.4m $54.4m
3 (1) Fifty Shades Freed (Universal) Universal Pictures International $16.9m $76.1m / $19.4m $78.6m
4 (4) Jumanji: Welcome To The Jungle (Sony) Sony Pictures Releasing International $7.9m $377.6m / $10m $379.7m
5 (3) The 15:17 To Paris (Warner Bros) Warner Bros Pictures International $7.7m $25.4m / $8.9m $26.7m
6 (5) The Greatest Showman (Fox) Fox International $5.1m $154.5m / $6.5m $155.9m
7 (-) Early Man (Lionsgate) Lionsgate International $3.2m – / $4.3m –

8 (6) Maze Runner: The Death Cure (Fox) Fox International $2.5m $55m / $3.2m $54.7m
9 (7) Winchester (Lionsgate/CBS Films) $2.2m $21.9m / $2.6m $22.2m
10 (8) The Post (Fox) Amblin/Universal $1.9m $76.6m / $2.4m $77m