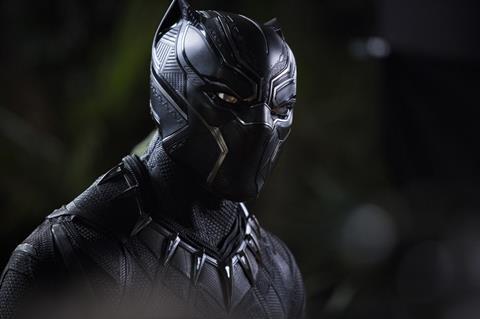 MARCH 9 UPDATE: Black Panther was on course for an estimated $22.7m Friday opening day in China (March 9) as Disney sources said the superhero adaptation had reached $940.3m worldwide. At this rate, crossing the $1bn global milestone on Saturday looks like a strong possibility.
The running total does not reflect the early China estimates, and comprises a $419.5m from international and $520.8m from North America.
Including China, the film has grossed $442.2m internationally and $963m worldwide, leaving it some $37m short of the $1bn milestone with most of its China run to come.
If estimates hold up, the China opening day would rank as the third highest opening day for a Marvel Cinematic Universe and superhero title, behind Avengers: Age Of Ultron and Captain America: Civil War, and around the same level as Spider-Man: Homecoming.
Latest tallies put the UK on $51.5m, South Korea on $41.9m, Brazil on $27.1m, Australia on $23.4m, and France and Mexico on $23m apiece.
According to early reports on Thursday evening, the film had taken more than $10m from its first morning in China (March 9), placating fears that a film with predominantly black cast and black themes might not fare well in the territory.
The Marvel Studios smash will cross $1bn on Saturday. None other than Disney chief Bob Iger predicted it would cross the mark this weekend in a call with shareholders on Thursday morning.
China was always going to play a big part in the film's final gross if it connected with audiences and on the basis of this early evidence it may well do so, in which case the film's international box office will finish the weekend close to the North American tally, if not ahead.
Without any comparisons it has been hard to predict what Black Panther can achieve. There are no data points and the evolving nature of the Chinese audience itself has made the task even more challenging. This is a test case, albeit one that appears to be showing positive signs.
Disney's other hit factory, Pixar, continues to deliver results with Coco, which could receive a boost this weekend after its Oscar best animation feature win. The Mexico-set tale stands at $534.3m.
Speaking of Oscar winners, Fox International's The Shape Of Water took home four awards including best picture and director and is poised on $72.9m as it ventures into a handful of Middle Eastern markets. Three Billboards Outside Ebbing, Missouri won two acting trophies for Frances McDormand and Sam Rockwell and stands at $81.5m.
Universal Pictures International's Phantom Thread – an Oscar winner for best costume design – has reached $19.1m, while Fifty Shades Freed is strong internationally on $255.9m in contrast to its North American fortunes.
Darkest Hour starring Oscar winner Gary Oldman has grossed $85.2m, Lady Bird has delivered $13m and The Post $26.5m from Universal markets.
From Sony Pictures Releasing International, Jumanji: Welcome To The Jungle stands at $537.7m, and Peter Rabbit $21.5m.