SCREEN SUBSCRIBERS: The top 40 foreign-language films at the US box office to date in 2015 and how they have performed.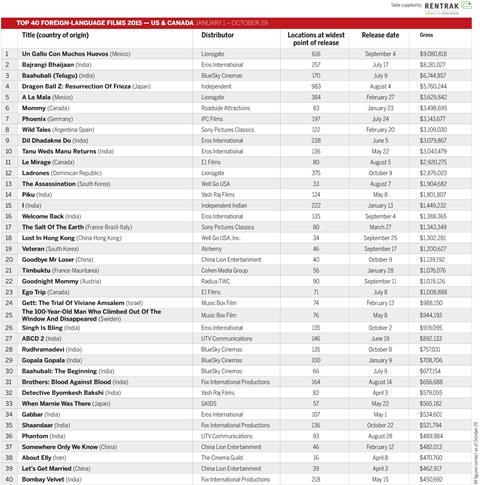 Scroll down for 'The new look of US distributors buying foreign films'
The US market for foreign-language films is really two markets: one for broad-appeal films aimed at diaspora audiences of, for the most part, Hispanic Americans, Indian Americans and other Asian Americans; the other for specialised films aimed at an upmarket English-speaking arthouse crowd.
And as the chart of 2015's top foreign-language films to date in the US and Canada shows, the diaspora market accounts for the lion's share of box-office business.
This year's biggest hits with Spanish, Hindi and Mandarin-speaking audiences have included computer-animated Mexican family comedy Un Gallo Con Muchos Huevos (with a gross of $9.1m), Indian blockbuster Bajrangi Bhaijaan ($8.2m), Mexican romantic comedy A La Mala ($3.6m), South Korean crime drama Assassination ($1.9m) and Chinese comedy Lost In Hong Kong ($1.3m).
While Chinese and Mexican films have only recently begun to make a mark, Indian movies have been gaining ground in the US for the past decade, says Boxofficeguru.com's Gitesh Pandya, who consults on Indian releases in the US: "There's been a steady upward trend. Six or seven years ago the biggest Bollywood films would open in about 80 theatres [in the US]; today the same kind of films routinely open in north of 250 theatres."
Few foreign-language films have broken out in the US in the way of Crouching Tiger, Hidden Dragon (which took $128.1m in 2000), Life Is Beautiful ($57.6m in 1998) or Amélie ($33.2m in 2001).
But the US arthouse market still supports a number of smaller successes each year, with films from France, Italy and Spain being among the more reliable performers.
And those successes are now achieved both during the autumn and winter, when foreign-language releases benefit from awards season attention but have to compete with upmarket studio films, and during the summer, when they act as counter-programming to studio blockbusters.
So far in 2015, the best specialised performers have been Xavier Dolan's French-language drama Mommy, Canada's submission for the 2014 foreign-language Oscar (with a gross of $3.5m); German summer release Christian Petzold's Phoenix ($3.1m); Damian Szifron's Wild Tales, the Argentinian comedy nominated for the 2014 Oscar ($3.1m); Abderrahmane Sissako's Timbuktu, Mauritania's 2014 Oscar nominee ($1m); and horror-thriller Goodnight Mommy, Austria's submission for this year's Oscar ($1m), directed by Severin Fiala and Veronika Franz.
The year's foreign-language disappointments have included Tangerines, the Estonian war story nominated for the 2014 Oscar (which took $144,501 during its spring run), and A Pigeon Sat On A Branch Reflecting On Existence, the Venice 2014 Golden Lion winner and Sweden's submission for this year's Oscar (just $222,989 last summer).
Oscar recognition can clearly benefit foreign-language films in the US (Leviathan, another 2014 nominee, opened just after the nominations shortlist was revealed and took a solid $1m) but it is not a requisite for box-office success —last year's Oscar winner Ida took its $3.8m in the early summer, months before the nominations announcement (though after the Polish drama won best film at the BFI London Film Festival and Toronto's International Critics' Award).
What Oscar recognition does most efficiently, suggest foreign-language film players, is shine a light on films that otherwise might struggle to get noticed. When it comes to creating audience awareness, says publicist and awards strategist Fredell Pogodin, the effect of a nomination is immeasurable. "You get to include that in the ads and it's mentioned in the reviews," she says.
And over the past decade, argues Sony Pictures Classics (SPC) co-president Michael Barker, Oscar attention "has become more and more important. The Academy really gives these films a profile when the public is only looking for one, two or three foreign-language films every year."
Who is buying?
Of the 81 films submitted for this year's foreign-language film Oscar, most of those considered prime contenders have already been snapped up by the dozen or so leading US distributors that work the arthouse foreign-language film market.
Distributors insist, though, the likelihood of an Oscar submission or nomination isn't a major consideration when it comes to making buying decisions.
SPC is a longstanding foreign film champion that this year has rights to Hungarian submission Son Of Saul and German entry Labyrinth Of Lies, but Barker says: "We've never picked up a foreign-language film for the sole reason that it has an opportunity to be nominated for the Oscar."
Rather, says Barker, SPC looks for projects "that we think can gain an audience, whether it's a niche audience or an audience that can grow."
He adds: "We're an auteur-driven company, so we look for film-makers that we really love and try to stick with them. But we also look for new directors and things that are fresh and different."
Magnolia Pictures, US distributor of Danish submission A War, Ireland's Viva, Norway's The Wave and Sweden's A Pigeon Sat on A Branch Reflecting On Existence, has a similar attitude. "It's nice when that recognition happens but it's not really part of the equation," says Dori Begley, the company's SVP of acquisitions.
Magnolia, in other areas a proponent of collapsed-window releasing, acquires foreign films, says Begley, "if we feel critics are going to support them, if they're going to get good word of mouth and if they're suited to a traditional theatrical release in the US."
On the festival circuit
Distributors do most of their foreign-language film shopping at the Cannes, Berlin and Toronto festivals, but some make additional buys out of smaller festivals in the US (Palm Springs, Mill Valley and SXSW for example) or overseas (where favourite hunting grounds include Karlovy Vary and Locarno).
Many also use their relationships with international producers and sales agents to dig out potential acquisitions between festivals.
"We've bought films from just about every sales company around the world," says Richard Lorber, co-founder of Kino Lorber, distributor of this year's Guatemalan submission Ixcanul as well as Palestine's The Wanted 18 and Portugal's Arabian Nights: Volume 2, The Desolate One. "Sales agents provide a level of curation that helps guide us to films we think are going to be worthwhile," says Lorber.
And while some distributors pre-buy - SPC on a regular basis, others just occasionally - most still wait to see a finished film before signing the cheque.
"If we want to continue calling ourselves a taste-driven company, we have to know what we have at all times," says Dan Berger, president of Oscilloscope Laboratories, whose 2015 Oscar-submitted acquisitions are Brazil's The Second Mother, Canada's Félix And Meira and Colombia's Embrace Of The Serpent.
SPC is unusual in that it sometimes - as it did with Son Of Saul - buys a film for multiple territories and uses studio parent Sony's worldwide distribution operation to release outside North America.
Independent distributors usually buy just the US or the US and Canada, a territory that can produce an incremental addition to a film's box-office take and provide TV sales opportunities that no longer exist in the US.
When it comes to releasing strategies, US distributors have learnt to be opportunistic. Though autumn was once seen as the foreign-language film season, it has now become "really the most difficult time", says Ed Arentz, managing director of Music Box Films, which is releasing Spain's Oscar entry Flowers and Chile's The Club.
"Because you have studio releases attempting to appeal to an older audience and being positioned for awards consideration; that takes up screen space."
Over the past decade, says Arentz, "summer has emerged as a really strong time to open [foreign films] because the studios are largely neglecting the older adult audience".
How much of an opportunity VoD represents in the US foreign-language film market is still up for debate. Early VoD releasing may sometimes work for US indie films, but when foreign-language films try to compete on crowded digital platforms "you don't have the curatorial aspects that are often associated with a film playing in a theatre", says Berger. "So people are maybe a little warier about taking a chance."
At the same time, says Lorber, "exhibitors who continue to support foreign-language films are possibly fearful of eroding their audience base and feel that they have to protect the exclusiveness of the theatrical experience."
What VoD may do in the longer term is expose more people to library titles, introduce younger viewers to foreign-language films and replace a once significant source of income for foreign-language film distributors.
Says Barker: "We're still hoping that revenue from the VoD market will outstrip what the revenues were from DVD sell-through, which was a really strong market 10 years ago."
The new look of US distributors buying foreign films
Sony Pictures Classics
Co-founders and presidents Michael Barker and Tom Bernard have run this autonomous division of Sony Pictures Entertainment for 23 years.
Their pedigree and buying clout allows them to snap up the most high-profile foreign-language films from international festivals. Executive vice-president of production and acquisitions Dylan Leiner attends festivals alongside Barker and Bernard.
Recent acquisitions include Son Of Saul, Our Little Sister and Labyrinth Of Lies. Titles are released on DVD and VoD through Sony Home Entertainment and Sony Television, with SPC retaining control over all marketing decisions.
Oscilloscope Pictures
The film distribution arm of parent company Oscilloscope Laboratories. President Dan Berger runs the distribution company, which was set up in 2008.
Recent acquisitions include The Second Mother, Félix And Meira, Embrace Of The Serpent, The Wonders and The Vanished Elephant.
Oscilloscope tends to buy finished films at festivals, usually travelling to Sundance, Berlin, SXSW, Cannes, Toronto, and AFM with Berger and head of acquisitions Aaron Katz.
The company typically releases films with a New York City and Los Angeles premiere followed by the next top 10 to 50 markets, with VoD and digital content following.
The Cinema Guild
Documentary and feature producers Philip and Mary-Ann Hobel launched the theatrical distribution arm in the early 2000s. Acquisitions are led by manager Ryan Krivoshey.
Recent acquisitions include Jauja, About Elly, The Princess Of France and Horse Money.
The Cinema Guild does not tend to pre-buy; most of its purchases occur during festivals, particularly Cannes and Toronto.
The Cinema Guild follows a traditional theatrical model of New York and Los Angeles followed by the next top 50 markets. DVD and VoD follow four to five months later.
Sundance Selects/IFC Films
Founded in 2000, IFC Films is owned and operated by AMC Networks, with Jonathan Sehring the long-time president of both Sundance Selects and IFC Films.
Sundance Selects, established in 2009, is a separate label, alongside IFC Films, which specialises in prestige and foreign-language releases.
Recent IFC Films acquisitions include Mediterranea, Dheepan, Tale Of Tales and Baskin.
Depending on the film, Sundance Selects/IFC Films is open to a wide range of financing, pre-buying and also acquiring finished films at Sundance, Berlin, Cannes, Toronto and AFM.
Sundance Selects/IFC Films tailors method and medium of release for each film individually, ranging from a New York/Los Angeles release to pre-theatrical VoD or day-and-date.
Music Box Films
Independently owned and operated by the Southport Music Box Corporation, Music Box Films, founded in 2007, is run by co-founders, company president William Schopf and managing director Edward Arentz.
Recent acquisitions include The Club, Francofonia and Monster With A Thousand Heads.
Music Box does a very limited number of pre-buys, with most acquisitions being completed films bought during or just after festivals.
Schopf and Arentz usually attend Sundance, Berlin, Cannes, Toronto, AFM, Palm Springs International Film Festival, Mill Valley Film Festival, Seattle International Film Festival and Ventana Sur Film Market annually and are occasional visitors to Karlovy Vary, Gothenburg, Rotterdam and Haugesund Film Festival.
The majority of releases begin with New York and Los Angeles followed by the next 50 markets.
Music Box Films handles DVD releases in-house, about 100 days after a theatrical run. Subscription VoD generally follows VoD by 60 days.
Cohen Media Group
Company president Daniel Battsek oversees acquisition, production and distribution alongside chairman and CEO Charles Cohen.
Recent acquisitions for the company, which was founded in 2008, include Mustang and Rams.
The company attends Sundance, Berlin, Cannes and Toronto, and releases its films with a New York/Los Angeles platform followed by a top 10 market roll-out. VoD releases to cable and satellite are handled in-house.