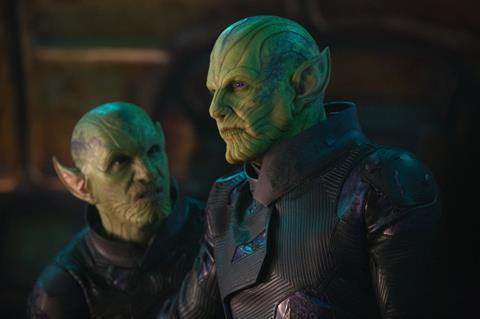 Captain Marvel stands at shot at reaching the $900m global box office mark by the end of the weekend as it enters its third session on $825m as the 16th highest superhero film of all time on the box office pantheon.
Through the end of Thursday (21) the Marvel Studios tentpole stood at $538.6m internationally, and $286.4m in North America. Industry insiders said on Friday that while there was a chance the film starring Brie Larson would hit $900m, it was likely to at least cross $895m.
Walt Disney Studios Motion Pictures International executives reported that China remains the lead market on $138.8m. Next comes South Korea on $38.2m through the end of Thursday, followed by the UK on $34.3m, and Brazil on $27.1m.
Mexico has generated $26.5m, Australia $19.9m, Indonesia $17.6m, Russia $17.2m, France $16.4m, Germany $15.5m, India $13.1m, and Taiwan $10.5m. On Thursday Captain Marvel overtook the final global box office of Spider-Man ($822m) and Wonder Woman ($822m). Disney's Ralph Breaks The Internet has grossed $325.8m internationally.
Bohemian Rhapsody opens in China this weekend and it will be intruiging to see how local audiences receive the Freddie Mercury drama, which reached $664.8m through the end of Tuesday through Disney-owned Fox International.
Alita: Battle Angel stands at $313.8m, and The Kid Who Would Be King $11.9m ahead of debuts in Thailand, Singapore, South Africa, and Laos. Keira Knightly postwar drama The Aftermath opens in Italy, Malaysia, Chile, and Lebanon. War film Balkan Line featuring Emir Kusturica opens in Russia.
Warner Bros Pictures International's The LEGO Movie 2: The Second Part has amassed $71.7m and executives will look to build the foundations of sold performances in China and Australia where it launches this weekend. Aquaman stands at $812.2m, The Mule $61m, and A Star Is Born $218.4m.
Universal Pictures International launches Us, Jordan Peele's recent SXSW world premiere and follow-up to Get Out, day-and-date with North America in 48 markets including the UK, France, Germany, Spain and Brazil and it is expected to generate a total gross in the low teens.
When Get Out opened in the UK it took $2.6m in its first weekend en route to $12.7m. Germany delivered an opening weekend of $1.7m and finished on $5.1m, France $2.7m for $9.1m, Spain $1.2m for $4.7m, and Brazil $804,000 for $1.7m. Us rolls out in remaining territories throughout spring. Get Out ended on $79.4m by the end of its international run, and $55.4m worldwide.
Horror Escape Room has grossed $89.1m through Sony Pictures Releasing International, while family title A Dog's Way Home stands at $37.8m ($31.6m through SPRI and $5.3m from China).