FEBRUARY 6 UPDATE: Kung Fu Yoga crossed the $200m mark while Lionsgate's musical and Oscar frontrunner crossed $150m at the international box office and Paramount's XXX: The Return Of Xander Cage reached $100m.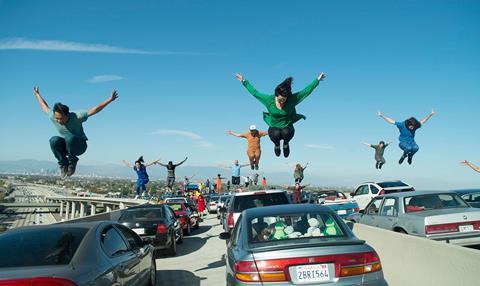 ASIAN BOX OFFICE
Jackie Chan and Sonu Sood action caper Kung Fu Yoga ruled the international marketplace at the weekend and grossed $51.4m for a $177.9m running total.
Stanley Tong directed the caper, the first feature to emerge from the China-India co-production agreement. Golden Network handles international sales and Well Go USA holds US rights.
Tsui Hark's fantasy sequel Journey To The West: The Demons Strike Back dominated Chinese New Year last weekend and added a further $35.3m over the weekend to reach $202m.
Time travel father-son tale Duckweed, directed by novellist-turned-director Han Han and starring Deng Chao and Eddie Peng, grossed $29.5m to reach $90m.
LIONSGATE INTERNATIONAL
UPDATED: La La Land surged past the $250m global milestone as the Oscar frontrunner added $20.3m from 72 international markets to reach $149.8m internationally and $268m worldwide.
The musical opened in Mexico on $2.2m and climbed to $8.2m in France where it ranks second after two weekends. Italy has generated $4.6m after two, Germany $7.7m after four.
La La Land stands at $30.2m in the UK after four seesions and overtook The Hunger Games in local currency (£24m) to rank as Lionsgate's fourth biggest release. The next debuts are China on February 14 and Japan on February 24.
PARAMOUNT PICTURES INTERNATIONAL
UPDATED: Horror reboot Rings generated an estimated $15.5m from 35 markets, which combined with the $13m number two North American debut for an early $28.3m global running total.
Brazil led the way with a $2.7m number one launch, followed by Mexico, where the film ranked second on $2.2m. Russia delivered second place on $1.9m and France fourth place on $1.4m.
Rings impressed in several other Latin American markets, opening top in Colombia on $654,000, Panama on an excellent $573,000, Peru in second place on $480,000, and Chile in pole position on $376,000.
XXX: The Return Of Xander Cage crossed $100m as $12.9m from 61 markets boosted the running total to $112.9m. The action thriller launched in Argentina on $520,000 and Belgium on $364,000.
Vin Diesel and friends ventures in South Korea and China this week and Japan on February 24.
Monster Trucks grossed $2.4m from 29 markets including four new openings, among them Vietnam on $642,000 including paid previews. The international tally has reached $26.6m.
Allied stands at $73.6m and the wartime romantic thriller arrived in Japan this week and Brazil on February 16.
UNIVERSAL PICTURES INTERNATIONAL
UPDATED: M Night Shyamalan's thriller Split climbed to $43.4m on the back of a $14m session from 41 territories that elevated the global tally to $141.9m.
The horror release arrived in 10 territories and scored a $1.4m number one debut in Taiwan for a personal best for the director. It opened in Israel at number two on $184,000.
Germany led the holdovers, staying top on $2.3m for $5.8m. The same happened in Spain, where $1.6m resulted in $4.4m after two sessions. Australia produced $1.8m in second place for $5.5m and the UK delivered $1.5m at number five for $10.2m.
Illumination Entertainment's Sing grossed $12.6m from 61 territories to propel the running total to $224.9m.
The animation added $4.4m in the UK for $17.8m after two weekends and grossed $3.4m in France to reach $9.4m. The worldwide haul is closing on $500m and stands at $487.8m.
The next major releases are China on February 17, Russia on March 2 and Japan on March 17
Legendary's The Great Wall brought in $6.1m from 33 territories for $48.2m. It opened top in Mexico on $2.4m heading into a national holiday on Monday and combines with the film's $171m tally in China for an overall international running total of $219.2m.
Amblin Entertainment and Walden Media's controversy-hit A Dog's Purpose, which Universal is distributing in 20 territories, grossed $2.9m from 10 for an early $7.8m. Combined with the Mister Smith territories, the international total is $9.7m and the global haul stands at $42.3m.
There were three notable debuts in Latin America: Argentina delivered $362,000, Panama $242,000 and Venezuela $52,000. Mexico added $1.1m for $3.7m and Brazil and Peru have delivered $1.7m and $1.1m, respectively.

Oscar contender Manchester By The Sea, which Universal is distributing in 11 territories, grossed $1.7m in nine territories to reach $5.8m.
The drama launched in Australia on $512,000 at number seven and arrived in Spain in fifth place on $511,000.
Oscar frontrunner La La Land, which Universal is distributing in Spain, ranked third in its fourth session on $1.4m for $9.6m. Loving opened in the UK at number 12 on $297,000.
SONY PICTURES RELEASING INTERNATIONAL
UPDATED: Resident Evil: The Final Chapter grossed $16m from 57 markets – including $1.3m from the Constantin and Metropolitan markets – to reach an early $91.7m and set course to cross $100m early in the week.
Asia generated $7.1m from 11 markets for $63.5m. It opened top in the Philippines on $1.1m and top in Singapore on $655,000 and retained top spot in Indonesia on $1.2m for $4.5m. Taiwan has generated $6.7m and South Korea $5.2m.
Brazil produced $1.3m for $4.7m and Mexico $1.1m for $5.6m.
Russia's Attraction (Prityazhenie) continued the tradition of strong local performers as it held firm at number one on $4.5m in its second session for $12.9m.
Tsui Hark's fantasy sequel Journey To The West: The Demons Strike Back added $1.2m in China to stand at $5.8m from its seven Sony markets.
German title Wendy delivered $990,000 from four markets for $2.7m after two weekends.
T2 Trainspotting added $3.6m in the UK for $13.3sm after two and expands worldwide after its February 10 screening at the Berlinale.
Arrival added $3.3m from 32 Sony markets for $53.5m and opened in South Korea on $2.6m.
Another sci-fi, Passengers, grossed $1.6m from 50 markets as the international running total soared to $195.2m including $13.1m from the Village Roadshow markets.
WALT DISNEY STUDIOS MOTION PICTURES INTERNATIONAL
Moana added $10m for $311.3m and scored two number one debuts in Scandinavia as Sweden delivered $1.3m and Norway $900,000. The animation placed second in Denmark on $700,000.
The lead markets are France on $34.5m, China on $32.7m, the UK on $23.3m, Brazil on $20.8m, and Australia on $18.1m.
Marvel Studios' Doctor Strange added $2.1m for $438m and ranks top in Japan on an early $9.5m, while Rogue One: A Star Wars Story grossed $1.7m and stands at $516.8m.
FOX INTERNATIONAL
UPDATED: Oscar nominee Hidden Figures grossed $4.5m from 29 markets this weekend, with 18 new markets among them as the early tally climbed to $8.1m.
The drama opened at number 10 in Germany on $701,000 and delivered $679,000 to open in sixth place in Brazil. Spain held on $484,000 for $2.3m after three sessions.
Miss Peregrine's Home For Peculiar Children opened on $2.4m in Japan and the international tally stands at $202.3m.
Why Him? added $2m from 32 markets for $55.2m and Assassin's Creed grossed $1.1m from 34 for $158.4m.
WARNER BROS PICTURES INTERNATIONAL
Collateral Beauty grossed $1.4m from 48 territories to reach $51.6m. Brazil added $595,000 for $1.7m. The top market is Italy on $9.8m followed by Mexico on $5.7m and Spain on $3.9m, with the UK on $2.8m.
Live By Night grossed $1.3m from 46 territories and climbed to $10.5m.
STX ENTERTAINMENT
Adventure romance The Space Between Us opened on $1m in 10 markets including Russia, Malaysia and Turkey. The drama scored $450,000 in seventh place in Russia and arrives in the UK, Germany and the Middle East this week.
STUDIOCANAL UK
Gold brought in $145,885 to raise the tally to $487,230.
Manchester By The Sea stands at $3.3m following a $166,330 haul.