Warner Bros.' comedy Due Date remained top of the UK box office over the Nov 12-14 weekend, taking $3m (£1.9m) from 452 screens for a week-high screen average of $6,745 (£4,200).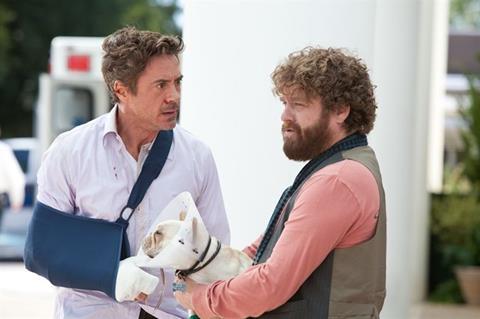 Todd Philipps' feature fell 19% from its first week performance for a total of $9.2m (£5.8m).
Momentum's sci-fi thriller Skyline debuted in second place, grossing $1.9m (£1.2m) from 381 screens. Visual effects gurus The Brothers Strause (Avatar, 2012) make their feature debut on the story of an extraterrestrial force threatening the earth.
Paramount's Jackass 3D slipped to fourth in its second week taking $1.7m (£1.1m) for a cumulative gross of $6.4m (£4m). The third in the prank-based series is now the highest grosser in the franchise, having overtaken Jackass: The Movie, which took $6.1m (£3.6m) in 2002.
Lionsgate's Saw 3D came in in fifth position, making $863,904 (£537,953) from 344 screens for a total of $12.2m (£7.6m). The last in the popular seven-film horror franchise is now the second highest grosser in the series behind Saw 3, which took $13.6m (£8.5m) in 2006.
Momentum's Another Year dropped only a single place to tenth, making $477,451 (£297,309) from 116 screens for an average of $4,116 (£2,563).
The only other new top 20 entries were Disney's comedy You Again, which entered the chart in 15th place after taking $232,912 (£145,034) from 163 screens and Picturehouse's 19th placed French comedy My Afternoon With Marguerite, which took $70,029 (£43,607) from only 27 screens. The latter stars Gerard Depardieu as an illiterate man who bonds with an older woman.
This week sees the release of Warner's Harry Potter And The Deathly Hallows: Part One. Unsurprisingly, the seventh instalment in the blockbuster franchise is not facing any competition from the studios or mini-majors. Revolver's Adrift and Metrodome's Broken Sun, both on limited release, are the only other new features hitting UK screens this weekend.