JANUARY 7 UPDATE: The latest accolade for Disney/ Lucasfilm's behemoth arrived on Wednesday as it overtook the five-year record of Avatar to become the biggest film ever at the North American box office on $764.4m.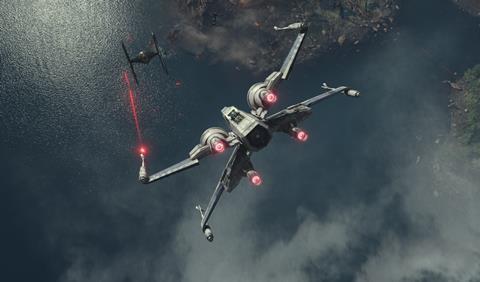 Star Wars: The Force Awakens surpassed Avatar's $760.5m mark set in January 2010 on its 20th day in release with a $6.2m Wednesday gross.
The film added $13.1m internationally on Wednesday for $812.2m to rank as the 11th biggest film of all time and has reached a $1.576bn global tally. The UK has generated $150.5m.
The Force Awakens established the biggest third weekend in North American box office history at the weekend and has become a volcano of records since its record-breaking launch.
STAR WARS: THE FORCE AWAKENS (NORTH AMERICA)
Biggest North American release in history $764.4m
Highest grossing release to open in 2015 ($686.4m)
Biggest Disney release of all time
Biggest North American opening weekend and three-day gross $247.9m
Biggest second weekend $149.2m
Biggest third weekend $90.2m
Biggest Imax debut $30.1m
Biggest opening week $391.1m


Biggest Thursday preview $57m
Biggest Friday opening day and single day $119.1m
Biggest Sunday $60.5m
Biggest Monday $40.1m
Biggest Tuesday $37.3m
Biggest Christmas Day $49.3m
Biggest New Year's Day $34.5m


Fastest to cross $100m (21 hours of first day), $150m (two days), $200m (three days), $250m (four days), $300m (five days), $350m (six days)


Fastest to cross $400m (eight days), $450m (nine days), $500m (ten days), $550m (11 days), $600m (12 days), $650m (14 days), $700m (16 days), $750m (18 days)