Buoyed by last year's surge in global, international, and North American gross box office receipts, industry heads on Tuesday used fresh data to proclaim the film industry to be in rude health despite facing more serious challenges than at any time in its history.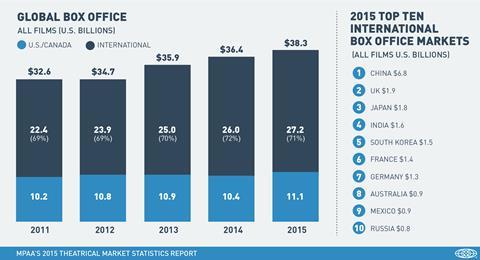 Speaking at the traditional State Of The Industry address at the Colosseum in Caesars Palace, Las Vegas, MPPA [Motion Picture Association Of America] chief Chris Dodd declared, "This year I'm proud to stay that the state of our industry is not only strong but it has never been stronger."
According to the MPAA's Theatrical Market Statistics report release at CinemaCon on Tuesday, worldwide grosses climbed 5% on 2014 to reach $38.3bn in 2015, of which international accounted for $27.2bn after a 4% year-on-year gain, and North America $11.1bn following an 8% increase.
The numbers showed that the international markets contributed to 71% of global box office in 2015.
China hit $6.8bn in 2015
Dodd reiterated a common refrain when he noted ongoing box office growth in China, where between 16 and 20 new screens are currently opening each day.
The territory generated $6.8bn in 2015, up 49% on 2014, and was a key driver in boosting Asia-Pacific box office by 13% year-on-year to $14.1bn. China, Dodd said, would overtake North America within the next several years.
Other executives have already stated at Cinemacon this week the overhaul could happen within two years, while Fox International Productions president Tomas Jegeus said on Monday it could occur as early as this year.
Behind the rhetoric there remained an awareness of the chronic threat to the traditional theatrical distribution model posed by the latest upstart, Screening Room, let alone the streaming giants like Netflix, Amazon Studios, and, further down the line, Hulu and YouTube.
"At NATO [National Association Of Theatre Owners] we continue to believe exclusive theatrical windows drive success in the theatrical markets and in ancillary windows as well," said NATO president and CEO John Fithian in his portion of the address.
Sophisticated windows 'may be needed'
Fithian, ever the realistic, acknowledged the need to engage with the shifting reality of modern distribution.
"More sophisticated windows may be needed for the success of the movie industry… working together on smarter windows can grow the pie for everyone."
Returning to the numbers in the report, Latin America climbed 13% on 2014 to hit $3.4bn, while Europe, the Middle East & Africa fell 9% to $9.7bn.
Behind North America and China, the UK ranked third in gross receipts on $1.9bn, followed by Japan on $1.8bn, India on $1.6bn, South Korea on $1.5bn, France on $1.4bn, Germany on $1.3bn, Australia and Mexico on $0.9bn apiece, and Russia on $0.8bn.
Exchange rates inevitably played a part in the numbers. Fithian noted in his presentation that had the US dollar not been so strong against certain currencies then worldwide box office might have crossed $40bn in 2015.
Another factor that influences box office grosses is ticket prices. It emerged that the average ticket price in North America in 2015 gained 3% to reach $8.43.
Admissions climb 4% in North America
What gave executives heart is that admissions in North America gained 4% on 2014 to reach 1.32bn, while average tickets sold per person claimed by 3% to 3.8.
The total number of frequent film-goers, defined as someone who visits the cinema once a month or more, dropped by 3.7million. Frequency of film-going increased in the two-11 and 25-39 brackets and dropped in all others.
The ethnic proportional ethnic make-up of film-goers remained broadly the same as it was in 2014. Caucasians accounted for 60%, followed by Hispanics on 19%, African American 12%, and Asian/other 9%.
Females comprise 51% of all film-goers who visit the cinema at least once a month, a trend that has remained the same since 2011.
Frequent film-goers tend to own more tech devices than average person
The report found that frequent film-goers tend to own more technology devices than the general population of adults aged 18 or above.
Three-quarters of frequent film-goers own at least four types of technology products compared to 57% of the adult population.
Roughly 86% of frequent film-goers and 82% of film-goers said they owned a computer, versus 76% for the adult population.
Smart phone ownership registered 85% among the frequents, 83% among regular film-goers, and 73% among the general adult population.
There were 708 films released in 2015 compared to 709 the year before, while a 40 count for 3D releases marked a 14% decline on 2014.
For the full report click here.