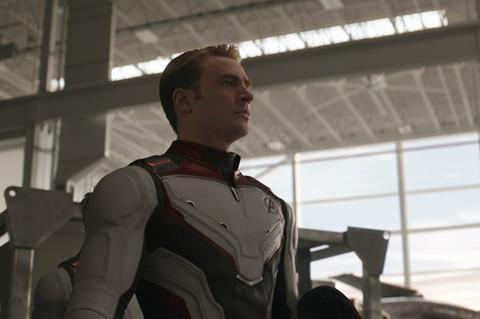 Disney's bid to engineer an all-time global box office record and usurp Avatar's nine-year mark by doubling the theatre count of Avengers: Endgame in North America may fall short as the tentpole mustered $7.5m worldwide over the weekend.
Not content with owning the record-holder Avatar since it acquired the entertainment assets of 21st Century Fox, Disney brass want its Marvel Studio superhero saga to overtake the $2.788bn global bar set by Jim Cameron's juggernaut in 2010.
However, despite compliant coverage in the Hollywood trade press, that may now be a mission too far even for the world's elite superhero team.
Weekend box office included $5.5m in North America and propelled Endgame to $2.761bn worldwide – still a considerable $26m behind Avatar at this very late stage in Endgame's run (it launched on April 26). And as Spider-Man: Far From Home prepares to swing into action in North America on Tuesday (July 2), Disney may struggle to accomplish its task if it is hoping on a North Americasn surge to do so.
That is because a sneak preview of Far From Home as one of the sweeteners in the relaunched version of Endgame will immediately lose its currency once Spidey hits the July Fourth holiday runway in two days' time. Studio brass are well aware that fanboys are completists and inserted the Far From Home footage as one of two DVD extra-style bonuses alongside 18 seconds of extra footage, and an intro to Endgame by one of its directors, Anthony Russo.
North American fans eager to part with their money a second, third or fourth time obliged to some extent and Endgame's North American ploy was good enough to force it back into the top ten after vaulting six places to number seven. Disney may try something else to get Endgame past the line, however with Far From Home now the new international box office champion, it could be that all eyes have turned away from the Avengers and towards the latest chapter in the Marvel Cinematic Universe.
As of June 30, Endgame ranks as the second highest North American, international, and global release in history. It stands a chance of overtaking Avatar globally but not internationally (Endgame has grossed $1.92bn compared to Avatar's $2.027bn). The film's $841.3m North American running total puts it well ahead of Avatar's $760.5m final gross, although Star Wars: The Force Awakens remains the runaway North American box office champion on $936.7m.
Whatever happens, Endgame will remain behind Avatar when the latter's numbers are adjusted for inflation: North America $878m (based on Avatar's final first run total of $749m), international $2.3787bn, and worldwide $3.27bn.