UPDATED MARCH 9: The Wachowskis' sci-fi surged past $100m thanks to a $23m China debut from 7,028 screens to deliver the studio's fifth biggest three-day debut.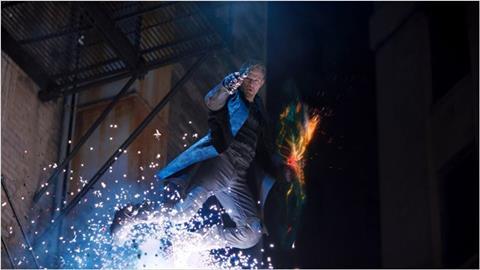 WARNER BROS PICTURES INTERNATIONAL
The sci-fi grossed $24.3m overall and climbed to $106.5m. Russia has produced $9m, the UK $6.6m, France $6.6m, Brazil $6.1m, Germany $5.1m, Mexico $3.9m and Australia $3.6m.
Focus brought in a further $18.1m from 49 for $37.3m and scored a quartet of key number one debuts.
The caper arrived in Mexico on $2.5m from 1,554, Italy on $2.1m from 407, Australia on $2.1m from 271 and Argentina on $640,500 for Will Smith's second biggest debut behind Men In Black III.
The German debut delivered $1.3m from 474 and Hong Kong $468,000 from 35 including previews.
The UK led the second sessions on $2m from 531 for $6.5m followed by Russia on $1.6m from 1,078 for $6.3m. Focus opens in Brazil this week.
American Sniper added $14m from 57 for $163m and debuted top in Holland on $616,000 from 76 and arrived in Russia on $338,000 from 525 in a pair of Clint Eastwood records.
The war film stayed top in France for the third consecutive weekend on $2.8m from 481 for $17.2m and added $2.3m from 375 in Germany for $6.9m.
After three sessions the film stands at $12.3m in Japan, $7.7m in Spain, $6.9m in Mexico and $4.8m in Brazil.
WALT DISNEY STUDIOS MOTION PICTURES INTERNATIONAL
Big Hero 6 has crossed $600m worldwide and overtaken Tangled to become Disney's third biggest global animation behind Frozen and The Lion King.
The best animation Oscar winner grossed $19.6m in its 20th weekend of release from 25 territories to reach $383.5m. The global haul has reached $604.5m including North America's $221m.
The film added $15.9m in its second weekend in China where it has grossed $40.8m (RMB$255.8m) to become already the second biggest Disney or Pixar release in the territory behind Frozen's RMB$297m.
Big Hero 6 added $1.3m in its sixth weekend in Japan for $75.1m. The UK has produced $28.5m and Russia $20.3m.
UNIVERSAL PICTURES INTERNATIONAL
A $16.5m haul from 59 territories pushed Fifty Shades Of Grey to $370.3m in its fourth weekend.
Universal's S&M smash has reached $526.7m worldwide factoring in the $156.45m from North America and stayed top in its fourth consecutive session in Germany where $2.8m from 618 sites boosted the tally to $37.6m. It also held firm in pole position in Brazil on $1.7m from 482 for $27m.
Latest running totals put the UK on top on the pile on $50.2m, France on $30m, Italy on $22m, Spain on $20.5m, Russia on $17.3m, Australia on $17.2m, Mexico on $15.2m, Venezuela on $12m, Poland on $9.2m, Argentina on $8.2m, Sweden on $6.7m and the Netherlands on $6.1m.
Russian comedy-drama Dukhless 2 opened at number one in its home country on Thursday and amassed $3.8m from 1,040 for the weekend to finish 41% ahead of the 2012 original.
The Theory Of Everything added $2m from 46 territories for $79.2m internationally and $114.7m worldwide. The UK has generated $31.8m (£21m) after 10 sessions.
Legendary's Seventh Son, which Universal Pictures is releasing everywhere except China, stands at $63.1m following a $1.9m weekend boost. Including China's $25.5m the tally is $88.6m.
The film opened in Germany on $447,000 from 271 sites and arrived in Australia at number five on $542,000 from 153. It opens in Brazil on March 12 and the UK on March 27.
Italian drama Nessuna Si Salva Da Solo opened in Italy on Thursday and ranked second for the weekend on $1.5m from 360 venues.
FOX INTERNATIONAL
Kingsman: The Secret Service grossed $16.9m from 6,411 screens in 73 markets to propel itself to $150.6m.
South Korea led the way on a $4.5m number one hold from 626 in the fourth session to reach $31.6m and overtake X-Men: Days Of Future Past to become Fox's second biggest title ever behind Avatar.
The spy caper added $1.4m from 502 in France for $8.6m after three weekends and debuted at number two in Brazil on $1.7m from 433. It stands as the biggest M18-rated release in Singapore on $2.9m.
Birdman grossed $4.2m from 2,928 screens in 52 markets for $53.1m and opened in fifth place in South Korea on $896,385 from 380. France has generated $2.7m after two and Italy $4.8m after five.
Vince Vaughn comedy Unfinished Business launched on $1.9m from 1,713 screens in 15 markets and arrived at number eight in a weak UK debut on $600,146 from 415.
DreamWorks Animation's Penguins Of Madagascar added $1.4m from 622 screens in 26 markets for $284.4m and has grossed an exceptional $9.5m in Venezuela after four weekends.
In its second weekend The Second Best Exotic Marigold Hotel added $5.6m from 1,408 in nine for $21.1m with releases in a further 57 territories lining up for spring.
The sequel to the grey dollar smash stayed top in three key markets: the UK on $3m from 862 for $13m; Australia on $2m from 299 for $6.7m; and New Zealand on $442,441 from 143 for $1.2m.
SONY PICTURES RELEASING INTERNATIONAL
Chappie opened day-and-date with North America and made off with $13.7m from 53 markets. The sci-fi action film starring Hugh Jackman, Sigourney Weaver and Sharlto Copley as the voice of Chappie arrived in Russia on $2.1m from 1,213 screens.
France generated $1.7m from 413, the UK $1.5m from 602 and Germany $892,000 from 491. Malaysia was the top Asian market on $1.1m from 250, while Peru led the first Latin American wave on $223,000 from 84. The film opens this week in Australia, South Korea, Spain and Mexico.
Annie added $1.3m from 32 for $48.7m. Sony markets have contributed $43.1m and Village Roadshow $5.6m.
ASIA UPDATE
Wong Jing's From Vegas To Macau II with Chow Yun Fat grossed $1m for $133m, while Jean-Jacques Annaud's Mongolia-set Chinese-French co-production Wolf Totem earned $9.5m for $95m.
Daniel Lee's Dragon Blade starring Jackie Chan, John Cusack and Adrien Brody added $3.5m to push the international running total to $107m.
PARAMOUNT PICTURES INTERNATIONAL
The Spongebob Movie: Sponge Out Of Water delivered $9.6m from 6,676 sites in 51 territories to surge to $110.4m.
Paramount recorded its biggest launch ever in Israel on $854,000 from 27 sites that the studio said was four times bigger than that of Oscar winner Big Hero 6.
The film added $1.3m from 454 in its second weekend in Italy for $4.3m and ranks third, while $1.1m from 607 in Germany secured sixth place and saw the tally climb to $9.4m after three sessions.
France delivered $1.1m from 516 to rank eighth on $7.4m after three sessions, while a further $610,000 from 411 in Brazil boosted the score to $15.8m after five. The children's film opens in the UK on March 27 followed by Australia on April 2.
Project Almanac earned $1.3m from 913 locations in nine markets for an early $9m. The time travel adventure opened in Mexico on $350,000 from 144 and Germany on $145,000 from 163.
LIONSGATE INTERNATIONAL
With a $768,000 bow in Brazil from 275 screens, The Lazarus Effect added $1.1m from its 13 markets in its second weekend of overseas release for an early $1.4m.
It next opens in France this weekend.