Three Hollywood and two local new releases entered the weekly chart, with Fox's Maze Runner: The Scorch Trials raced to the top with $21.54m from its first five days.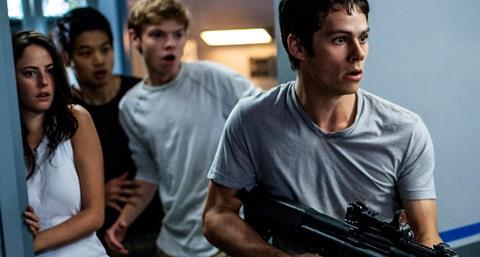 The sci-fi action thriller sequel is set to surpass its predecessor, which finished with $23.99m last year.
Ex Files 2: The Backup Strikes Again debuted with a strong $17.15m over its three-day opening weekend. With $17.32m including previews, the local comedy about a lover's revenge has almost broken the total gross of the original film released in 2014 Chinese New Year.
The local comedy about a lover's revenge features Tiny Times actress Amber Kuo from Taiwan and reunites director Tian Yusheng with rising actor Zheng Kai from the first film.
The Witness, the Chinese remake of Korean thriller Blind, held strong at third place with $11.98m for $31.22m after 10 days.
Universal's disaster film Everest took a close fourth place with $11.69m in six days.
The Last Women Standing opened in fifth with $6.22m over its three-day opening weekend, for $6.24m including previews.
The all-star romantic comedy, starring Shu Qi and Eddie Peng, is about 'leftover women', a derogatory term coined for middle-aged single ladies looking for love. It is directed by Luo Luo from a script adapted from her own popular novel and produced by Teng Huatao, the director of Love Is Not Blind.
It was followed by Hollywood holdovers Hotel Transylvania 2 with $3.82m for $16.15m after 13 days and Ant-Man with $3.76m for $105.75m after 24 days.
Fox's The Peanuts Movie opened softly at eighth place with $3.15m in its first three days.
Local breakout hit Goodbye Mr Loser dropped to ninth with $2.83m. With a $226.93m haul after 40 days, it has overtaken Jurassic World to become the sixth highest grossing film ever in China.
Jia Zhengke's Mountains May Depart rounded up the weekly top 10 with $1.49m for $4.28m after 10 days, a remarkable feat for the Chinese auteur's non-mainstream art film.
More local love comedy dramas are rolling out this week: both A Journey Through Time With Anthony and This is Me are due to open on November 13, going head-to-head with the latest James Bond film, Spectre.