Ghost Protocol takes £2.2m to narrowly edge out Sherlock Holmes sequel and strong newcomer The Iron Lady.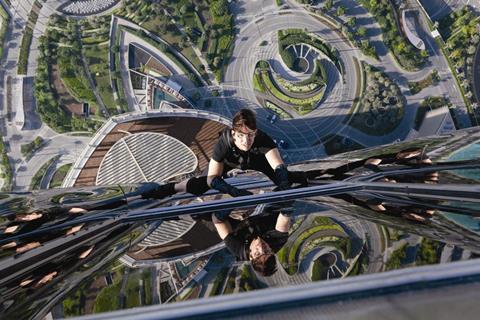 Paramount's Mission Impossible: Ghost Protocol came out on top at a keenly contested UK box office, grossing £2.2m from 517 screens at an average of £4,300.
The fourth instalment in the popular franchise stands at £13.1m after two weeks, and is only £2.3m off the cumulative of previous episode Mission Impossible 3.
Sherlock Holmes: A Game of Shadows move up one spot to second for Warner Bros' in its fourth week, taking a further £2.163m from a week high 518 screens at a location average of £4,177.
Guy Ritchie's sequel, the tenth biggest film of the last 52 weeks, has now taken £20.7m and stands £5m off the 2009 original.
Pathe's The Iron Lady impressed on debut, narrowly missing out on top spot despite playing on 78 fewer screens than its two nearest rivals.
Phyllida Lloyd's Margaret Thatcher biopic took £2.151m from 439 screens at an average of £4,901. The opening compares well to similar fare such as Pathe's The Queen, which opened surprisingly poorly on £856,275 on its way to a strong £9.4m.
Unsurprisingly, the drama came into its own on Sunday (which attracts an older demographic), when it took a day-high £572,909 and also scored the biggest Monday figure, £80,000 ahead of its nearest rival. Another good weekend is expected.
Sony's The Girl With The Dragon Tattoo held well in fourth on £1.6m for £7.9m, while newcomer Goon opened decently in seventh for eOne, managing £728,286 from 358 screens.
The Artist leapt to 106 screens in its second week but proved that it could still do with more, grossing a healthy £629,495 at a week-high screen average of £5,939.
This week sees saturation releases for Disney's War Horse and Fox's The Darkest Hour as well as wide releases for Momentum's Shame and Stealth's Margin Call.
As of January 10, 2012: £1 = $1.548.