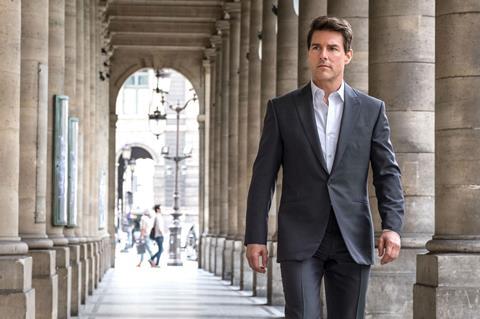 SEPTEMBER 3 UPDATE: Mission: Impossible – Fallout soared back to the top of the international ranks courtesy of an $89.1m session from 65 markets powered by a $77.3m debut in China.
Speaking of China, The Meg crossed $150m, while Ant-Man And The Wasp soared past the $100m mark.
PARAMOUNT PICTURES INTERNATIONAL
Active in 65 markets, Tom Cruise action thriller Mission: Impossible – Fallout has climbed to a $442.7m international running total – roughly 26% above that of Mission: Impossible – Rogue Nation by the same stage from the same group of markets – and $649m worldwide.
That impressive China result delivered the franchise's biggest debut in the market and a record bow for Cruise. It also included an August record $7.4m from Imax. Elsewhere, Fallout opened at number two in Italy on $2.7m, and arrived in Greece at number one on $397,000.
WARNER BROS PICTURES INTERNATIONAL
UPDATED: The Meg grossed $18.4m from 66 territories to boost the international tally to $343.8m, and worldwide to $467.2m. The giant shark tentpole added $2.6m in France to rank top and climbed to $8.4m after two sessions.
In China, where the film is distributed by co-financier Gravity Pictures, The Meg grossed $1.4m in its fourth session and stands at $150.9m. Mexico produced $1.3m in the fourth session to rank second and climb to $19.2m, making it Warner Bros' top release of the year-to-date.
The hit also ranks as Warner Bros' top release so far this year in Spain on $10.2m, Peru on $3.1m, and Brazil on $6.8m. The UK generated $1.1m after the same amount of time for $18.4m.
Crazy Rich Asians grossed $10.4m from 24 markets for an early $19.9m, and produced a superb $5.4m number one debut in Australia where it delivered the best ever debut by a rom-com and the studio's top opening weekend so far this year.
The all-Asian hit added $1.1m in the second weekend in Singapore for $3.4m, $731,000 in Philippines for $2.8m, and $458,000 in Malaysia for $1.4m. It opens in the UK on September 14.
Teen Titans Go! To The Movies grossed $3.6m from 28 markets for $14.1m, and opened top in Brazil on $1m.
WALT DISNEY STUDIOS MOTION PICTURES INTERNATIONAL
Ant-Man And The Wasp stands at the cusp of $400m international and $600m worldwide after the Marvel Studios release brought in $15.8m from 21 territories for a $381.4m international running total, and $594.9m worldwide.
It has crossed $100m in China, where it added $11.3m for $108.6m. It debuted well in Japan, its final international territory, on $3.7m.
Incredibles 2 added $9.6m from 28 for $562.5m, and reached $1.16bn worldwide and ranks as the second highest animation release of all time globally, with debuts still to come in Italy and Germany this month. Disney's Christopher Robin used a $4.7m haul from 32 markets to climb to $45.9m, and $131m worldwide. It held on to top spot for the third consecutive session in the UK, where it has reached $13.6m.
SONY PICTURES RELEASING INTERNATIONAL
Hotel Transylvania 3: Summer Vacation climbed to $323.3m internationally following an $11.8m session in 63 markets, and $485.9m worldwide to overtake the $475m final tally of Hotel Transylvania 2.
The Equalizer 2 grossed $10m from 49 for $62.4m, and launched top in Taiwan on $1.1m. The revenge thriller opens this week in Russia. Thriller Searching captured $5.9m from seven markets for an early $6.5m tally, powered by a superb $4.1m debut in South Korea, and $1.1m including previews in the UK.
Studio 8's Alpha grossed $6.6m from 29 for $18.3m, and arrived at number one in Mexico on a solid $1.8m. The family adventure debuts this week in Brazil and Germany. Horror title Slender Man stands at $14.3m after a $3.8msession in 43. It opens this week in Italy.
UNIVERSAL PICTURES INTERNATIONAL
Mamma Mia! Here We Go Again took $7.6m from 62 territories for $249.1m, and $367.1m worldwide. The UK delivered a further $1.3m in the seventh weekend to rank second and reach $80.1m.
BlacKkKlansman added $4.8m from 18 for $17.5m, and $56.9m worldwide. France produced the top holdover on $1.5m at number two for $5.8m after two sessions.
STX INTERNATIONAL
Mile 22 added $6m from 33 markets for $14.5m, and $47m worldwide. A further $1.5m for The Happytime Murders in 25 markets elevated the running total to $3.1m. Adrift stands at $23.8m internationally and $55.2m globally.
LIONSGATE INTERNATIONAL
The Spy Who Dumped Me added $3.5m from 73 markets via Lionsgate International, climbing to $26.6m. Last year's pick-up Kin, a sci-fi story, grossed $1.8m from its first 23 markets, day-and-date with North America.
FOX INTERNATIONAL
Wiro Sableng from Fox International Productions (FIP) opened top in Indonesia on $1.7m. YA release The Darkest Minds added $1.2m from 45 markets for $25.7m. FIP's Argentinian release El Angel added $433,000 for $5m and stayed top in Argentina for the fourth consecutive weekend.