JULY 27 UPDATE: Edko Films' announced early on Monday that its 3D fantasy had reached $217.7m (RMB 1.349bn) after 11 days to become the highest grossing Chinese film in history.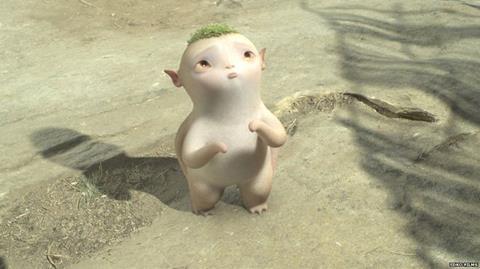 ASIA BOX OFFICE
UPDATED: Monster Hunt continued to benefit from an absence of foreign competition as China's summer Hollywood blockade enabled it to stay atop the international box office and power its way to record heights. Rentrak numbers issued on Sunday showed the film had reached $211m.
Raman Hui directed the live-action/animation, which according to Rentrak added an estimated $46m over the weekend to stay ahead of Universal Pictures International's Minions and retain first place.
Monster Hunt holds four other records: biggest opening day gross and single-day gross ($27.7m / RMB 172m), biggest opening weekend gross ($108m) and fastest film to reach RMB 1bn.
Wanda Media superhero spoof Jian Bing Man (Pancake Man) grossed $25m to reach $132m. Talk show host Dong Chengpeng (aka Da Peng) directed and stars in the film and Jean-Claude Van Damme provides a cameo. Monkey King: Hero Is Back grossed $17m for a $95m running total.
Choi Dong-hoon's South Korean espionage tale The Assassination grossed $19.5m to reach $23m. Gianna Jun, Lee Jung-jae and Ha Jung-woo star in the film, set in Shanghai and Seoul during the Japanese occupation in the 1930s.
UNIVERSAL PICTURES INTERNATIONAL
UPDATED: Universal Pictures and Illumination Entertainment's Minions used a confirmed $66.1m worldwide weekend to reach $761.9m, overtaking Shrek Forever After on $753.9m to rank as the tenth biggest animation of all time worlwide.
The animation hit added $45.4m from 59 territories to reach a $499.4m international running total that complements the $262.5m North American tally.
Minions opened top in Peru on $1.9m from 85 venues for the second biggest animated debut ever behind Fox's Ice Age 4 and Universal's second biggest launch behind Fast & Furious 7. It opened top in Portugal on $1.2m from 70 for the biggest animation launch in history.
Strong holds saw the film retain pole position in France and Venezuela for the third week in a row and in Germany, Austria, Argentina and Chile for the fourth week in a row. A $57.6m running total in the UK positions it as the tenth biggest ever animation release.
There are seven territories to go in the next two months including South Korea and Japan this week, Italy on August 27 and China on September 13.
Jurassic World brought in a further $8.3m from 63 territories to climb to $918.5m, which combines with $623.8m from North America for a global tally of $1.543bn. The film arrives in Japan on August 5.
Ted 2 grossed $3.8m from 43 for a disappointing $73.9m international and $153.5m worldwide running total. There are 20 territories to go, among them Spain.
Pitch Perfect 2 stands at $98.2m and debuted in France on $779,000 from 349. Comedy Trainwreck kicked off in Greece, Israel and Romania and generated $223,000 in total. Unfriended has grossed $21.6m.
WALT DISNEY STUDIOS MOTION PICTURES INTERNATIONAL
UPDATED: In its second weekend Marvel Studios' Ant-Man added a confirmed $36.2m from 48 territories and vaulted to $121.2m. The global haul stands at approximately $227m.
The UK leads the way on $14.9m following a $3.9m weekend, while Latin America continued to deliver good results. Mexico has generated $10.5m. Estimates put Brazil on $8.4m. Russia $8.7m, Taiwan $8.1m, Australia $7.5m, France $7.2m and Malaysia $5.6m.
Ant-Man produced the seventh biggest debut ever in Vietnam.
Inside Out grossed a confirmed $29.4m from 51 for $230.9m and roughly $551m worldwide. Mexico is the lead territory thus far on $30m, followed by Australia on $21.9m. Estimates put South Korea on $21.8m, France $20m, Russia $18.8m, Argentina $16.8m, Brazil $12.6m, the UK $10.9m and Japan $10.4m.
Avengers: Age Of Ultron added $1.2m for $939.2m internationally and $1.395bn worldwide.
SONY PICTURES RELEASING INTERNATIONAL
UPDATED: Pixels broke into 56 markets day-and-date with North America and took $21m as the early international running total climbed to $25.1m.
The family film opened top in Mexico on $3.5m on 1,800 screens and in Brazil on $3.1m on 754. It also scored the eighth biggest debut ever in Argentina on $2.3m from 217.
Pixels opened top in Russia on $2.5m from 1,735, top in Spain on $1.2m from 474 and added $435,000 in South Korea from 342 in its second session to reach $4.5m. It arrives this week in Germany and Italy.
Insidious: Chapter 3 grossed $1.5m from 26 markets to stand at $55.2m and $63.9m through all distributors. According to SPRI the film ranks as the top international horror release of the year-to-date in terms of international running total.
Russia is the biggest market on $5.8m, followed by South Korea on $5.4m and Mexico $4.7m. Insidious: Chapter 3 debuts in Brazil this week.
PARAMOUNT PICTURES INTERNATIONAL
UPDATED: Terminator: Genisys grossed $10.7m from 64 territories for $219.3m and added $1.7m from 338 Japanese sites to climb to $16.6m.
Germany generated $1.1m from 782 for $7.7m after three and the UK $761,000 from 590 for $16.1m after four. France and Argentina have delivered $9.8m after four and $5.3m after three, respectively. The film debuts in China on August 23.
FOX INTERNATIONAL
UPDATED: YA adaptation Paper Towns expanded its footprint and amassed a confirmed $7.5m from 3,905 screens in 39 markets to reach an early $15.6m.
Among the highlights were a $1.5m Mexican debut on 880 and a $624,000 number six launch on 36 Venezuelan screens. A further $787,000 from 233 in Australia elevated the tally there to $2.7m after two weekends.
Spy stands at $122.5m and Poltergeist $48.5m.
WARNER BROS PICTURES INTERNATIONAL
UPDATED: Magic Mike XXL used a $6.2m weekend haul from 2,612 screens in 42 markets to climb to $39.9m. The film opened at number two in Germany on $2.8m from 436 screens including previews. The UK remains the lead market on $9.8m followed by Australia on $8m. It opens in Brazil this week.
The Gallows grossed $3.7m from 31 markets to reach $9.8m and opened at number four in Russia on $859,000 from 777 screens. The horror arrived in Brazil on $346,000 from 155 and stands at $1.7m after two weekends in Mexico and $1.6m after three in Argentina.
San Andreas stands at $314.4m and Mad Max: Fury Road $219.5m.
THE WEINSTEIN COMPANY
Southpaw grossed $3.5m from unspecified territories, according to Rentrak.