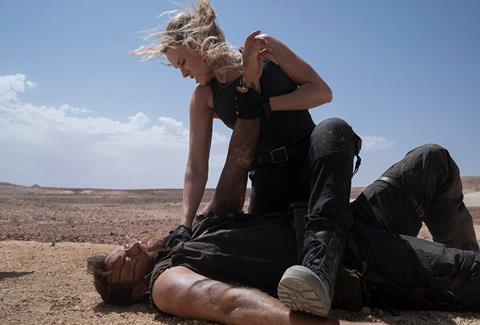 'Mortal Kombat' drops in fourth international session
UPDATED: A lack of major new openings for New Line/Warner Bros' Mortal Kombat saw the franchise reboot slide to a confirmed $3m weekend takings in international markets for its fourth session, a fall of 54%. International total is $32.8m.
Top international territory remained Australia, with estimated takings of $1.3m. Next best markets Russia ($183,000) and Spain ($181,000) were far behind.
In North America, the videogame spin-off was toppled from the top of the box office by Japanese anime Demon Slayer: Mugen Train, falling 73% to an estimated $6.2m for the weekend session. Total after two weekends of play is $34.1m, and the global tally is $66.9m.
In cumulative totals, Russia leads the international pack with $11m, then Australia ($5.2m), Mexico ($1.7m), Indonesia ($1.5m), Spain ($1.3m) United Arab Emirates ($1.3m), and Taiwan and Saudi Arabia each on $1m.
The new Mortal Kombat has now outgrossed 1997 sequel Mortal Kombat: Annihilation, which delivered a disappointing $51.4m. Franchise originator Mortal Kombat grossed $122m worldwide in 1995.
Mortal Kombat is set to land in the UK on May 17, Brazil on May 20 and Japan on June 18. In the UK, the film will be available via video on demand from May 6 – 11 days before cinemas are set to reopen.
Also from Warner Bros (and Legendary), Godzilla Vs. Kong added a confirmed $2.8m in international markets, taking the international total to $325.2m, and the global tally to $415.6m. China leads the international league table for the film, with $185.5m, convincingly ahead of Australia ($20.6m) and Mexico ($19m).
In Japan, Warner Bros' Rurouni Kenshin: The Final grossed $3.7m in its second session, down 46%, ranking second place behind Detective Conan: The Scarlet Bullet. Total for Rurouni Kenshin: The Final after two weekends of play is $14.5m.
Guy Ritchie's 'Wrath Of Man' nabs Australia top spot
Guy Ritchie action thriller Wrath Of Man starring Jason Statham landed in Australia at the weekend, grossing a confirmed Aus$1.73m ($1.34m) and Aus$1.81m ($1.4m) including previews for Studiocanal. That was enough to elbow aside Mortal Kombat from the top of the box office.
Ritchie's film, which he co-wrote with Ivan Atkinson and Marn Davies, is based on 2004 French film Cash Truck, written by Nicolas Boukhrief and Eric Besnard. Statham plays a man who is hired by a Los Angeles cash truck company to transport consignments of cash around the city. Secretly, he aims to identify and entrap the people who earlier killed his son in a cash truck robbery.
Wrath Of Man also landed in New Zealand at the weekend, grossing a confirmed NZ$280,000 ($201,000) including previews, also for Studiocanal.
Ritchie's film opened in Russia the previous weekend (April 22-25), topping the CIS box office chart with $3.79m for distributor Volga, according to Kinometro. It's set to land in North America and several Asian markets this coming weekend.
Sony scores with local titles in South Korea, Russia and Taiwan
UPDATE: Sony Pictures International Productions topped the box office in South Korea and Taiwan, and landed second place in Russia, with a trio of local titles. In South Korea, romantic drama Waiting For Rain delivered a chart-topping $1.5m. The film follows the relationship of a young man and woman, who are separated geographically but find connection through letter writing.
In Russia, Devyataev (Escape From Hell), a war drama co-directed by Timur Bekmambetov (Night Watch, Day Watch), began with $1.1m. The film is based on the true story of Mikhial Devyataev, a Soviet pilot during Second World War who escapes from a Nazi concentration camp by hijacking a secret German aircraft.
In Taiwan, Man In Love – a local-language remake of the 2014 South Korean romantic drama – added $1m in its fifth frame, holding the top spot once again. Total so far is $13.3m. The film tells the story of a low-level gangster who learns he has a terminal illness and falls in love for the first time. Man In Love is now Taiwan's sixth highest-grossing local language film of all time.
Also from Sony, Screen Gems' The Unholy grossed $1.8m from 14 international territories, including $1.1m in Mexico where the film rose 8% from its previous opening session and stands at $3.2m. International total so far is $7.9m. Screenwriter Evan Spiliotopoulos (Beauty And The Beast, The Huntsman: Winter's War) makes his directing debut with the religious-themed horror, which stars Jeffrey Dean Morgan.
Universal's revenge thriller 'Nobody' reaches $18.2m
Universal's revenge thriller Nobody starring Bob Odenkirk added $1.3m from 20 markets for $18.2m. It opened in Mexico and Spain on $300,000 apiece, and added $159,000 in Australia for $3.8m after five sessions.
Focus Features' Oscar winner Promising Young Woman written and directed by Emerald Fennell brought in $2.5m from 18 markets for a $4.9m international running total. The dark revenge drama stands at $13.9m worldwide. The top holdover market was Spain, where $188,000 raised the tally to $916,000 after three weekends.