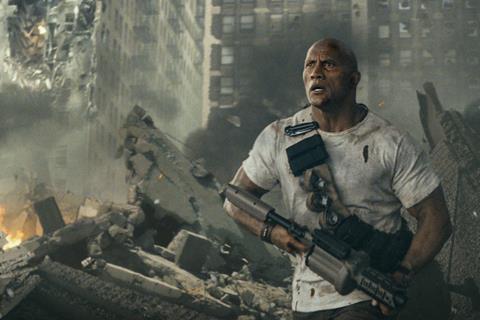 APRIL 16 UPDATE: Warner Bros' action adventure Rampage starring Dwayne 'The Rock' Johnson stormed to the top of the global charts on $151.5m, comprising $115.7m from 61 international markets and a $35.8m North American number one debut.
WARNER BROS PICTURES INTERNATIONAL
UPDATED: Rampage debuted top in most of its markets, arriving in China on $55.2m and roughly 70% market share for Warner Bros' third highest opening weekend, on top of Warner Bros' third highest opening day in the market on $15.6m last Thursday.
The UK generated $5.8m to claim 35% share of the top five films, while South Korea delivered $5.6m and 46% share, Mexico $4.9m and 60% share, and Malaysia $3.6m for 80% share in yet another impressive result in that market.
Rampage owned 60% share in Indonesia on $3.2m, close to 40% in Russia on $3.1m, and grossed $2.5m in India, $2.4m in Australia, $2.3m and 75% share in Thailand, and $2.2m and 73% share in the UAE, where opening day was the biggest of the year-to-date and Warner Bros' second highest.
Brazil produced $2.1m, Italy $1.6m, Spain $1.3m, and Vietnam an excellent $1.3m for 71% share of top five box office and Warner Bros' second highest opening weekend. Next up will be France on May 2, Germany on May 10, and Japan on May 18.
Ready Player One added $33.8m from 65 markets to boost the tally to $360.2m and $474.8m worldwide. China added $13.9m from the third weekend for a dazzling $192.8m, and in other third sessions, France generated $2.4m for $14.9m, South Korea $1.9m for $17.1m, and the UK $1.7m for $20.4m. Germany added $1.7m for $5.2m after two weekends. Steven Spielberg's sci-fi adventure debuts in Japan this week.
Warner Bros and MGM's Tomb Raider used a $1.9m session from 60 markets to climb to $211.8m and $268m worldwide. China leads the way on $78.6m, followed by the UK and France on $10.7m and $9.6m.
PARAMOUNT PICTURES INTERNATIONAL
Paramount Pictures International brass reported that John Krasinski's horror A Quiet Place brought in $22.3m from 55 markets in its second session as the running total vaulted to $51.7m with China, France, Spain, and Japan still to come. Including North America, where the film is a whisker away from $100m, the global haul stands at $151.3m.
A Quiet Place opened at number two on $2.2m in both Russia and South Korea, and debuted in second place in Germany on $1.2m. The UK led holdover business on $2.9m for third place and $9.2m after two weekends. Australia produced $1.8m for third and $4.6m, Brazil $1.5m for third and $3.9m, Mexico $1.4m for second and $5.1m, and Malaysia $571,000 for second and $1.6m. Taiwan has delivered $1.9m after two, and Italy $1.1m. The film debuts in Spain this week.
Sherlock Gnomes grossed $2.7m from 32 markets for 15.2m. The family animation debuted in France on $868,000.
SONY PICTURES RELEASING INTERNATIONAL
UPDATED: Peter Rabbit is approaching the $300m worldwide mark and added $13.5m internationally for $185.2m and $299.1m worldwide. The UK and France led all markets on $2.9m for $53.5m and $2.2m for $5.8m respectively, while the number one debut in Poland generated approximately $750,000 including previews.
Jumanji: Welcome To The Jungle, which also stars Dwayne Johnson, grossed $1.9m from 28 markets for $550.6m and added $1.8m for $7.3m in the second weekend in Japan.
UNIVERSAL PICTURES INTERNATIONAL
UPDATED: Pacific Rim: Uprising grossed $6.2m from 66 territories to reach $123.3m and $281.1m worldwide through Universal. Legendary East had not reported China grosses at time of writing.
R-rated comedy Blockers grossed $3.6m for $15.7m and opened in six markets, among them Germany on $1.2m. Blumhouse horror Truth Or Dare ventured into seven and extracted $2.6m, grossing $1.3m from the UK in a number five debut, $827,000 at number six in Australia, and $248,000 at number three in Argentina.
Spanish title Champions (Campeones) added $2.5m for $5.8m in the second weekend.
FOX INTERNATIONAL
UPDATED: Spy thriller Red Sparrow grossed $3m from 41 markets for $96.2m, while gay comedy-drama Love, Simon added $2.9m for $10.3m and debuted at number three in Mexico on $983,000. Baaghi 2 stands at $29.3m in India and $29.9m overall.
Isle Of Dogs added $2.4m from six for $8.9m, and The Greatest Showman climbed by $1.8m from 17 to $251.5m.
WALT DISNEY STUDIOS MOTION PICTURES INTERNATIONAL
Marvel Studios' Black Panther is in its final days after a magnificent run and added $2.6m for $639.7m and $1.314bn worldwide. Pixar's Coco used a $2.6m session to climb to $584.9m and $794.6m worldwide.
STX INTERNATIONAL
Amazon Studios' Gringo opened in Ecuador and the dark comedy added $141,000 overall for an early $3.7m. Den Of Thieves stands at $33.6m.