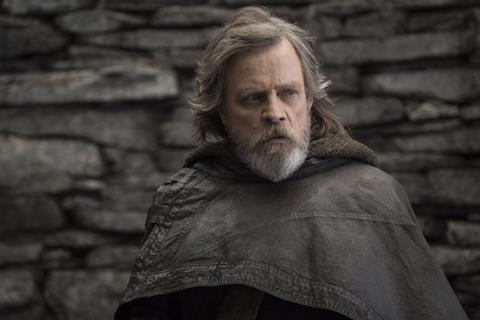 DECEMBER 18 UPDATE: Lucasfilm's latest entry in the most celebrated franchise of them all broke records to deliver a confirmed $230.8m from the first international wave, which combined with the $220m North American bow for a $450.8m estimated opening salvo.
Elsewhere, Chinese releases Youth and The Thousand Faces Of Dunjia grossed $44m and $29.9m, respectively. Murder On The Orient Express crossed $200m for Fox, Lionsgate's Wonder reached $150m worldwide, and Justice League stands at $414.5m internationally through Warner Bros.
WALT DISNEY STUDIOS MOTION PICTURES INTERNATIONAL
UPDATED: The film opened number one everywhere through Walt Disney Studios Motion Pictures International excluding South Korea, India, Malaysia ,and Turkey. It opens in China on January 5. Imax generated $40.6m worldwide for the company's second best debut excluding China after Star Wars: The Force Awakens.
The $450m global debut ranks as the fifth highest behind The Fate Of The Furious (including China), Star Wars: The Force Awakens, Jurassic World (including China) and Harry Potter And The Deathly Hallows: Part 2.
The Last Jedi delivered a $37.4m opening weekend in the UK for the third highest opening weekend in history, followed by $23.3m in Germany on the second, $18.8m in France, $16m in Australia for the second highest industry debut, $14.4m in Japan, and $8.5m in Spain.
Lucasfilm's space opera starring Daisy Ridley, Mark Hamill, Adam Driver, Oscar Isaac, John Boyega and Carrie Fisher scored $8.4m in Russia, $7.2m in Brazil, $7.1m in Italy, $6.7m in Mexico, $6m in Sweden and $5.2m in South Korea.
It delivered the second highest industry weekend behind The Force Awakens in Germany, Sweden, New Zealand, Hungary, and Croatia; the third highest in Denmark and Norway; and the fourth highest in Finland.
There were new top opening weekend of 2017 marks in the UK, Australia, France, Germany, Japan (for a Western film), Spain, Sweden, Bosnia, Croatia, Czech Republic, Denmark, Hungary, Iceland, New Zealand, Norway, Poland, Serbia, and Switzerland.
Germany delivered the second highest opening day in industry history, as did Sweden, Finland, Iceland, and the Netherlands – all behind The Force Awakens.
The UK and Norway generated the industry's third highest opening days, while The Last Jedi scored the highest opening days of 2017 in the UK, France, Germany, Spain, Belgium, Bosnia, Croatia, Denmark, Finland, Hungary, Iceland, Netherlands, Norway, Sweden and Switzerland.
Disney in the UK now has the three highest grossing Saturdays of all time – Star Wars: The Force Awakens, Beauty And The Beast, and Star Wars: The Last Jedi. Rian Johnson wrote and directed The Last Jedi and his longtime producing partner Ram Bergman served as producer alongside Lucasfilm chief Kathleen Kennedy.
Pixar's Coco used a $27.4m weekend to reach $297.4m and $448.2m worldwide. The animation debuted in Greece on $200,000 and is now the biggest release of the year on Singapore. In China is has amassed $153.9m to rank as the third highest animation release behind Zootopia and Despicable Me 3, and is expected to overtake the latter this week.
CHINA UPDATE
Coming-of-age drama Youth from Feng Xiaogang grossed $44m to reach $47.9m, while Yuen Woo-ping's fantasy adventure The Thousand Faces Of Dunjia added $27.9m for $34.2m.
FOX INTERNATIONAL
UPDATED: Murder On The Orient Express added $10.9m from 63 markets for $200.9m. The murder mystery debuted in France at number three on $2.3m, and maintained its excellent run in Italy as $1.6m elevated the tally to $11.4m after three weekends.
The animation Ferdinand launched day-and-date with North America, earning $6.2m from 21 markets led by a $1.9m number two debut in Australia, a $924,157 number three bow in Germany, and a $546,196 launch in Denmark.
LIONSGATE INTERNATIONAL
UPDATED: Wonder grossed $10.2m for $45.4m and reached $150m worldwide. The Julia Roberts drama arrived in Mexico on $2.5m including previews and the top market is Brazil on $8.8m after two sessions.
PARAMOUNT PICTURES INTERNATIONAL
Daddy's Home 2 added $5.8m from 59 markets to reach $61m and stands at $15m in the UK after four weekends and $9.4m in Mexico after three.
WARNER BROS INTERNATIONAL
UPDATED: Justice League grossed $5.5m from 65 markets to reach $416.5m and $634m worldwide. China remains the lead market on $103.9m, followed by Brazil on $38.2m, Mexico on $24.4m, the UK on $22.4m, and Australia on $14.6m. The Disaster Artist stands at $2.7m and has grossed $1.4m in the UK and $1.2m in Australia.
STX INTERNATIONAL
UPDATED: A Bad Moms Christmas added $3m to reach $51.3m. Jackie Chan crime thriller The Foreigner stands at $105.5m.
UNIVERSAL PICTURES INTERNATIONAL
UPDATED: Spanish hit Perfectos Desconocidos added $1.8m in Spain to hit $10.3m after three weekends. Happy Death Day added $1.1m for $58.5m, and Girls Trip stands at $23.9m. Italian release Supervacanze Di Natale debuted in Italy on $300,000.
Working Title's Victoria & Abdul has reached $42.6m and Darkest Hour stands at $5.2m in China and will enter a slew of new markets in January. The Snowman stands at $36.4m.