FEBRUARY 27 UPDATE: The Great Wall reaches $300m worldwide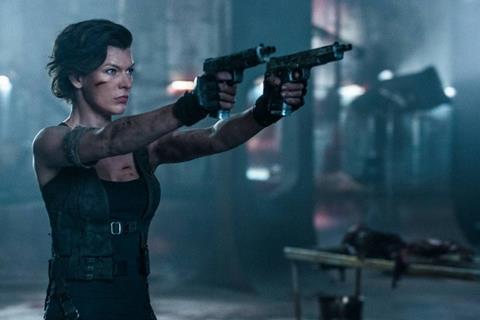 SONY PICTURES RELEASING INTERNATIONAL
UPDATED: The final instalment in Constantin-Screen Gems' horror franchise scored the highest Friday-Sunday debut of all time for an imported title in the market.
That $94.3m confirmed debut means Resident Evil: The Final Chapter ranks second among all releases in China behind only Lost In Hong Kong. It opened through Constantin's local partner, Leomus Pictures.
The international running total stands at $211.9m following a $96.7m session in 51 markets.
T2 Trainspotting starring Ewan McGregor travelled to 12 new markets this weekend, bringing in $4.1m from 23 markets and propelling Danny Boyle's sequel to $25.4m. France launches this week and Russia the following week The sequel opened in Italy on $1.1m.
UNIVERSAL PICTURES INTERNATIONAL
UPDATED: Fifty Shades Darker grossed $19.8m in 59 territories this weekend for an international total of $224.9m. Combined with the US box office of $103.7m, the worldwide total has reached $328.6m. There were no new openings this weekend.
Jamie Dornan and Dakota Johnson held on to number one for the third weekend in a row in several markets including Germany, which is the top holdover on $3m for $25.3m. France held at number five on $2.1m for $19m. The UK and Brazil followed on $1.8m for $24.9m and $1.5m for $17m, respectively. Australia secured a second place finish on $1.1m for $12.3m.Universal has one more release in Japan on June 23.
M. Night Shyamalan's horror thriller Split from Blumhouse Productions added $17.6m in 54 territories for $90.8m. Combined with $130.8m from North America, the worldwide tally is $221.6m. Universal executives reported a $6.7m debut in South Korea.
The film opened in five other territories, including France, where it launched at number two on $3.6m, Argentina at number two on $585,000, India at $191,000, Peru on $335,000 and Belgium on $277,000.
Mexico held at number one in its second session on $1.6m for $4.7m. There are eight territories to go over the next few months including Russia on March 16 and Brazil on March 23.
The Great Wall from Legendary and Universal reached $300m worldwide after bringing in $15.2m in 48 territories for a total of $95.2m. China has generated $171m. The Universal/Legendary international total is $266.2m.
The historical fantasy opened in eight territories this weekend, including number one openings in Italy and Brazil on $1.4m and $2.8m, respectively. Russia held at number two in week two on $3.3m for $9.2m, while the UK and Australia grossed $1.2m each, both in their second weekends, for $4.4m and $4.2m, respectively. The next and final release is Japan on April 14.
Illumination and Universal Pictures' Sing grossed $12.7m in 50 territories this weekend, raising the international total to $283.1m. The worldwide total stands at $550.8m.
The animation held at number three in China behind two new openers on $7.1m for $23.9m. France added $2.5m for $20.9m, followed by the UK at number three after adding $1.9m for $31.8m. Two territories remain for the animation: Russia this week and Japan on March 17.
PARAMOUNT PICTURES INTERNATIONAL
XXX: Return Of Xander Cage grossed $8.6m this weekend in 55 markets including two new openings, bringing Vin Diesel's action film to $285.3m.
China crossed the $150m mark after adding $6.1m this weekend, bringing the total to $152.6m.
The film opened in two markets: Japan at number four on $1.4.m and Poland at number six after collecting $311,000.
Horror reboot Rings grossed $4.9m from 58 markets including 10 new openings for $47.4m. The film opened in two territories over the weekend. Australia delivered $795,000, while the Philippines opened at number two on $316,000. The film arrives in Italy on March 16.
WARNER BROS PICTURES INTERNATIONAL
Continuing to benefit from staggered school holidays across Europe, The LEGO Batman Movie grossed $12.9m from 62 international markets, bringing the animated film to $93m.
The UK added $3.4m for $28.6m and ranked first in its third session. Mexico generated $1.1m for $6.7m and ranks second. Russia has amassed $4.6m after adding $947,000. Germany brought in $822,000 for $5.1m and a place in the top five. France stands at $4.5m after adding $748,000. Brazil stands at number three as $634,000 during the start of Carnival boosted the tally to $4.7m.
The next major opening for the animation is China this week.
Collateral Beauty starring Will Smith stands at $54.3m.
WALT DISNEY STUDIOS MOTION PICTURES INTERNATIONAL
Disney executives reported that Moana generated $2.8m at the weekend and held strong in Norway and Sweden. The Oscar-nominated animation stands at $35.2m in France, followed by China on $32.7m, the UK on $24.3m, Brazil on $22.2m and Australia on $18.7m. The next key opening is Japan on March 10. The international tally is $334.3m.
FOX INTERNATIONAL
UPDATED: Hidden Figures uncovered $5.7m from 41 markets. The recent picture Oscar-nominee held at number one in Australia on $2.1m for $6.7m, while the UK added $1.2m for $4.1m, and Germany $400,000 for $2.6m. Sweden debuted on $227,000, UAE on $131,000 and Singapore on $114,000 as the international total climbed to $30m.
A Cure for Wellness earned $3.2m from 38 markets. Led by openings in Germany on $820,000, Mexico on $509,000 and the UK on $506,000, the horror has reached an early $9.05m. The next opening is Australia on March 16.
Miss Peregrine's Home For Peculiar Children added $556,000 in Japan. The film stands at $209.4m. Bollywood release Jolly Llb 2 from Fox International Productions and FoxStar took in $1m in India, pushing the international total to $20.9m.
LIONSGATE INTERNATIONAL
UPDATED: La La Land, which won six Oscars on Sunday night, is now Lionsgate's highest grossing film internationally and worldwide behind The Hunger Games and Twilight Saga franchises, thanks to a further $15.2m from 76 markets. The international and global totals stand at $228m and $369m, respectively. The musical opened in Japan in first place on $5m.
The UK remains the film's top market on $36m, followed by China on $30.5m, South Korea on $23.6m, France with $15.7m and Australia on $14.1m.
John Wick: Chapter Two surged past John Wick's international total of $45.7m and worldwide gross of $88.8m in its third weekend, taking an additional $13.1m from 79 markets. The international total stands at $51.1m for a worldwide sum of $125.5m.
South Korea grossed $1.3m over the weekend, showing significant growth over the first instalment. The Keanu Reeves action film launched in France and Mexico on $1.2m and $744,000, respectively. Top markets for the film are Russia on $5.8m, the UK on $5.7m, Germany on $4.8m, followed by the Middle East on $4.4m and Taiwan on $2.4m.
The next major market is Italy on March 16.
SIERRA/AFFINITY
UPDATED: Oscar nominee Manchester By The Sea added $1.7m for a $20.7m running total through licencees after expanding to 10 territories over the weekend. In its second week in Italy, the film added $333,000 for $964,000.
Both in their fourth weekend of release, Australia added $197,000 for $1.6m and Spain added $121,000 for a total of $1.7m. Germany has produced $1.8m after its sixth session, while the UK stands at $3.9m after seven.
Another Oscar nominee, Hell Or High Water, added $47,995 for $10.6m.