UPDATED APRIL 14: Fox International's animation sequel pipped Marvel/Disney's Captain America 2 to the post in a close contest at the international box office as a confirmed $63.5m weekend trumped $60.3m.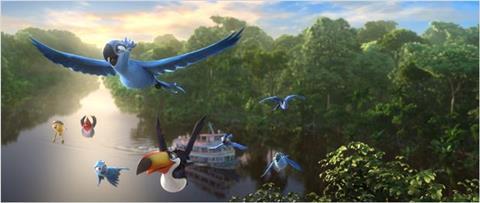 Rio 2 was active on 20,008 screens in 65 markets and scored confirmed number one debuts in 35 markets to boost the running total to $125.6m.
The film opened on China at number two on $12.6m to register a 150% gain on the 2011 original.
Rio 2 scored a table-topping debut in Mexico on $8.9m. That was 90% higher than Rio and delivered the third highest Fox animation opening in Mexico behind Ice Age 4 and Ice Age 3.
It arrived in France at number one on $4.8m for a 20% gain on the original and added $2.6m in the second weekend in the UK to climbed to $11.2m and rank second. A $2.8m haul in the third session in Brazil elevated the score to $19.6m.
The traditional family film stronghold of Latin America delivered strong number one debuts across the board.
Rio 2 produced Fox's second biggest opening in Colombia behind Ice Age 4 on $1.9m from 410 and doubled the debut of Rio, while it arrived in Argentina as the biggest launch of the year-to-date on $2.1m from 289 that registered a 150% gain on the original.
Peru produced $1.4m from 229 for the second biggest fox Animation debut behind Ice Age 4 and a 68% gain on Rio. The $1.3m Chilean debut from 145 returned the third biggest Fox Animation launch behind Ice Age 4 and 3.
Central America produced $1.4m from 212 and Ecuador $914,557 from 75 for the second biggest Fox Animation launch behind Ice Age 4 and a 72% gain on the original.
Spain returned $1.4m from 699 for $3.9m after two weekends and Russia $1.2m from 1,078 for $26.2m after four sessions. Rio 2 arrived in India on 933,362 from 470 delivered a 112% increase on the original for the second biggest animation launch behind Ice Age 4.
The Grand Budapest Hotel added $7.4m from 2,333 screens in 37 markets for a mighty $64.6m and opened in Australia on $1.8m from 108 and Italy on $1m from 186 in a pair of record Wes Anderson debuts.
Mr. Peabody & Sherman grossed $3.8m from 7,015 screens in 36 markets for $144m. The Book Thief has reached $54.8m, The Monuments Men $78m and The Secret Life Of Walter Mitty $129.6m.
Marvel Studios' Captain America: The Winter Soldier generated a further $60.6m from 54 territories to propel the running total to $317.7m through Walt Disney Studios Motion Pictures International. The global tally stands at $476.7m.
The film opened in Brazil at number one on $6.9m and has already overtaken the final international box office of Captain America ($194m), Iron Man ($267m), Thor ($268m) and Iron Man 2 ($312m).
China leads the way on $80.4m, followed by South Korea on $25.1m, the UK on $24.4m, Mexico on $20.4m and France on $14.4m. Winter Soldier arrives in its final market of Japan on April 19.
Playing on Imax the film brought in $7.3m worldwide for a $31m running total, of which $3.7m came from 307 international screens for $16.4m.
Frozen has reaches $1.113m worldwide and moved to number eight in the pantheon after overtaking the $1.108bn final tally of Skyfall.
Internationally the animation smash added $8m for $713.1m and it stands at $89m in Japan, $76.9m in South Korea, $65m in the UK, $48.7m in China and $48.2m in Germany.
Muppets Most Wanted has reached $14.8m and opens in Spain on April 16.
Noah continued to perform in 53 markets and brought in $36.2m for $162m through Paramount Pictures International.
The Biblical interpretation arrived in eight territories led by $3.9m at number one in France and $3.7m at number one in Italy.
In the second weekend Noah added $5.1m in Brazil for $17.6m, $2.9m in the UK for $10m, $2.1m in Germany for $6.1m, $1.6m in Spain for $5.5m and $1m in Turkey for $3.6m. A further $2.3m kept the ball rolling in Russia for $31.2m after three sessions.
Divergent brought in $23.2m through 62 Lionsgate International markets as the early tally climbed to $50.3m and the worldwide number reached $175.2m.
The YA adaptation arrived in France on $3.4m from 558. It was the top film in Russia on $3.2m from 893, opened in Australia on $3.1m from 342 and Germany on $1.8m from 517. The UK generated $1.7m for $6.8m after two sessions and Mexico $1.4m for $5m after the same period.
UPDATED: The Lego Movie constructed a $9.8m weekend out of more than 3,100 screens in 49 Warner Bros Pictures International markets as Germany delivered a $3.1m number one debut including previews. The UK and Australia have reached $53.6m and $13.3m. 300: Rise Of An Empire stands at $223m.
UPDATED: Spanish hit Ocho Apellidos Vascos added $5.7m through Universal Pictures International and stands at $42.6m.