JUNE 1 UPDATE: San Andreas shook up global box office at the weekend, taking the lead with a $118.5m worldwide haul that featured $63.9m from international debuts and a $54.6m number one launch in North America.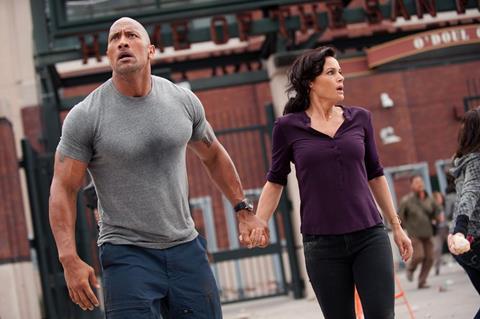 WARNER BROS PICTURES INTERNATIONAL
UPDATED: The earthquake disaster film starring Dwayne 'The Rock' Johnson was in bullish form, storming to the top in 55 of its 60 markets as it drew approximately 10.7million admissions from 15,420 screens.
Mexico led the way as San Andreas took $10.1m from 3,150, claimed 75% share of the top five and delivered the biggest debut for a disaster film and Warner Bros' second biggest opening weekend.
The UK generated $7.2m from 840 including previews, Russia $5.3m from 2,256, Brazil $3.2m from 926 and France $.13m from 496.
Australia delivered $2.5m from 449, Germany $2.2m from 640 prints including previews and Italy $1.1m from 394.
The film grossed $11m on 2,300 screens across Asian markets including Taiwan, Thailand, Malaysia, Philippines, Singapore and Indonesia and arrives this week in China and South Korea.
Mad Max: Fury Road produced a further $21.6m and close to three million admissions from 10,220 screens in 70 markets to boost the international running total to $165m.
In the third weekend the film held firm at number one in South Korea on $5.1m from 670 for $23.5m, third place in the UK on $2.7m from 756 screens for $21.3m and number two in France as $2m from 784 boosted the tally to $14m.
Fury Road ranks second in Australia on $2m from 389 for $12.9m heading into the Queen's Birthday holiday and second in Brazil where $1.3m from 675 elevated the tally to $9m.
Russia generated $1m from 1,195 screens for $12.1m, Germany $1m from 786 for $7.2m, Mexico $598,500 from 815 for $7.1m and Spain $379,000 from 409 for $3.3m.
WALT DISNEY STUDIOS MOTION PITURES INTERNATIONAL
Tomorrowland surged to $70m following a $29.3m session that delivered a $13.8m debut in China over the first six days.
The early global running total for the film, which reportedly carries a $190m price tag before marketing costs, stands at $133.2m with Brazil and Japan to open this week.
Behind China, Russia has produced $6.4m, the UK $6.2m, Mexico $4.5m, France $4.1m, Italy $2.4m, Germany $2.2m and Thailand $1.9m.
South Korea has delivered $1.6m, Spain $1.2m and Australia $1.2m.
Avengers: Age Of Ultron will cross $900m this week after a $17.6m sixth session propelled the running total to $894.2m and $1.321bn worldwide. China is the runaway lead market on $225.5m, followed by South Korea on $82.1m, the UK on $71.7m, Mexico on $49.9m and Brazil on $46.8m.
Cinderella stands at $333.4m and remains the biggest release in Japan on $41.3m for the year-to-date.
UNIVERSAL PICTURES INTERNATIONAL
UPDATED: Pitch Perfect 2 grossed a confirmed $10.1m in 46 territories for $80.7m as the global haul reached $228.2m.
The sequel opened in nine territories this weekend led by Italy with a $319,000 number five debut in 261 sites that doubled the $163,000 debut of the 2012 original, which has not been adjusted for inflation in this article.
South Korea produced $401,000 from 246 venues in eighth place and the result beat that of the original by a factor of seven.
A projected $2.9m in the UK was on course to boost the tally to $22.8m after three weekends, while $1.3m in Germany resulted in $9.1m after the same amount of time.
There are 12 territories to go including China on June 25.
Fast & Furious 7 has opened everywhere and remains active in 56 territories in its ninth weekend of release. The weekend's $1.7m gross elevated the running total to $1.157bn internationally and $1.507bn worldwide. Ex Machina stands at $10.6m from 11 and Unfriended $11.7m from 12.
FOX INTERNATIONAL
UPDATED: The Melissa McCarthy spoof Spy consolidated early gains across the Asia-Pacific region one week ahead of the North American release, when the film will go out day-and-date in a further 53 international markets.
Spy added $8.9m from 1,633 screens in ten markets for an early $27.8m running total.
In second weekend holds, South Korea added $3.9m from 584 for $11.4m, while Australia produced $1.9m from 267 for $5.7m and Taiwan $953,000 from 110 for $3.2m. Hong Kong and Malaysia generated $583,000 for $1.9m and $447,000 for $1.5m, respectively.
Poltergeist grossed $6.7m from 3,859 screens in 47 markets to reach an early $18.4m. It opened in second place in Germany on $1.5m from 336 and has reached $5.1m, $3.9m, $1.4m and $1.3m after two sessions in the UK, Brazil, Argentina and Spain, respectively.
DreamWorks Animation's Home earned $3.9m from 1,012 screens in 45 markets for $199.5m, while The Maze Runner stands at $243.1m and The Longest Ride $20.9m.
STUDIOCANAL
The Simon Pegg-Lake Bell rom-com Man Up opened in the UK on $776,000.