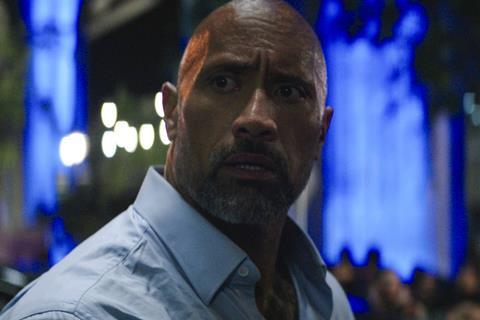 JULY 23 UPDATE: Dwayne Johnson action thriller Skyscraper ruled the world and the international market thanks to a $48.4m haul in China via Legendary East that played into the star's local popularity.
UNIVERSAL PICTURES INTERNATIONAL
UPDATED: The debut combined with $29.4m from remaining international markets through Universal Pictures International for a $77.8m international weekend overall, and an $89.2m global weekend including China. International and global now stand at $135.7m and $182.9m including China.
Skyscraper opened in 10 markets including Colombia ($1.4m), India ($1.3m), Peru ($888,000) and Italy ($741,000).
Mexico was the top holdover on $1.7m for $7.5m after two weekends. Russia delivered $1.7m for $5.7m, South Korea $1.5m for $7.3m, Malaysia $1.2 for $3.5m, and the UK $1.2m for $5m – all after two.

Dwayne Johnson's popularity in China served him and the action thriller well as it overcame the $42.9m international launch of Mamma Mia! Here We Go Again in 41 markets.
The musical sequel rounded out the session on $77.9m worldwide as Universal crossed the $1bn North American mark for the eighth consecutive year.
The film opened higher than 2008 original Mamma Mia in 34 markets including previews, let by the UK on $12.7m, featuring the second highest musical opening day (approximately $4.8m) and opening weekend of all time. The result also delivered Universal's fourth highest opening day of all time and this was the seconnd widest release ever by locations.
Germany generated $4.5m, Australia $5.1m for the third highest opening weekend for a musical, ahead of Mamma Mia! and The Greatest Showman, Sweden $2.8m despite extreme heat and fires affecting the market. The homeland of Abba delivered the biggest opening day (roughly $491,000) and weekend for a musical, the biggest opening weekend for a Universal film, and the second best July opening day.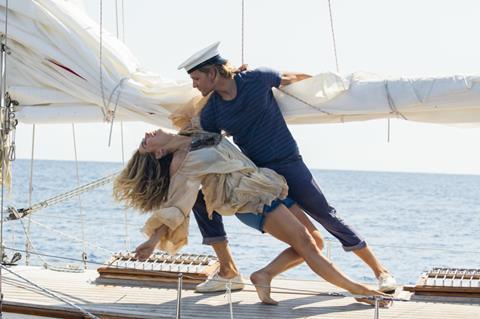 In Spain Mamma Mia! Here We Go Again opened on $2.3m, while Norway scored the second highest opening day on $1m behind only Star Wars: The Force Awakens, rising to $2.3m over the weekend for a Universal record and the second biggest opening weekend in industry history.
The Netherlands produced $1.8m, New Zealand $1.2m for the fourth highest Universal opening weekend and the second highest opening day for a musical, Austria $1.3m, Denmark $990,000, and Finland $767,000. The film produced the biggest live-action musical opening day and weekend of all-time in Norway, Sweden, Denmark, Finland, Iceland and Hungary.
"Despite the fact that it's blazing hot sunshine, which is never the best for cinema-going, we've had a really good start," said Universal Pictures International president of distribution Duncan Clark.
The executive said that while Mamma Mia! Here We Go Again was not the kind of film where young males turn out en masse for opening weekend, the film had been playing well anecdotally across Europe with an age demographic ranging from 15 to 80 and was expected to play well throughout the summer.
"The number of males who came out was surprising," Clark added, "It's a uniquely distinctive brand in that it leans female and slightly older. There won't be something like this for for a while, so we're building a foundation."
Original cast members Meryl Streep, Amanda Seyfried, Dominic Cooper, Pierce Brosnan, Stellan Skarsgaard, Colin Firth, Christine Baranski, and Julie Walters return alongside newbies Cher and Lily James.
Rounding out the key markets for the weekend were Portugal on $510,000, Switzerland $707,000, Greece $527,000, Belgium $4782,000, Hungary $674,000, Czech Republic $533,000, Philippines $603,000, and South Africa and selected African countries $488,000.
IMAX generated $2m worldwide, of which $600,000 came from 70 international screens in 11 territories.
The musical arrives in France, Switzerland, Croatia and Poland this week. It lands in China on August 3 during the Hollywood blackout. Executives are tempering expectations given that the original did not open there theatrically and so awareness may be limited, despite the efforts of counterfeiters at the time.
Jurassic World: Fallen Kingdom added $17.6m to reach $813.8m and stands at $1.198bn worldwide. The First Purge grossed $9.2m for $36.6m.
SONY PICTURES RELEASING INTERNATIONAL
UPDATED: Hotel Transylvania 3: Summer Vacation added $38.5m including previews from 51 markets including 11 new ones, pushing the tally to $116.4m to run 36% ahead of the second film by the same stage, and $208.1m worldwide.
The family release remains number one in seven out of 11 Latin American markets, which have produced approximately $50.5m so far. Mexico led the way on $3.9m for $16.9m, followed by Brazil on $3.2m for $9.8m, and Argentina on $2.6m for $6.7m, passing the lifetime total of the second film.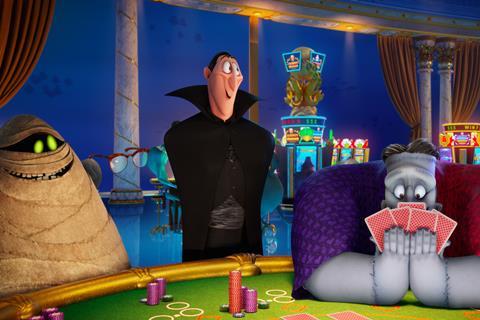 In Europe, Hotel Transylvania 3 debuted in Germany on $5.4m including previews and held on to top spot in Russia on $3.5m for $11.9m, after two, while Spain added $1.7m for $7.3m after two. It opens this week in the UK and France.
The Equalizer 2 starring Denzel Washington as a highly skilled vigilante ventured into 11 markets for $3.1m, which executives said was some 30% higher than the original film's debuts in the same group of markets at current rates. The thriller opened at number two in Australia on $2.2m, running 31% ahead of The Equalizer.
The majority of the overseas rollout begins in August, starting with Spain on August 10, France on Aug 15, Brazil and Germany on August 16, the UK and Mexico on August 17, Russia on September 6, Italy and South Korea on September 13, and Japan on October 5.
WALT DISNEY STUDIOS MOTION PICTURES INTERNATIONAL
UPDATED: Pixar's Incredibles 2 took another stride towards the $1bn global mark as a $49.1m weekend boosted the running total to $941.5m. Internationally, $37.2m elevated the tally to $383.8m, powered by an $8.6m number one debut in South Korea rising to $10.3m including previews for the highest Disney Animation/Pixar opening of all-time and the third highest animated opening of all-time. The opening weekend has already overtaken the lifetime total of The Incredibles.
It also opened top in Hong Kong on $3.3m for the second highest Disney Animation/Pixar opening and industry's third highest.
China remains the lead market on $53.1m, then Mexico on $36.8m, Australia on $31.8m, the UK on $29.4m, and Brazil on $29.2m.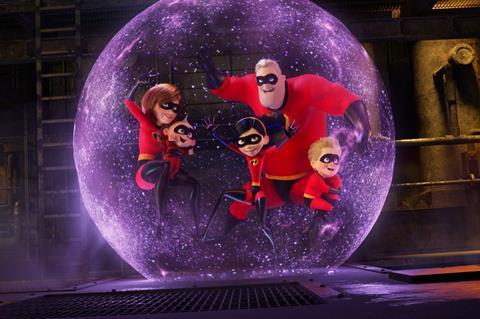 Incredibles 2 has now become the highest grossing animated release of all time in India, Malaysia and Mongolia, and the second highest Disney Animation/Pixar release in Australia, behind Finding Dory, and across the Latin America. It ranks as the highest Disney Animation/Pixar release across southeast Asia, Colombia, Central America, Trinidad, Uruguay, Peru, Brazil, Iceland and the Middle East. It is the top animation release in history in South Africa.
Marvel Studios' Ant-Man And The Wasp grossed $22.3m from 46 territories to reach $189.6m. It opened in France on $4.1m ($4.5m including previews). Leading the way is South Korea on $40.6m, followed by Mexico on $13.4m, Australia $12.2m, Russia $11.4m, Brazil $10.5m, and Indonesia $9.7m. It opens in the UK on August 2.
CHINA UPDATE
Besides Skyscraper's exploits, Dying To Survive added $25.3m to reach $413, while Hidden Man used a $10.4m session to climb to $74.4m.
WARNER BROS PICTURES INTERNATIONAL
UPDATED: Ocean's 8 added $3m from 58 markets as the running to $127.5m and the global tally reached $263.2m. The heist caper has made off with $13.9m in the UK, $13.3m in Australia, $10.8m in South Korea, $6.4m in Germany, $6.3m in both France and Mexico, $5.5m in Brazil, $4.7m in Taiwan, and $3m in the UAE. It opens this week in Italy, with Japan the final market on August 10.
The comedy Tag grossed $1m from 38 markets for $17.2m and stands at $2.6 in both Australia and Russia, $1.9m in the UK, $1.2m in Holland, and $1.1m in Taiwan. It opens this week in Germany.
STX INTERNATIONAL
UPDATED: Survival drama Adrift brought in a further $12m from 55 markets for $15.3m, and opened in nine territories including Mexico a number six on $651,000. It added $690,000 in German-speaking Europe for $1.9m, and has reached $2.1m in Russia and Ukraine.
LIONSGATE INTERNATIONAL
Sicario: Day Of The Soldado added $1.8m from 58 Lionsgate markets to reach $15.5m and stands at $2.6m in the UK, $2.3min Australia, and $1.7m in South Korea.
FOX INTERNATIONAL
UPDATED: Deadpool 2 stands at $415.9m following a $647,713 weekend. Bollywood hit Sanju grossed $1m for $62.5m, of which $60.8m comes from India.