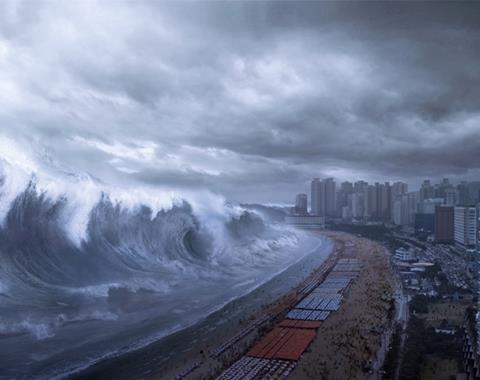 South Korea's box office hit a record high in 2009 grossing $940m, up 12.7% year on year. Admissions rose 5.1% to 154.9 million.
Audiences watched more films - 3.15 per capita, up from 3.03 in 2008 - and ticket prices were raised in the middle of the year from an average $5.74 to $6.34 to coincide with the release of Transformers: Revenge Of The Fallen.
Local films' market share also went up from 42.4% the previous year to 48.7%. Disc and online piracy left virtually no legitimate DVD market in South Korean but national efforts such as the star-studded 'Good Downloader Campaign' have been taking effect along with the availability of legally paid-for download services from companies such as Cine21i and KTH.
These contributed to what KOFIC estimates to be a doubling of growth, to $26.1m. in legal download sales last year.
South Korea: Top 5 Films 2009
Title (origin)
Distributor
Gross
Haeundae (S Kor)
CJ Entertainment
$70.5m
Take Off (S Kor)
Showbox Mediaplex
$52.4m
Transformers: Revenge Of The Fallen (US)
CJ Entertainment
$44.1m
Avatar (US)
20th Fox
$37.6m*
2012 (US)
20th Fox
$33.8m
*Until Dec 31, 2009. Still on release. Source: KOFIC, Screen
South Korea: Top 5 Local Films 2009
Title (origin)
Distributor
Gross
Haeundae (S Kor)
CJ Entertainment
$70.5m
Take Off (S Kor)
Showbox Mediaplex
$52.4m
My Girlfriend Is An Agent (S Kor)
Lotte Entertainment
$22m
Scandal Makers (S Kor)
Lotte Entertainment
$22m
A Frozen Flower (S Kor)
Showbox Mediaplex
$19.6m
Source: KOFIC, Screen
South Korea: Foreign Releases 2009
Title (origin)
Distributor
Gross
Red Cliff: Part 2 (Chi)
Showbox Mediaplex
$15.4m
Slumdog Millionaire (UK)
CJ Entertainment
$6.4m
Transporter 3 (Fr)
Cynergy
$5.4m
Dectective Conan: The Raven Chaser (Jap)
A1 Entertainment
$3.6m
District 13: Ultimatum (Fr)
KD Media
$2.9m
Ponyo (Jap)
Showbox Mediaplex
$2.1m
The Secret Of Moonacre (UK-Fr)
Sungwon iCom
$1.9m
Juon - Old Lady In White, Girl In Black (Jap)
Showbox Mediaplex
$1.8m
I Come With The Rain (Fr)
CJ Entertainment
$1.4m
Source: KOFIC, Screen