NOVEMBER 2 UPDATE: The latest 007 instalment from EON Productions, MGM and Sony has smashed records in almost every one of the six markets it debuted in this weekend.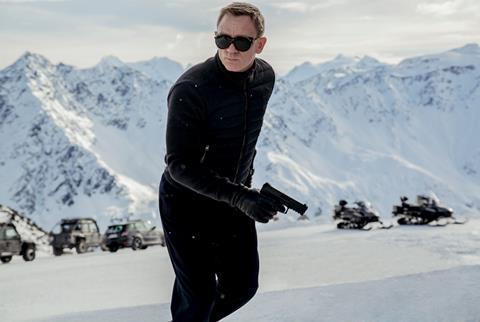 SONY PICTURES RELEASING INTERNATIONAL
UPDATED: Spectre has raced to $80.1m in its first seven days, of which a confirmed $67.2m comes via Sony and the balance from MGM territories.
The UK led the way on $63.2m (£41.7m) for the biggest seven-day gross in the territory, overtaking the previous £23.9m mark set by Harry Potter And The Prisoner Of Azkaban. The Friday to Sunday portion accounted for $30.6m.
In the Netherlands, Spectre grossed $3.4m rising to $3.9m including previews to beat the record set by franchise predecessor Skyfall.
In the Nordic region the spy thriller beat Skyfall in every active market and brought in a total of $12.9m via MGM licensees. The new release set records in Denmark on $4.2m over three days, Norway on $2.9m and Finland on $2.7m. Sweden produced $3.2m.
Imax also announced a new high-water mark as the first film to cross a $100,000 per-site average with $105,000 from 47 venues.
Hotel Transylvania 2 soared past $200m as a further $30.7m from 82 territories boosted the tally to $217.6m. The family hit opened in China on $12.2m from 9,100 screens and overtook the lifetime total of the original after six days. The film added $3.6m from $10.8m in Russia after two weekends and stayed top in Spain on $2.2m for $5.9m. The UK delivered $3.7m for $24.6m after three.
Goosebumps added $7.2m from 44 to reach $18.7m and arrived in 20 new markets, among them Argentina on $430,000, India on $420,000 and Colombia on $400,000 for number one. Eight markets in the Middle East delivered $.1m and Mexico generated $1.2m for $4.8m after two.
The Walk stands at $28.8m after a $3.6m weekend in six. The drama debuted in South Korea on $1.3m.
LIONSGATE INTERNATIONAL
UPDATED: Buoyed by number one debuts in Russia, Brazil and Italy and Russia, The Last Witch Hunter plundered $21.1m from 77 markets to propel the early running total to $39.4m.
The action-horror starring Vin Diesel arrived in Russia on $4.2m from 985 screens, Brazil on $2.1m from 808 and Italy on $1.5m from 301. It also debuted in France on $1.7m from 288.
CHINA UPDATE
The Witness grossed $18.5m for an early $18.7m and also debuted in North America via China Lion on $190,000.
FOX INTERNATIONAL
UPDATED: The Martian is orbiting $250m after a $17.2m session from 72 markets boosted the running total to $245.8m.
The adventure thriller added $4.3m for $13.4m after two weekends in France where it has already overtaken the lifetime total of Ridley Scott's Prometheus – the director flies to Australia to shoot the sequel this week after he receives his star on the Hollywood Walk Of Fame – and Interstellar.
Bridge Of Spies grossed $3.4m from 28 markets for an early $12.3m and opened in Argentina on $398,000. In its second session, the spy drama added $930,000 for $2.7m in Australia, $380,000 for $1m in Brazil and $258,000 for $912,000 in Venezuela.
Maze Runner: The Scorch Trials reached $196.2m following a $3.5m weekend from 41.
Pathe's Suffragette, distributed by Fox in the UK, earned a further $914,000 from 522 locations for $11.3m after three sessions.
PARAMOUNT PICTURES INTERNATIONAL
UPDATED: Paranormal Activity: The Ghost Dimension grossed $13.9m from 46 markets to reach an early $38.3m and eclipse the troubled North American performance, where the studio's revenue-sharing theatrical-digital pact with AMC Theatres and Canada's Cineplex Entertainment has led to boycotts by several chains.
The horror film's overall tally has overtaken that of previous instalment Paranormal Activity: The Marked Ones and the film opened top in five of 13 new markets and broke the franchise record in eight.
It opened top in Venezuela on $1.1m, Argentina on $966,000, Indonesia on $686,000 for franchise recrods. The Philippines on an estimated $490,000.
Germany led holdovers on $1.5m for $3.9m, followed by France on $1.2m for $4.1m and Brazil on an estimated $1m for $3.2m.
Second-weekend results pushed the UK to an estimated $4.4m, Mexico to $4.3m and Russia to $2.9m.
Scouts Guide To The Zombie Apocalypse, the other film in the Paramount-AMC-Cineplex experiment – which opened dismally in North America this weekend on $1.8m from 1,509 theatres – generated $750,000 from 10 markets an arrives this week in the UK, Australia and New Zealand, among others.
WALT DISNEY STUDIOS MOTION PICTURES INTERNATIONAL
Ant-Man added $11m from two territories in its 16th weekend and climbed to $334.5m and $513.7m worldwide. China is the lead market and the Marvel Studios release has crossed $100m there to reach $101.3m, followed by the UK on $25.4m.
Inside-Out stands at $490.4m.
WARNER BROS PICTURES INTERNATIONAL
UPDATED: Pan added $6.2m from 66 for $75.8m and debuted in Japan on $1.3m. A further $1.2m from the UK pushed the running total to $11m after two
The Intern crossed the $100m mark as $6m from 65 territories boosted the tally to $101.8m.
South Korea added $1.1m in the sixth session for $23.1m and the film opened in Spain on $689,000 from 244 screens. Japan has generated $9.9m after four.
Black Mass grossed $2.8m from 43 for $18.5m and arrived in Russia in third place on $1m from 850.
UNIVERSAL PICTURES INTERNATIONAL
UPDATED: Legendary's Crimson Peak brought in a further $5.2m from 60 territories via Universal Pictures International for $34.4m and perhaps unsurprisingly opened top in director Guillermo del Toro's homeland Mexico on $1.8m from 681.
The Day Of The Dead weekend saw the Gothic horror open higher than del Toro's Pan's Labyrinth and The Devil's Backbone, as well as other horror titles like The Orphanage, Mama, The Woman In Black and Shutter Island.
Crimson Peak opened in South Africa on $64,000 and added $598,000 in Italy for $1.7m after two sessions.
Australian comedy-drama The Dressmaker starring Kate Winslet, Liam Hemsworth and Judy Davis opened in Australia and New Zealand to mighty results, given that both nations were contesting Saturday's Rugby World Cup Final.
The film grossed $2.7m overall and opened at number one in Australia on $2.5m including previews and debuted top in New Zealand on $214,000.
Everest has scaled $134.5m and opens in China this week followed by Japan on November 6.
Straight Outta Compton stands at $38.7m and is projected to cross $200m worldwide on Monday.
Brazilian rom-com S.O.S.: Women At Sea 2 ranks number three in its homeland on $2.3m after three weekends.
Spanish comedy Mi Gran Noche (My Big Night) sits in sixth place after two sessions on $12.7m.