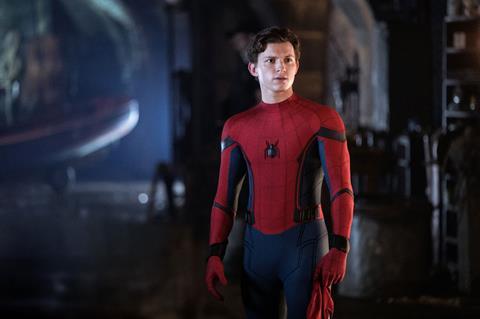 JULY 8 UPDATE: Sony Pictures' Spider-Man: Far From Home has grossed $577.8m worldwide in its first ten days in release, earning $392.7m internationally and $185.1m over six days in North America.
Disney-Pixar's Toy Story 4 stands at $651.9m worldwide and Aladdin crossed $600m internationally, as Universal's The Secret Life Of Pets 2 climbed to $263.5m worldwide and Yesterday crossed $50m. Annabelle Comes Home has reached $134.2m worldwide for Warner Bros.
SONY PICTURES RELEASING INTERNATIONAL
UPDATED: Propelled by last week's $157m debut in China, Japan and Hong Kong, Far From Home opened in a further 63 markets, grossing $236.1m for a $392.7m international running total and securing top spot in 63 out of 66, and breaking Sony all-time opening records in 35 markets. The tentpole debuted in South Korea on Tuesday on $33.5m for the fourth highest Thursday-Sunday Hollywood opening of all-time, and arrived in the UK on $17.8m over six days.
Spidey toppled Sony's all-time record in Mexico with a $13.4m four-day mark that also ranks as the second highest debut for a stand-alone superhero film through Friday-Sunday, and opened on $12.1m in Australia following the Monday debut, and arrived in Russia on $9.6m.
China delivered $29.9m in its second session for a $166.6m tally that ranks as the second highest Hollywood film of the year. Japan delivered $3.6m for $17.3m, and Hong Kong $2.4m for $8.6m.
By region, Far From Home stormed into Asia on a franchise record $78.7m and ranked number one everywhere, scoring the fourth highest debut ever in Indonesia on $9.8m, as well as $8.3m in India, $6.2m in Taiwan, $5.7m in Philippines, and $4.6m in Malaysia. Latin America generated a franchise record $34.9m opening weekend and 10 number one results including $8m in Brazil, where the national football team prepares to play Peru in the final of the Copa America on Sunday.
Spidey earned $48.2m across Western Europe and ranked number one across the entire region led by the UK. France delivered $8.3m for the third highest opening of the year-to-date, followed by Germany on $5.8m including previews, and Spain on $4.4m. The Middle East generated appromimately $7.8m and 13 number one debuts led by UAE on $3.3m.
The new Sony opening records are in: Argentina, Bahrain, Bolivia, Brazil, Cambodia, Central America, Chile, Colombia, Djibouti, Dominican Republic, Ecuador, Egypt, Iceland, India, Indonesia, Israel, Kuwait, Malaysia, Mexico, Oman, Pakistan, Paraguay, Philippines, Qatar, Saudi Arabia, Singapore, South Africa, South Korea, Taiwan, Thailand, Trinidad & Tobago, Turkey, UAE, Uruguay, and Vietnam.
Far From Home earned $29.1m worldwide on IMAX in the best July and Sony debuts and stands at $44m overall.
The $185.1m North American debut delivered the best six-day opening over the Fourth of July holiday, an all-time six-day opening record for Sony Pictures, and the best six-day opening for a Spider-Man film. The first film in the Marvel Cinematic Universe since Avengers: Endgame broke records earlier in the year stars Tom Holland, Samuel L. Jackson, Zendaya, and Jake Gyllenhaal, and is directed by Jon Watts. The film is a Columbia Pictures, Marvel Studios and Pascal Pictures production.
Men In Black: International grossed $3.7m from 65 markets and stands at $172.5m internationally and $244.5m worldwide. The film is presented by Columbia Pictures and co-financed by Tencent Pictures and Hemisphere Media Capital.
ASIA UPDATE
Hong Kong action film The White Storm 2: Drug Lords starring and produced by Andy Lau earned $59.7m internationally and stands at $61.9m. Herman Yau directed.
WALT DISNEY STUDIOS MOTION PICTURES INTERNATIONAL
UPDATED: Disney-Pixar's Toy Story 4 brought in $79.6m worldwide as the animation hit climbed to $651.9m, earning $43.1m from 45 international markets for $343.4m. It stands at $60m in the lead market Mexico, and $45.7m in the UK, where after 16 days it has become the third biggest release of the year. Aladdin reached $602m internationally after crossing $900m worldwide last week. The fantasy adventure starring Mena Massoud and Will Smith grossed $24.8m for $922.7m globally, and added $17.3m for $602m internationally.
UNIVERSAL PICTURES INTERNATIONAL
UPDATED: Illumination Entertainment's The Secret Life Of Pets 2 grossed $23.5m from 62 territories to reach $122.8m and $263.5m worldwide, fired up by a solid $10.4m debut in China in third place, and a $714,000 bow in Argentina in third. Germany and Australia led the holdovers on $2.9m for $6.2m after two weekends, and $1.3m for $7.8m after three, respectively.
Danny Boyle's musical romance Yesterday starring Himesh Patel and Lily James brought in a further $7.7m from 35 to boost the early tally to $20.m, and $56.2m globally. It opened in seven, led by France on $1.3m in fourth place, and Spain on $1m in third. The UK led holdover business in the second session on $2m for $7m and Australia delivered $1.6m for $4.9m. Yesterday opens in Germany this week.
WARNER BROS PICTURES INTERNATIONAL
UPDATED: Annabelle Comes Home brought in a further $20m from 69 international as the tally climbed to $84.3m, and the worldwide running total reached $134.2m. The horror added $2.1m in its send session in Mexico for $12m and ranks third.
Italy led the new markets on a $1.7m number one finish, ranking second in the Conjuring universe behind The Nun, Germany delivered $1.4m in third place, and Hong Kong produced $799,000 in second on par with The Nun and ahead of the other Conjuring titles.
Returning to second weekends, Brazil produced $1.2m in third for $4.2m as the national football team beat Peru 3-1 in the final of the Copa America on Sunday, while Indonesia delivered $961,000 in second place for $7.9m, and Russia $873,000 in second for $4.4m. Malaysia produced $825,000 in second for $3.5m, Australia $815,000 in fifth for $2.6m, and Colombia $740,000 in third for $3.2m. Annabelle Comes Home arrives in France, the UK, and Spain this week, and opens in Japan on September 20.
LIONSGATE INTERNATIONAL
UPDATED: John Wick: Chapter 3 – Parabellum has reached $311m globally after eight weeks of release, and added $1.9m from 69 markets for $146.3m internationally. Leading the way for Keanu Reeves is the UK on $13.4m after eight weekends, Germany on $11.4m after seven, Australia on $10.8m after eight, Russia on $7.6m after eight, and Mexico in $7.4m after eight.
PARAMOUNT PICTURES INTERNATIONAL
Rocketman grossed $1.5m in 44 markets for an $84.7m international running total with Japan to come on August 23. Australia led the holdovers on $390,000 for $13m after six sessions. The Elton John biopic starring Taron Egerton has delivered $28.6m in the UK after seven, $5.3m in Germany after six, and $5.7m in France after six.