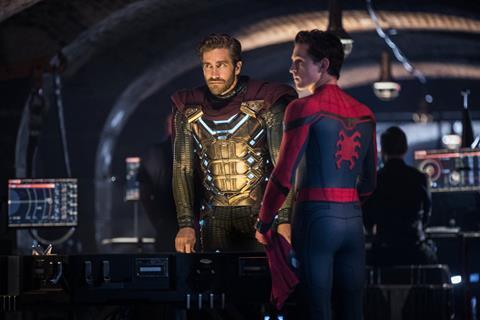 JULY 15 UPDATE: Spider-Man: Far From Home remained atop the Hollywood pile at the weekend and will cross $850m at the global box office on Monday (15), as Sony executives said a confirmed $97.2m international weekend propelled the tally to a franchise record $569.8m.
Disney's Lion King roared in China in a $54.2m three-day bow, while Toy Story 4 used record debuts in Japan and Hong Kong to surge to $427.3m. Universal's The Secret Life Of Pets 2 crossed the $150m international mark and stands at the cusp of $300m worldwide.
SONY PICTURES RELEASING INTERNATIONAL
UPDATED: After last weekend's storming session Spider-Man: Far From Home once again had too much for the competition. The stand-alone superhero smash added an estimated $142.5m worldwide for an estimated $844.3m after 17 days in a much-needed outstanding performance for the studio before The Lion King becomes a major distraction this week, when it builds on its China debut and opens virtually everywhere.
Sony sources noted the Tom Holland tentpole overtook Spider-Man 3's previous international record of $554.3m and, while impressive, the figure is unadjusted for inflation. In real terms, Spider-Man 3 in 2007 remains the highest international performer thus far on $682.8m, while 2002's Spider-Man amassed $595.5m. Far From Home will overtake that mark, and has also just overtaken Tom Holland's first outing in the lead role in predecessor Spider-Man: Homecoming, which finished on an inflation-adjusted $571.2m.
Far From Home is tracking 44% ahead of Homecoming and 10% ahead of Captain Marvel at the same stage of release at current exchange rates, and captured the number one spot in 54 of 67 markets. It debuted at number one in Italy on $6.1m to beat Homecoming's debut by 75% and that of Captain Marvel by 11%.
The tentpole delivered strong holds across Western Europe where it dropped by 42% for $91.3m regional running total, and Latin America, where it declined by 44% for $66.5m. It has amassed $344.5m in Asia, powered by China where a further $9.6m boosted the tally to $192.2m.
Far From Home added $11m in South Korea to reach $49.4m, $5.5m in the UK for $28.3m, $5.1m in Mexico for $24.1m, $4.7m in Brazil for $17.8m, $4.6m in Australia for $19.9m, $4.1m in France for $14.7m, $3.5m in Indonesia for $15.3m, $3.7m in Russia for $16.7m, and $3.6m in Germany for $11.1m. Territory figures are confirmed as of Monday (15), whereas all regional tallies are based on estimates issued on Sunday (14).
WALT DISNEY STUDIOS MOTION PICTURES INTERNATIONAL
UPDATED: The Lion King roared in its first international weekend, earning $54.2m over three days in China and exceeding debuts at current rates by The Jungle Book ($46.5m), Beauty And The Beast ($45.2m), and Aladdin ($18.8m). Social reaction was positive, reflected in a Maoyan score of 8.9 (Beauty And The Beast scored 8.2, The Jungle Book 8.9, and Aladdin 9). Jon Favreau's photo-real animation based opens in North America and the rest of the world this week, with the exception of Japan, Italy, and Hong Kong.
Toy Story 4 used a $49.6m international session from 45 territories to surge to $427.3m, and an estimated $771.1m worldwide. A $15.8m debut in Japan produced the highest Disney Animation-Pixar opening of all-time, and a $4.6m opening in Hong Kong delivered the same accolade there.
The film has become the highest animated release of all time in Latin America, the highest grossing film of all-time in Argentina on $23.2m, and the second highest ever in Mexico on $66.3m behind only Avengers: Endgame. Toy Story 4 ranks as the second highest-grossing film of the year-to-date in the UK on $53.9m, and ranks as the highest ever Disney Animation-Pixar release in the Middle East. China has generated $29m, Brazil $26.4m, Australia $24.1m, South Korea $23m, France $18.7m, and Spain $18m.
Aladdin continued its superb run with $15.6m from 45 territories for $629.7m, rising to an estimated $960.2m worldwide. The film has been outstanding in Asia, where Japan remains by far the lead market on $88.5m, followed by South Korea on $73.8m, China on $53.3m, the UK $44.6m, Mexico $32.4m, Spain $26.1m, Australia $23.6m, Russia $20.7m, and Brazil $20.2m.
Avengers: Endgame stands at an estimated $1.929bn internationally, and $2.781bn worldwide. Fox title Stuber, an action comedy that pairs Dave Bautista with Kumail Nanjiani, earned $2.8m from its first nine territories as it opened day-and-date with North America. The film took $500,000 in Russia, $400,000 in Australia, and $300,000 in the UK.
ASIA UPDATE
Herman Yau's Hong Kong crime saga The White Storm 2: Drug Lords starring Andy Lau and Louis Koo added $33.6m in China as the running total climbed to an excellent $137.9m. The film is the closing night selection of the New York Asian Film Festival on Sunday night (14).
WARNER BROS PICTURES INTERNATIONAL
UPDATED: Annabelle Comes Home grossed $18.5m from 78 markets to reach $113.4m internationally, and $174.2m worldwide. The latest entry in the Conjuring horror franchise opened in third place in the UK on $2.8m, and also arrived in third in France on $2.4m, and debuted in second place in Spain on $1.4m. Lead market Mexico produced a $1.2m third weekend for $14.6m, and Germany a $1.1m second session for $2.8m. The horror opens in Japan on September 20.
Godzilla: King Of The Monsters has climbed to $274.8m internationally, and $383.9m worldwide. China remains the lead market and has reached $135.3m, followed by Japan on $25.3m, Mexico on $10.1m, the UK on $8.8m, and Taiwan on $8.2m.
UNIVERSAL PICTURES INTERNATIONAL
UPDATED: Illumination Entertainment's The Secret Life Of Pets 2 added $15.2m to reach $152.3m from 61 territories, and will cross $300m worldwide imminently after reaching $299.5m. Russia has generated $24.3m after seven weekends, the UK $23.4m after eight, China $18.6m after two, Australia $10.9m after four, and Germany $10.7m after three.
Danny Boyle's musical fantasy romance Yesterday added $7.8m for $32.3m from 42, and stands at $80.6m globally. It opened in Germany in third place on $1.6m, and added $1.3m in its third session in the UK to climb to $10.1m. Australia generated $1.2m in the third weekend for $6.8m, and Spain and France have both produced $2.3m after two weekends.
PARAMOUNT PICTURES INTERNATIONAL
Alex Aja's horror release Crawl, about a woman who encounters alligators in a flooded house while she attempts to rescue her father in a hurricane, opened day-and-date with North America in its first 20 markets, earning $4.8m. Crawl stars Kaya Scodelario and Barry Pepper and debuted in the Middle East on $1.4m, opened second in Malaysia on $1m, and arrived in Indonesia in second on $832,000. It opened in Australia in seventh place on $420,000. Upcoming releases are France on July 24, Mexico on August 9, and the UK and Spain on August 23.