JAN 5 UPDATE: Disney/Lucasfilm's juggernaut added $14.5m internationally on Monday to reach $786.1m and the global haul climbed by $22.5m to $1.536bn.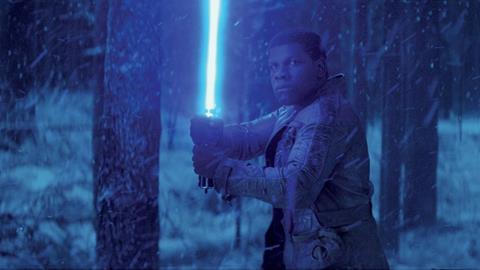 Star Wars: The Force Awakens now ranks as the number four worldwide release of all time and has grossed $146.9m in the UK, $83.3m in Germany, $70.6m in France, $55.7m in Japan, $51.7m in Australia, $28.4m in Spain, $25.4m in Italy, $24.8m in Mexico and $23.2m in South Korea.
Russia has produced $22.8m, Brazil $21.7m, Sweden $15.5m and Poland $13m.
WALT DISNEY STUDIOS MOTION PICTURES INTERNATIONAL
JANUARY 3 REPORT: The mighty run of Disney/Lucasfilm's sci-fi smash continues apace despite a 30% weekend drop that was higher than expected as an estimated $96.3m propelled the international running total to $770.5m.
With China the great unknowable waiting in the wings – the film opens there on January 9 – Star Wars: The Force Awakens combined with the $740.3m North American tally for $1.51bn worldwide.
The film now ranks sixth in the all-time global pantheon after 19 days in release and is on course to overtake Furious 7 on $1.515bn and The Avengers on $1.519bn to rank number four by Monday.
It is also Imax's second biggest global performer on $152m and counting after a $21m session behind Avatar, which reached $150m with China after 47 days. A further $7.7m from 59 territories lifted the international tally to $53.4m.
The Force Awakens is now the second biggest release ever in the UK – only Skyfall has grossed more – and stands at $145m. It also ranks as the all-time number two release in Australia on $50.7m.
Germany has delivered $81.4m, France $67.1m, Japan $52.9m, Spain $27.4m, Italy $24.9m and Mexico $24.5m.
South Korea has generated $23.1m, Russia $22.9m and Brazil $21.2m. The UK, Russia and Japan all generated box office rises at the weekend.
Pixar's The Good Dinosaur added $9.5m from 54 for $129.1m. The family film stands at $18.5m in the UK, $15.5m in France and $12.7m in Mexico.
STAR WARS: THE FORCE AWAKENS (INTERNATIONAL AND WORLWIDE)
Fastest to cross $1bn worldwide (12 days)
Fastest to cross $1.5bn worldwide (19 days)


Biggest worldwide opening weekend $529m


Fastest to cross $100m worldwide on Imax (12 days)
Fastest to cross $150m worldwide on Imax (19 days)


Biggest Imax worldwide debut $48m
Biggest four-day UK debut $50.5m
Biggest three-day debuts in Germany ($27.5m), Australia ($19.6m), Russia ($12.3m), Sweden, Norway, Finland, Austria, Poland
Biggest five-day debut in Denmark
Biggest opening weekends in Romania, Hungary, Bulgaria, Croatia, Ukraine, Iceland, Serbia, New Zealand.
ASIA UPDATE
China's Detective Chinatown added $45m to reach $58m, while Mr. Six added $38m for $92m and Mojin: The Lost Legend continued its remarkable run with a $32m session that boosted the tally to $230m. Ip Man 3 added $5m for $15m.
South Korea's The Himalayas grossed a further $11m via CJ Entertainment as the running total reached $43m.
FOX INTERNATIONAL
JANUARY 5 UPDATE: The Peanuts Movie grossed $16.7m from 44 markets and climbed to $77m. It added $1.8m in Germany for $5.7m and $1.9m in the UK for $10.7m after two weekends.
Alvin & The Chipmunks: The Road Chip grossed $10.5m from 16 to reach $24.5m with 10 of the top 15 markets yet to come. The film opened top in Mexico on $2.5m.
Joy earned $8.9m from 28 for an early $12.8m running total with nine of the top 15 markets still to open. The drama opened in the UK at number three on $2.3m.
DreamWorks' Bridge Of Spies grossed $4.6m from nine for $75.3m.
PARAMOUNT PICTURES INTERNATIONAL
JANUARY 5 UPDATE: Daddy's Home grossed $9.8m from 15 markets as the Will Ferrell-Mark Wahlberg comedy pushed up to an early $22.5m. It opened in Spain on $691,000 and arrived in second place in Peru on $464,000 for the biggest non-local comedy debut in history
The UK delivered $4.3m in the second session as the release climbed to $12m, while Australia produced $2.6m for $7.2m.
The Big Short added $2.3m from nine to stand at an early $4.5m.
LIONSGATE INTERNATIONAL
JANUARY 5 UPDATE: Point Break grossed $6.9m to push the running total to $58.4m. The action thriller debuted in Australia on $1.5m from 371 screens and in Spain on $605,000 from 249 screens. China has generated $38.8m.
The Hunger Games: Mockingjay – Part 2 added $4.6m for $362.2m internationally and stands at $636.4m globally.
The UK has delivered $43.2m, Germany $43m, China $22.3m, Venezuela $21.4m, Australia $20.9m, Mexico $20.1m, France $19.4m, Brazil $17m, Russia $11.8m and Spain $11.7m.
SONY PICTURES RELEASING INTERNATIONAL
JANUARY 5 UPDATE: Spectre earned $5.3m including MGM markets from 53 markets to reach $667.5m and has grossed $70.4m in Germany after nine weekends, $38.8m in France after eight and $21m in Japan after five. The UK remains the leader on $145.1m.
Will Smith starrer Concussion debuted in seven markets including Mexico on $1.5m and the drama grossed $1.6m overall.
Hotel Transylvania 2 stands at $294.6m and Goosebumps $43.4m.
WARNER BROS PICTURE INTERNATIONAL
JANUARY 3 UPDATE: In The Heart Of The Sea added $2.8m from 60 markets for $59.8m and climbed by $650,000 in the second weekend in the UK to $2.8m. Mexico has produced $6.2m, South Korea $5.8m and Russia $4.9m.
Creed has reached $12.4m from 17 countries and stands at $4.9m in Australia and $2m in Japan.
UNIVERSAL PICTURES INTERNATIONAL
JANUARY 5 UPDATE: The Danish Girl ventured into the UK and Portugal, amassing a combined $2.1m. The UK generated $2m in a close contest with Joy for third place.
French comedy Babysitting 2 held firm at number two in its fifth weekend on $2.6m for $18.9m. Legendary and Universal's Krampus added $1.3m from 44 territories for $17.4m, while Steve Jobs used a $1.2m session from 20 to propel the early running total to $9.2m.
Spanish smash Ocho Apellidos Catalanes (Spanish Affairs 2) ranks number three in its seventh weekend in Spain and grossed $1.3m for $35.3m.
Italian comedy Natale Col Boss added $1.3m for $7.8m and ranks sixth after three sessions. Sisters stands at an early $4.3m.