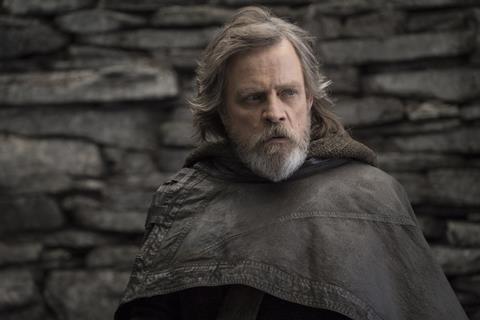 Lucasfilm's Star Wars: The Last Jedi soared past $1bn worldwide through Disney at the weekend, adding $120.4m over the three-day session to overtake Universal's Despicable Me 3 and end 2017 as the third highest release of the year on an estimated $1.040.4bn.
WALT DISNEY STUDIOS MOTION PICTURES INTERNATIONAL
The sci-fi behemoth ranks as the 24th biggest global release in history and executives will look for a sharp climb up the pantheon when it opens this week in China on January 5.
Internationally, the tentpole squeaked past Sony's Jumanji: Welcome To The Jungle to finish as the top film of the weekend after a mere 12% drop on last weekend brought in $68m to reach $523.3m via Walt Disney Studios Motion Pictures International.
A further $52.4m in North America through Buena Vista boosted the tally to $517.1m and propelled The Last Jedi past Disney stablemate Beauty And The Beast to ensure it ends the year as the number one film after three weeks in action.
The eighth entry in the 40-year franchise ranks as the top release of the year in Europe, ranking as the number one title of the year in the UK on $91.5m, Germany on $62m, France on $45.6m, Spain on $19.9m, Sweden on $12.2m, Poland on $10.7m, Denmark on $9.2m, and the Netherlands on $9m,
The Last Jedi has grossed $40.4m in Japan, $35.1m in Australia, where it is the second highest release of 2017 behind Beauty And The Beast, $15.9m in Brazil, $15.8m in Italy, $13.4m in Russia, and $12.1m in Mexico. It finishes 2017 as the biggest release in Belgium, Norway, Switzerland, Hungary, Austria, Croatia, Finland, and Iceland.
The tentpole crossed $100m on IMAX in less than 20 days, making it the second fastest release to reach the milestone behind Star Wars: The Force Awakens, and the eighth in history to cross $100m. It stands at $102m worldwide, of which $41m comes from international and the $61m balance from North America.
Disney-Pixar's Coco added $21.4m for $359m internationally and stands at $537.9m worldwide. Disney-Pixar scored a record Thursday launch in Italy where the animation opened top on $3.4m for the weekend.
The lead two markets remain China and Mexico on $173.3m and $57.7m, respectively. It opens in South Korea on January 11, the UK on January 19, and Japan on March 16.
SONY PICTURES RELEASING INTERNATIONAL
Jumanji: Welcome To The Jungle added $67m in its second session as the international haul climbed to $153m and worldwide settled on $323m after two weekends.
The adventure film starring Dwayne Johnson, Kevin Hart, Jack Black, and Karen Gillan ranks number one in 50 territories and debuted top in Australia on a superb $12.1m including previews, and a Sony record $1.2m launch including previews in South Africa.
Asia produced $36.5m of the weekend business, where debuts delivered $2.9m in India, $2.7m in Taiwan, and $1.9m in Thailand. In Malaysia Jumanji stands at $11.3m after two sessions to rank as Sony's biggest film of all time in the territory.
Latin America has delivered $16.1m and the film arrived in 10 territories – all number one debuts – led by Colombia on $1.3m and Central America on $1.1m. Mexico produced $2.1m in the second weekend for $10m.
The UK delivered $6.7m for $23.6m, France $6.1m for $11.4m, Germany $3.7m for $9.3m, Russia $2.5m for $8.7m, the Netherlands $1.4m for $3.9m, and Spain $1.4m for $6m.
FOX INTERNATIONAL
Fox International finished 2017 on $2.45bn – the ninth consecutive year the company has crossed $2bn in a year and the 11th time overall for a pair of industry records.
The Greatest Showman grossed $28.5m to reach an early $35.2m. The musical opened at number three in the UK on $6.1m, number three in Australia on $5.3m, number two in Mexico on $2.7m, number three in Italy on $2.3m, and number four in Brazil on $1.4m – all including previews. It arrived in Spain at number four on $1.1m, and added $1.4m in South Korea for $5.8m.
Animation Ferdinand added $23m for $71.9m and delivered the best hold in France on $4.3m for $7.5m. The UK generated $1.8m for $8.2m, Germany $1.4m for $3.9m, Italy on $1.2m for $4.9m, and Russia on $1.3m for $4m.
A further $6.7m elevated Murder on The Orient Express to $225.4m. Italy has generated $15.4m after four, Germany $13.5m after eight, Japan $10.3m after four, and France $7.1m after three.
LIONSGATE INTERNATIONAL
Wonder will cross $200m worldwide this week after a $9.6m haul from 71 markets raised the international running total to $75.9m and the global score to $197.5m.
The drama moved back to number one in Brazil where it stands at $16.4m. Australia has delivered $8.3m after five weekends, Italy $6m after three, Mexico $6m after two, and the UK $5.8m after five.
UNIVERSAL PICTURES INTERNATIONAL
Pitch Perfect 3 added $13.1m to reach a relatively early $28.6m, and $97.8m worldwide. The musical opened at number three in Taiwan on $1.6m and added $2.9m in the UK for $11.7m after two weekends, and $1m in Germany for $5.2m after two.
Perfectos Desconocidos grossed another $1m in Spain and climbed to $15.2m, while Happy Death Day has reached $59.5m internationally and $115.2m worldwide.
WARNER BROS PICTURES INTERNATIONAL
DC Entertainment's Justice League used a $1.1m session to boost the tally to $427m internationally and $652.5m worldwide. China is the top market on $104m, then Brazil on $40.2m, Mexico on $24.8m, the UK on $22.6m, and Australia on $14.9m.
PARAMOUNT PICTURES INTERNATIONAL
Daddy's Home 2 stands at $72.3m, while Downsizing has grossed an early $2m and opened in Australia on $1.3m. Tadeo Jones 2 has reached $23.2m.
STX INTERNATIONAL
A Bad Moms Christmas stands at $55.6m internationally and $127.5m worldwide, while action release The Foreigner starring Jackie Chan and Pierce Brosnan has amassed $106.4m internationally and $140.8m globally.