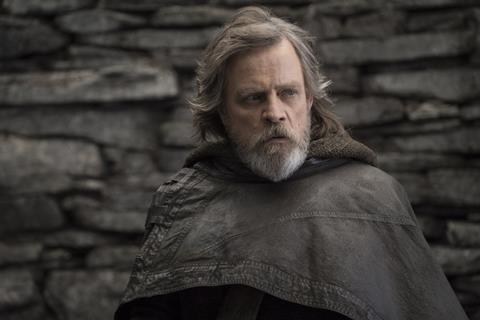 DECEMBER 27 UPDATE: Lucasfilm's Star Wars: The Last Jedi became the second higest release of 2017 in North America on Tuesday and added $52.5m worldwide to stand at $844.2m through Disney.
The blockbuster will soar past $850m worldwide on Wednesday and used a $28.3m haul in North America to pass Warner Bros' Wonder Woman on $412.6m and reach $424m.
Internationally the sci-fi added $24.2m for $420.2m. The UK leads the way on $70.9m, followed by Germany on $45.6m, France on $34.6m, Japan on $30.7m, and Australia on $28.8m. The Last Jedi opens in China on January 5.
Meanwhile Coco crossed $500m worldwide as Tuesday's $8.3m boosted the running total to an even half-billion. International has generated $332.7m as the animation debuted in Italy on Wednesday and heads into Brazil on January 4, South Korea on January 11, and the UK on January 19.
The North American tally is $167.3m and China and Mexico are the lead markets on $167.5m and $57.6m, respectively.
DECEMBER 26 REPORT: Lucasfilm's Star Wars: The Last Jedi is set to cross $800m worldwide on Tuesday (December 26) following another dominant weekend in North America and the international arena.
The sci-fi tentpole and eighth sequential entry in the 40-year franchise added $42.3m worldwide on December 25 to reach $791.6m, of which $396m comes from international markets following a $14.8m Monday haul, and $395.6m hails from North America after $27.5m.
The near 50-50 split is unusual and is in part due to the timing of the film's start in certain international markets where school holidays had not commenced.
Now that children are on holiday everywhere, Walt Disney Studios Motion Pictures International executives can enjoy the weeks ahead and the January 5 launch in China as The Last Jedi marches towards the $1bn global mark.
As things star, Lucasfilm's latest money-maker ranks as the third highest release of 2017 in North America and should overtake Warner Bros' Wonder Woman on $412.6m on Tuesday to finish the year as number two. It has a shot at ending the year as the highest release if it passes Disney's Beauty And The Beast on $504m.
The UK has generated $67.9m and ranks as the top market so far, followed by Germany on $42.6m, France on $31.1m, Japan on $29.6m, Australia on $27.2m, and Spain on $14.7m.
Brazil has produced $12.6m, Russia $12.1m, Italy $11.7m, Mexico $10.5m, Sweden $9.1m, South Korea $7.5m, Poland $7.4m, and Denmark $6.8m.