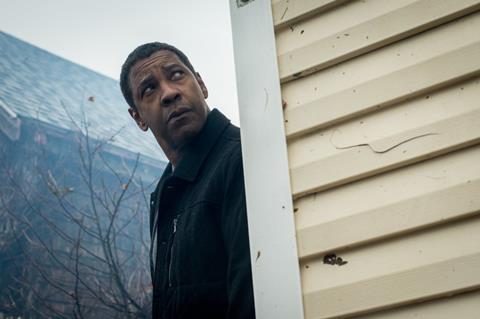 JULY 23 UPDATE: Columbia Pictures' The Equalizer 2 starring Denzel Washington scored a surprise $36m number one debut over Universal's pre-weekend favourite Mamma Mia! Here We Go Again.
Despite landing in second place on a confirmed $34.9m, Mamma Mia! Here We Go Again helped push the studio past the $1bn North American mark for the year-to-date, marking the eighth consecutive year Universal has accomplished the feat.
Denzel Washington stars as the vigilante Robert McCall in The Equalizer 2 and reunites with Antoine Fuqua from the original for the first sequel role of the star's career. Melissa Leo, Pedro Pascal, and Ashton Sanders from Moonlight also star. The film opened in 3,388 theatres.
Mamma Mia! Here We Go Again arrived well enough, delivering $76.8m worldwide and ruling Hollywood in the international market on $42.4m. Comparisons to the original are somewhat specious since that occasion took place 10 years ago. However for the record, the sequel beat the 2008 $27.8m release, which adjusts for inflation to $31.9m. The original finished on $144.1m ($170.9m in real terms) and $609.8m worldwide.
The musical features original cast members Meryl Streep, Amanda Seyfried, Dominic Cooper, Pierce Brosnan, Stellan Skarsgaard, Colin Firth, Christine Baranski, and Julie Walters return alongside new cast members Cher and Lily James. It debuted in 3,317 sites.
In its second weekend, Hotel Transylvania 3: Summer Vacation fell 46.1% and two slots to number three on $23.8m for $91.7m, while Universal's Skyscraper continues its lacklustre North American performance, tumbling 54.4% in its second session and three places to number six on $11.4m for $47.1m.
Ant-Man And The Wasp in fourth place grossed $16.5m for $165m after three. It remains on track to overtake the 2015 original's $180.2m lifetime gross.
Incredibles 2 ranks fifth on $557.7m after six sessions, well over double the 2004 original's $261.4m lifetime gross, which adjusts for inflation to $338.5m.
Unfriended: Dark Web, the thriller from Blumhouse, Bazelevs and Universal, opened at number nine on $3.7m in 1,546 venues via BH Tilt. Lionsgate/Summit opened Sundance comedy drama acquisition Blindspotting at number 21 on $332,500 from 14.
Bleecker Street launched its Alexander McQueen documentary McQueen at number 29 on $96,927 in four sites for a solid $24,718 average, while Magnolia debuted its documentary Generation Wealth at number 39 on $35,834 in four venues.
Top 12 box office combined for $160.9m, up 2.3% on last weekend, and down 8.6% on the comparable session in 2017.
This week's wide releases are: Mission: Impossible – Fallout starring Tom Cruise via Paramount; and Warner Bros' Teen Titans Go! To The Movies.
Confirmed top 10 North America July 20-22, 2018
Film (Dist) / Conf wkd gross / Conf total to date
1 (-) The Equalizer 2 (Columbia Pictures) Sony Pictures Releasing International $36m –
2 (-) Mamma Mia! Here We Go Again! (Universal) Universal Pictures International $34.9m –
3 (1) Hotel Transylvania 3: Summer Vacation (Columbia Pictures) Sony Pictures Releasing International $23.8m $91.7m
4 (2) Ant-Man And The Wasp (Buena Vista) Walt Disney Studios Motion Pictures International $16.5m $165m
5 (4) Incredibles 2 (Buena Vista) Walt Disney Studios Motion Pictures International $11.9m $557.7m
6 (3) Skyscraper (Universal-Legendary) Universal Pictures International $11.4m $47.1m
7 (5) Jurassic World: Fallen Kingdom (Universal) Universal Pictures International $11.3m $384.2m
8 (6) The Purge (Universal) Universal Pictures International $5.1m $60.3m
9 (-) Unfriended: Dark Web (BH Tilt) Universal Pictures International $3.7m –
10 (7) Sorry To Bother You (Annapurna) $2.9m $10.3m