Paramount's animation drops 67% but still beats out unspectacular newcomers In Time and Tower Heist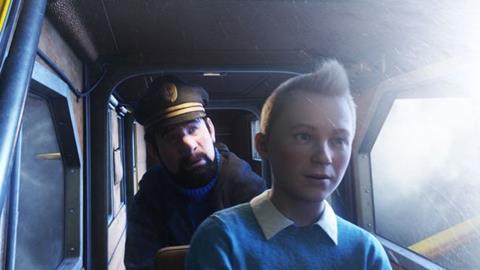 Paramount's The Adventures of Tintin: Secret of The Unicorn held on $3.5m (£2.2m) over its second weekend, enough for top spot in the UK.
Despite dropping 67% (including previews, 37% without), the film is still playing on a week-high 510 sites at $6,908 (£4,312) per screen and a $16.7m (£10.4m) cumulative.
In a weak frame, only three films scored more than $1.6m (£1m), the second best performance coming from Fox thriller In Time which took $3.1m (£1.9m) from 428 screens at a screen average of $5,588 (£3,488). $1.1m (£664,572) came from 379 previews.
While the result is an improvement on director Andrew Niccoll's previous effort Lord of War, the score was a down on both the openings of Justin Timberlake's 2011 comedy efforts Bad Teacher and Friends With Benefits.
Universal's action comedy Tower Heist failed to ignite on debut (as in the US), taking $2.3m (£1.5m) from 416 screens in third, while Johnny English Reborn made it five consecutive weeks among the top five, grossing another $1.3m (£832,068) from 504 locations.
Moderate holdovers for The Help and The Ides Of March pushed them beyond $3.3m (£2.1m) and $2.4m (£1.6m) respectively.
Lionsgate's Machine Gun Preacher was the week's only other newcomer to breach the top 15, gunning $531,168 (£331,578) from 272 screens.
This week sees saturation releases for Sony's big-budget animation Arthur Christmas, two weeks before its US debut, Universal's action-adventure Immortals, Entertainments The Rum Diary and Lionsgate's Trespass.