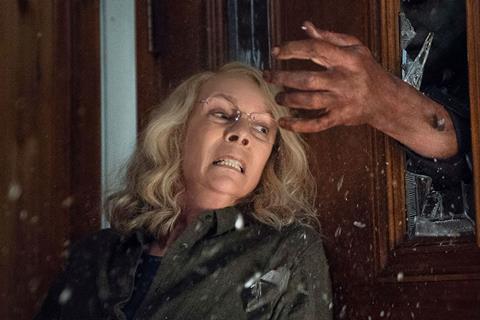 Universal/Blumhouse/Miramax's Halloween reboot launches in a little shy of 4,000 screens in 21 territories day-and-date with North America this weekend in a global launch that could generate upwards of $80m.
The horror starring franchise stalwart Jamie Lee Curtis could land in the $60m-$65m range in North America, and may add a further $20m or higher internationally. Chief among the launches will be the UK and Mexico, where, especially in the case of the latter, horror and genre can deliver spectacular results.
Only recently Warner Bros' The Nun opened in Mexico on a massive $10.4m en route to $22.4m to finish as the film's top international market. New Line's horror film debuted in the UK on $5.3m and went on to gross $14.9m to rank as the third best market after Mexico and Brazil.
Paramount's A Quiet Place opened in Mexico on $2.7m and amassed $7.6m, and arrived in the UK on $3.8m on the way to $16.9m, ending up as the second biggest market outside North America after China.
Russia and Taiwan are the two other obvious big markets this weekend. The Nun opened in Russia on $4.3m and finished on $8.3m, while in Taiwan it generated $3.6m by the end of its run. A Quiet Place grossed $2.1m for $5m in Russia, and $1.1m for $2.4m in Taiwan. Both were among the lead markets.
Universal executives said Curtis flies to Sydney next week as part of a press tour that so far has taken in Paris (talk show C A Vous and a surprise appearance at a fan screening at the Grand Rex), Hamburg (late night screening at Hamburg Film Festival and an appearance at a Social Movie Night screening hosted by YouTube influencers), London (Good Morning Brian and The Graham Norton Show, and Dublin (fan screening, appearance on The Late Late Show).
David Gordon Green directed the latest iteration of the horror franchise that launched with Curtis in John Carpenter's 1978 original.