Resident Evil: Afterlife became only the third film released this year to spend three consecutive weeks at number one on the international chart.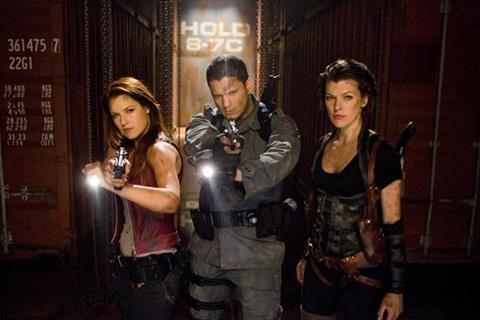 Sony/Summit's action-horror took $25.2m from 6,519 screens for an average of $3,866. The fourth instalment in the franchise has already outgrossed Resident Evil: Extinction, the second best international performer in the series, by $58m, largely thanks to Afterlife's 3-D receipts.
Other films topping the international chart for three consecutive weeks earlier in 2010 are Alice in Wonderland, which managed four weeks in March and Inception, which remained top for five weeks. Avatar previously sets the record with 11 consecutive weeks at number one.
Sony scored a top one-two as romance-comedy Eat Pray Love improved its performance by 297% on last week after opening in UK, Spain, France, Germany, Austria and Switzerland, among other territories.
The Ryan Murphy directed feature took $12.8m from 2,616 screens at an average of $4,925 for $20m. Eat Pray Love opens in Brazil, South Korea, Norway and Sweden this weekend.
Media Asia's action-drama Legend Of The Fist: Return Of Chen Zhen entered the chart in third place, grossing $11.3m from 858 screens at a per-print average of $13,129.
Celebrated Infernal Affairs director Andrew Lau helms the story of a man who infiltrates the local mob in order to find those responsible for ordering his murder years before. Donnie Yen, Qi Shu and Anthony Wong Chau-Sang star.
Warner's Inception continued to do impressive business in its 11th week, grossing a further $9.6m, only a 4% drop in last week's total. The action-thriller is still playing in 53 territories, only two less than Resident Evil, and will cross the $0.5bn mark this weekend, becoming only the third film to do so this year.
Fox's Wall Street sequel Wall Street: Money Never Sleeps debuted in fifth position on the chart, after taking $9.3m from 41 territories.
Warner's crime-drama The Town moved up 15 places to ninth on the chart and improved its performance by 86% despite only playing in six territories. Writer-director Ben Affleck's feature took $4.6m from 896 screens.
Toho newcomers From Me To You and 13 Assassins debuted in 20th and 21st slots respectively, both taking $2.7m in Japan.