Dir/scr: Richard Linklater. US. 2014. 160mins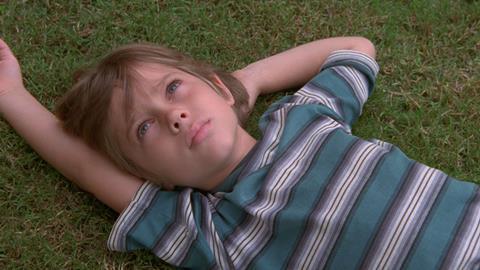 Not just a coming-of-age movie, but the definitive coming-of-age movie, Richard Linklater's 12-years-in-the-making Boyhood follows the travails of a young Texas boy and his family. Filmed sequentially in pieces every year from 2002-2013, the film observes its young actors Ellar Coltrane and Lorelei Linklater (the director's daughter) mature through the years, from wide-eyed children to awkward adolescents, wayward teenagers to young adults.
Boyhood creates a fascinating temporal universe, which transcends the movie viewer's normal relationship to a film.
Falling somewhere between the 7 Up series and Linklater's own tales of teen identity (Dazed and Confused), the result is an intriguing and substantial, but not always compelling experience.
Fans of the filmmaker and those curious about the experiment will be sure to check it out, but the movie's long running time will likely deter theatrical moviegoers. IFC Films, which also produced the film, will handle US distribution, where it's likely to find the majority of its audience on VOD and among cineastes.
Boyhood begins as Mason (Coltrane) and his older sister Samantha (Linklater) are in primary school, living with their single-mom Olivia (Arquette). Their father, Mason, Sr. (Hawke), has returned from 18 months in Alaska with the hope of reconnecting with his kids. After establishing the main characters and their fraught dynamics—Dad's a loser; Mom wants to make it on her own; Mason struggles in school; Sam is spunky and smart—Boyhood fluidly progresses through the years, charting the family's shifts over time.
Linklater avoids any obvious signposts to show their evolution. Rather, he smoothly cuts across the decade, using changes in hairstyle, popular songs, cultural touchstones (Harry Potter, the Iraq War) and technological developments—from PlayStation to Wii, iPods to iPhones—to mark the march of time. Olivia marries and divorces, the family moves around Texas, Mason discovers the opposite sex, gets his heart broken, but Boyhood is less interested in dramatic milestones than the long developmental haul.
Undoubtedly, the best scenes in the film involve Hawke's high-energy performance as their father, a slacker musician who rails against George Bush, takes his kids to a Houston Astros baseball game, and—in one great bit—enthusiastically sings the praises of The Beatles' bootleg Black Album. There are also some genuinely touching little moments between father and son, whether discussing the existence of elves or visiting a swimming hole. Every time he appears on screen, Hawke enlivens the proceedings, and watching his own character evolve from deadbeat Dad to a newly responsible family-man is one of the fringe joys of the film.
Like Linklater's Before series, Boyhood creates a fascinating temporal universe, which transcends the movie viewer's normal relationship to a film. In the same way audiences watch Ethan Hawke and Julie Delpy age with their characters, and remember the previous movies like nostalgic reveries and glimpses of actually lived lives, Boyhood feels real and expansive, because it is. In a beautiful final sequence when we see the 18-year-old Mason sitting atop a mountain, high and smiling, with the future ahead of him, the doughy-faced six-year-old we saw at the beginning of the film immediately comes to mind—along with the expansive journey it took to get there.
Though Boyhood feels long at points, particularly near the end where Mason has fully matured, it's difficult to imagine where Linklater could cut it down. In many ways, the film's epic length is integral to how it functions; to condense 12 years into two-and-a-half hours is fairly compact, as it is. An utterly unique narrative experience, Boyhood may falter at certain points, but the sum of its parts is something to behold.
Production companies: Detour, IFC Productions
International sales: Cinetic Media, www.cineticmedia.com
Producers: Richard Linklater, Cathleen Sutherland
Executive producers: Jonathan Sehring, John Sloss
Cinematography: Lee Daniel, Shane Kelly
Editor: Sandra Adair
Production designer: Rodney Becker
Main cast: Patricia Arquette, Ethan Hawke, Ellar Coltrane, Lorelei Linklater