Disney/Pixar's latest shoots an estimated $8.1m (£5.2m) debut, including previews; Bourne Legacy records second highest opening of franchise.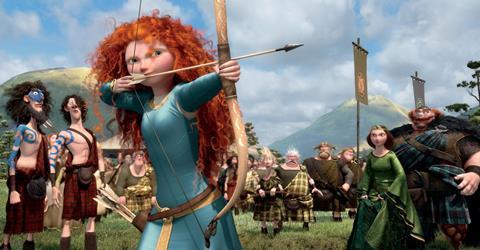 With over $4.7m (£3.0m) taken from its two weeks of regional release in Scotland and Ireland, Brave expanded nationwide this week and grossed a solid estimated $8.1m (£5.2m) to prevent Ted from recording a third straight week at number one.
With its weekend figures arguably affected by the good weather, Disney/Pixar's latest 3D animation was boosted by around $4m (£2.6m) taken on Mon-Thurs, and marks their sixth biggest opening in the UK. Combined with the grosses accumulated over its two weeks of regional release, Brave stands at $13.0m (£8.2m).
Toy Story 3 remains the benchmark for Pixar films in the UK with a sterling $33.3m (£21.2m) debut, also bolstered by four days of previews totalling $15.2m (£9.7m), on its way to a stunning $116.1m (£74.0m).
Nobody would have expected Brave to challenge that result, but with no direct competition opening in the UK for a while - arguably until ParaNorman arrives on Sept 14 - it should enjoy a long run and challenge the likes of Wall-E ($36.0m/£22.9m) and Ratatouille ($38.9m/£24.8m).
The week's second highest new entry belonged to The Bourne Legacy as it shot its way to $7.4m (£4.7m) from 498 sites in second.
Universal's spy thriller, the latest in the popular franchise but the first without leading star Matt Damon, benefitted from $3.9m (£2.5m) taken over Mon-Thurs previews which resulted in the second highest debut of the series, behind The Bourne Ultimatum's $10.3m (£6.6m) from less sites (458) but also with $1.9m (£1.2m) corralled from previews.
Legacy is already hot on the heels of The Bourne Identity's final tally of $12.3m (£7.8m) but will need a sustained run to challenge Ultimatum's series high of $37.7m (£24.0m).
Falling two places to third was Universal's Ted, enjoying a $3.1m (£2.0m) weekend for an impressive $34.5m (£22.0m) haul after three weeks in play.
That total puts it comfortably ahead of American Reunion ($26.4m/£16.8m) as the year's biggest comedy and narrowly behind The Hangover ($34.7m/£22.1m) in the all-time list, with Bridesmaids ($36.2m/£23.0m) and Borat ($38.0m/£24.2m) well within its sights.
Lionsgate's all-action sequel The Expendables 2 charted in fourth with a $3.0m (£1.9m) opening, including one day of previews, from its 451 sites, a result behind its predecessor which recorded a $6.2m (£3.9m) debut in 2010 including $2.8m (£1.8m) in previews.
The Expendables went on to take $16.7m (£10.6m) and dropped 67% in its second week, so the sequel will hope for sturdier hold if it hopes to challenge that total.
Rounding off this week's top five was the climactic instalment of Christopher Nolan's Batman trilogy, The Dark Knight Rises.
Adding $2.2m (£1.4m), Warner Bros.' superhero crime epic now stands at a formidable $77.7m (£49.7m), overhauling The Dark Knight's $76.9m (£49.1m) to become the highest grosser of the trilogy and around £2m off overtaking The Avengers as the year's strongest performer.
For Fox, Diary Of A Wimpy Kid: Dog Days has amassed $8.2m (£5.2m), some £500k off the series high of $9.0m (£5.7m) taken by Diary Of A Wimpy Kid: Rodrick Rules, while Ice Age: Continental Drift stands at $43.2m (£27.5m) after six weeks in play.
Step Up Revolution - Step Up 4: Miami Heat in the UK - added $490,000 (£305,000) in its second week through Universal, for $2.8m (£1.8m).
StudioCanal's Take This Waltz debuted in 12th after taking $110,461 (£70,358) from its 30 sites.
Figures for Entertainment's The Wedding Video were unavailable at the time of writing.
This week sees saturation releases for Lionsgate's Keith Lemon: The Movie, Fox's The Three Stooges (opens Aug 22), Paramount's Shadow Dancer and Fox's The Watch. Picturehouse/Revolver's well-received documentary The Imposter is among the films receiving a limited release.