Dir: John Crowley. UK-Ireland-Canada. 2014. 111mins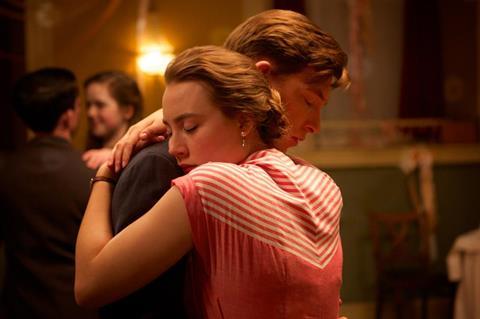 On the eve of journeying to America for the first time, young Irish lass Eilis Lacey (Saoirse Ronan) goes to her small-town dance once last time. As she walks upon the dance floor, director John Crowley (Boy A, Closed Circuit) pushes into a close-up of Ronan: The actress doesn't speak a word, but her bright open face conveys multitudes: Excitement slowly turns to sadness as she realizes this may be the last time she sees her friends and experiences her culture, her music and her family.
Brooklyn is refreshing in one respect: So few migrant tales focus on a female experience.
It's an elegant, encapsulating moment, revealing the central conflict in this romanticized immigrant's tale, of a young woman torn between her homeland and her future. An earnest, wholesome and stirring drama, Brooklyn has all the makings of an indie-film darling. With its combination of humor, heart-tugging and coming-of-age triumph, it could be one of this year's most commercial films to emerge from Sundance.
Eilis lives with her mother and sister Rose in a rural Irish town. All that's about to change when Father Flood (Jim Broadbent), an Irish priest based in Brooklyn, arranges for her to emigrate to New York to seek a better life. Immediately, it becomes apparent that the trip will have its challenges: fresh-faced Eilis gets sick on the boat ride over; at her new department store job, she can't sustain a smile; and most of all, she is ravaged by homesickness, obsessively re-reading a letter she's received from her sister.
When Eilis meets a sweet-faced Italian-American boy named Tony (Emory Cohen) at a Brooklyn dance, she quickly forgets her troubles as she's swept up in the rush of young love. Just as her new life is filled with promise, a sudden tragedy strikes back home and she must return to Ireland. Once there, she finds comfort, solace and another potential love (Domhnall Gleeson)—will she once again abandon it all and return to New York?
Brooklyn balances its melodramatic leanings with several light touches. The Brooklyn boarding house where Eilis lives is full of dashes of comedy, lead by the sharp-tongued woman of the house, Ma Kehoe (Julie Walters) who takes care of her gossip-mongering man-hunting young boarders with a bittersweet touch. ("Giddiness," she declares to her incorrigible ladies, "is the 8th deadliest sin.") A scene in which Eilis visits Tony's Italian-American family, though quick to traffic in racial stereotypes, employs such easy comic devices as a wise-cracking 8-year-old and the challenges of eating pasta without making a mess. And the always-wonderful Jim Broadbent offers affable wit.
Based on a book by Colm Tóibín and adapted for the screen by Oscar-nominated writer Nick Hornby, Brooklyn coasts efficiently along, fulfilling all the expected turning points of a traditional narrative as we watch Eilis go from lows to highs to lows to highs, and eventually blossoming from an Irish naïf into a self-confidant woman. Such rote storytelling won't give Brooklyn an award for boldness, but it makes for a decidedly crowd-pleasing movie experience.
There is also an overriding naivety about Crowley's project: 1950s Brooklyn, lovingly and convincingly recreated by designer François Séguin (The Borgias), looks cleaner than an episode of Mad Men; the harsh racial tensions that existed for immigrants in the city is addressed with a tossed-off joke; and the Italian-American character of Tony is an idealized one-dimensional boy doll.
And yet, Brooklyn is refreshing in one respect: So few migrant tales focus on a female experience. And Saoirse Ronan (The Grand Budapest Hotel) is a dazzling incarnation of female empowerment. Seen in just about every shot of the film, she lights up the screen with her piercing blue eyes and luminous pale skin—a force and a face that elevates the film.
Production companies: Wildgaze Films, Finola Dwyer Productions, Parallel Films, HanWay Films
International sales: HanWay Films, www.hanwayfilms.com
Producers: Finola Dwyer, Amanda Posey
Screenplay: Nick Hornby
Cinematography: Yves Bélanger
Editor: Jake Roberts
Production designer: François Séguin
Music: Michael Brook
Main cast: Saoirse Ronan, Domhnall Gleeson, Emory Cohen, Jim Broadbent, Julie Walters