Titles include London Stories from Hana Makhmalbaf [pictured].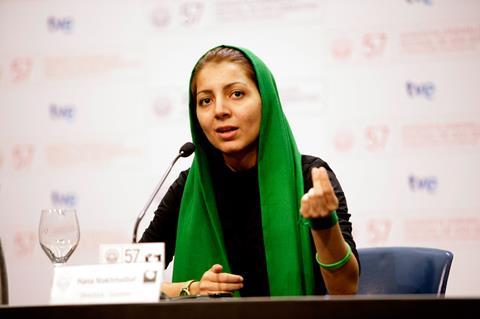 Scroll down for full selection
Busan's Asian Project Market (APM) has announced this year's line-up to include Hana Makhmalbaf's London Stories and Yu Lik Wai's A Mean To An End.
In its 18th year, the co-production market will showcase 30 projects from 15 countries including the UK, China, Vietnam and Iraq.
Up to last year, APM selected a total of 442 projects of which 200 were completed and screened at film festivals around the world.
Organizers noted a rising trend of international co-productions tailored from the pre-production stage, not only between Asian countries but also European and Asian countries.
This year's line-up also includes up-and-coming directors such as 2014 Cannes Un Certain Regard film Titli director Janu Behl with family comedy Agra, a India-France co-production, and 2014 Rotterdam invitee Siti director Eddie Cahyono with The Wasted Land, a story about an Indonesian peasant who is ready to do anything she can to see her daughter on death row one last time.
Korean projects include Breathless director Yang Ik-june's Gabsooni & Soo-ah; Set Me Free director Kim Tae-yong's Brother; and Night Flight director Leesong Hee-il's Swallow.
APM has selected two animation projects this year: the India-France co-production Bombay Rose, a coming-of-age chronicle of love stories told through the eyes of a deaf-mute boy, directed by Gitanjali Rao, and Korean project Ireesha, Daughter Of The Elf King, a romantic comedy set in a fantasy world, directed by Chang Hyung Yun.
APM will run Oct 4-6 at the BEXCO in Busan during the film festival which will run Oct 1-10.
APM 2015 Selection List
Acetylene Love (Philippines)
Dir Adolfo Alix Jr.
Prod Lou Gopez
The Adventure Of Hanmeimei (China-Korea)
Dir Kim Junghan
Prod Ahn Dongkyu
Agra (India-France)
Dir Kanu Behl
Prods Kanu Behl, William Jehannin
Another Day In Baghdad (Iraq-UK-Fra-Ger)
Dir Maysoon Pachachi
Prod Talal Al-Muhanna
Birdshot (Philippines-Qatar)
Dir Mikhail Red
Prod Pamela L. Reyes
Bombay Rose (India-France)
Dir Gitanjali Rao
Prod Clara Mahieu
Brother (Korea)
Dir Kim Tae-yong
Prod Kim Jeong-min
Cha Cha Cha (Vietnam)
Dir Do Quoc Trung
Prods Phan Dang Di, Tran Thi Bich Ngoc
Gabsooni & Soo-ah (Korea)
Dir Yang Ik-june
Prod Kim Joori
Glooming Flower (Korea)
Dir Jeon Gyesoo
Prod Jang Sojung
Ireesha, A Daughter Of The Elf King (Korea)
Dir Chang Hyung Yun
Prod Cho Young-kag
London Stories (UK)
Dir Hana Makhmalbaf
Prod Maysam Makhmalbaf
The Lottery Boy (Vietnam)
Dir Tran Dung Thanh Huy
Prods Nguyen Hoang Diep, Nguyen Trinh Hoan
Manto (India)
Dir Nandita Das
Prod Nandita Das
Marlina The Murderer In Four Acts (Indonesia)
Dir Mouly Surya
Prods Rama Adi, Fauzan Zidni
A Mean To An End (China-France-Hong Kong)
Dir Yu Lik Wai
Prods Yu Lik Wai, Francois Da Silva
No One Else (Japan)
Dir Iguchi Nami
Prod Tanaka Miyuki
Photographer's Boy (Korea)
Dir Jeon Soo-Il
Prods Jeon Soo-Il, Ku Jae-Jun
The Princess Spring (Turkey-France)
Dirs Çağla Zencirci, Guillaume Giovanetti
Prods Çağla Zencirci, Guillaume Giovanetti
Second Breath (Korea)
Dir Min Yongkeun
Prod Shim Hyunwoo
Silent Mist (China-France)
Dir Zhang Miaoyan
Prod Guillaume De Seille
Smoke On The Water (Japan)
Dir Tomina Tetsuya
Prod Hatanaka Mina
Sunrise (Kazakhstan)
Dir Adilkhan Yerzhanov
Prod Olga Khlasheva
Swallow (Korea)
Dir Leesong Hee-il
Prod Kim Ilkwon
The Sweet Requiem (India-UK)
Dirs Ritu Sarin, Tenzing Sonam
Prod Ritu Sarin
Tuition (Singapore)
Dir Lei Yuan Bin
Prod Tan Bee Thiam
Unlosable (Taiwan)
Dir CJ Wang
Prod Michelle Yeh
Venice (Georgia)
Dir Rusudan Chkonia
Prods Rusudan Chkonia, Vladimer Katcharava
The Wasted Land (Indonesia)
Dir Eddie Cahyono
Prods Ifa Isfansyah, Isabelle Glachant
Yellow Apples (Iran)
Dir Shahram Mokri
Prod Mohammad Atebbai