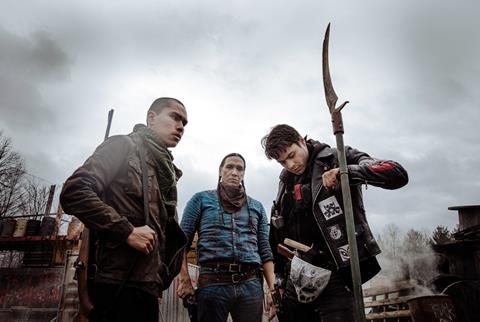 The Canadian film industry is emerging from the pandemic into a brave new world where traditional models for film production and distribution are being re-evaluated and new models are emerging.
The challenges and opportunities presented by that new world - and how to better support Canadian film in it – are the subject of Futureproofing Canadian Film: Working Towards a Sustainable Feature Film Ecosystem, a new report funded by Telefilm Canada and written by Annelise Larson of Saskatoon, Vancouver and Toronto-based digital marketing and strategy company Veria.ca.
The study comes nearly two years after an earlier report by Larson - Thanks Covid! 15 lessons for Film Distribution from the First Wave - that examined how the pandemic affected the distribution of Canadian and international films including the late Jeff Barnaby's horror outing Blood Quantum and French-Canadian drama Le Rire (Laughter).
After that first report, says Elisa Suppa, Telefilm Canada's senior advisor, corporate projects and research, "people wanted the conversation to continue." The follow-up report was intended "to address the anxiety created by the seismic shift caused by Covid-19," Suppa says, and to "highlight some opportunities as well as challenges. The priority is not to make it a defeatist conversation."
The challenges laid out in Futureproofing Canadian Film include the changing habits of digitally savvy audiences; marketplace volatility that has seen studio blockbusters and global streaming companies bouncing back more quickly than independent films and companies; and a combination of increasing costs and stagnating revenues that has put more financial pressure than ever on indies, in Canada and elsewhere.
The opportunities spotlighted include the ability filmmakers and distributors now have to identify and reach their audiences and the continuing economic and cultural importance of film. Canadian features are described as being "foundational" to a screen sector that brought more than C$20bn to the nation's economy in 2020/2021.
There is also opportunity, according to the report, in embracing previously marginalised Canadian filmmakers, in the Bipoc and other communities, and in making more use of financing sources like private equity and corporate brand sponsorship.
"The whole Canadian feature film ecosystem needs to reimagine how each part of the journey of a film is supported," the report suggests, "while also making room for completely new ways of doing business outside traditional public funding sources, content creation and distribution paths."
Community building
Report author Larson says that while every film industry outside the US is facing similar challenges in the wake of the pandemic, Canada's position is complicated by the country's geographic and cultural proximity to the US and Hollywood, a proximity that creates what she describes as "a false equivalency with the American ecosystem."
The service production boom that has recently seen incoming projects – mostly from the US – accounting for more than half of all TV and film production in Canada is "a double -edged sword," Larson argues. Though it allows many Canadian film workers to gain experience and make a living, she says, it also distracts them from developing their own projects and companies.
Canada's generous system of public funding for film, meanwhile, sometimes makes the country's filmmakers forget the importance of understanding the marketplace and taking an audience-led approach, Larson suggests.
"The funding for films hasn't changed enough to meet what we're seeing are the challenges in the system, at least not yet," Larson maintains. "To some extent the challenge you have in a publicly funded system like this is it cushions us from reality. But it doesn't necessarily cushion us from the challenges."
In her report, Larson proposes a handful of 'futureproofing practices' that could help make the independent film ecosystem in Canada more sustainable and better able to support Canadian film in the wider world.
Embracing new technologies - like FAST (free, ad-supported streaming TV) channels, NFTs (non-fungible tokens) and the Letterboxd social network for film fans – is one such practice. And building communities around Canadian films – as Montreal-based Cinema Public has been doing by staging screenings and developing outreach activities – is another.
Creating more Canadian stories and retaining ownership of the intellectual property that results are practices that could give the Canadian industry a bigger stake in its own future, the report suggests.
With one of the most multicultural populations in the western world, Canada's diversity is "part of the secret sauce that we have here," says Larson. Whereas the US often sees itself as a melting pot, in Canada "there's more of a desire for those cultures to enrich us and be celebrated. There's an openness to tapping into those diversified stories and cultural perspectives as a business model."
Retaining IP ownership in the streaming age is never easy for film producers, but the report cites the example of crowdfunded Canadian crime drama Code 8, which was licensed but not sold outright to Netflix. When the streamer acquired global rights to upcoming sequel Code 8: Part II the Canadian filmmakers - Toronto's Collective Pictures and Vancouver's Colony Pictures – were able to retain future exploitation rights to the underlying IP.
Business flexibility
The need for increased flexibility and transparency in the film business is one of the report's primary themes.
On the financing side, suggests Larson, the amount of time it takes to get answers from Canada's public film funding bodies can be a real hindrance to producers. There also needs to be more flexibility, she says, "in the way that financing comes together." Accessing additional sources of finance such as brand sponsorship and private equity "requires the public funding to have much more flexibility, both in terms of timeframe and the way that it plays with other investors."
More data on how films are produced, distributed and consumed would allow filmmakers to make better decisions and act more strategically, the report asserts. And while it can be difficult to access – particularly from transparency-shy streamers – the data is not impossible to find.
The report cites the efforts of US filmmaker Naomi McDougall Jones, who made figures public from the DIY US distribution of her 2019 romantic comedy Bite Me in a series of YouTube videos. She has recently gathered revenue data (through an anonymous online form) from more than one hundred other filmmakers which she plans soon to publish.
McDougall Jones, also an executive producer on this year's Sundance World Cinema section entry Shayda, says that for an independent filmmaker the lack of data "makes it very hard to make good decisions." And, she adds, limited transparency is "a very deliberate move on the part of the streamers because it gives them absolute market control."
Funding films through investors rather than from public sources makes the problem "even harder," McDougall Jones says, "because investors tend to like business plans, and at this point you can't write a business plan that isn't completely made up."
Though the data dearth is one of a number of hard truths that Futureproofing Canadian Film delivers, Larson says the report has been received "really positively" by the Canadian industry.
"People seem to appreciate a really practical point of view," says the study's author. "Facing reality is really important, and as difficult as some of the bits and pieces were in this report we need to know what the reality is to move forward."