The full line-up of world premieres In Competition at the 70th Cannes Film Festival with details on each title including sales contacts.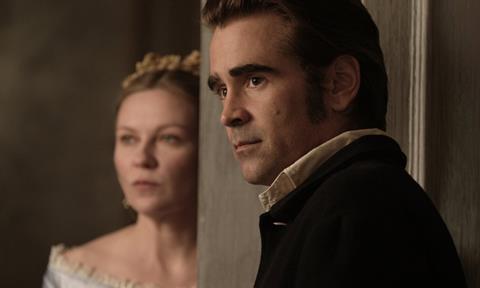 A Gentle Creature (Fr-Rus-Ger-Neth-Lith)
Dir: Sergei Loznitsa
The third narrative feature from Loznitsa, who alternates between fiction and documentary films (the latter including 2014's Maidan), is also the Ukrainian director's third time in Competition following My Joy in 2010 and the Fipresci prize-winning In The Fog in 2012. A Gentle Creature is loosely inspired by the Dostoyevsky story of the same name about the relationship between an executioner and his victim, told from the executioner's point of view. The film is produced by France's Slot Machine with Russia's GP Cinema Company, Germany's LOOKSFilm and the Netherlands' Wild at Art.
Contact Wild Bunch sales@wildbunch.eu
L'Amant Double (Fr-Bel)
Dir: Francois Ozon
For the prolific Ozon's 17th feature in 19 years, he reunites with two of his go-to actors, Marine Vacth (Young And Beautiful) and Jérémie Renier (Criminal Lovers, Potiche), who star in an erotically charged tale of a fragile young woman who moves in with her therapist, only to find he is not what he seems. Riding high on the success of the director's First World War drama Frantz, regular Ozon backers Eric and Nicolas Altmayer of Mandarin Films take production credits, with Belgian outfit Scope Pictures co-producing and Mars handling French distribution. In the past, Ozon has spread his favours fairly evenly across the big three Eurofests, and had more awards kudos in Berlin and Venice. Could this, his third Palme d'Or contender, break his Cannes prize drought?
Contact Films Distribution info@filmsdistribution.com
BPM (Beats Per Minute) (Fr)
Dir: Robin Campillo
Fifty-four-year-old Campillo can boast serious Cannes form as co-writer and editor of Laurent Cantet's 2008 Palme d'Or winner The Class, though the Morocco-born French filmmaker's last film as director, the well-received 2013 rentboy drama Eastern Boys, played in Venice's Horizons section. Campillo makes his Cannes Competition debut with this period film based on his own experience as an Aids activist in the early 1990s. BPM (Beats Per Minute) (120 Battements Par Minute) centres on the direct-action strategies of Act Up, a group targeting pharmaceutical labs withholding potential cures. Adele Haenel (The Unknown Girl) and Argentinian talent Nahuel Pérez Biscayart (Deep In The Woods) headline the cast. Produced, like Eastern Boys, by Les Films de Pierre, BPM will be distributed in France by Memento.
Contact Films Distribution info@filmsdistribution.com
The Beguiled (US, pictured)
Dir: Sofia Coppola
Coppola arrives with her fourth film to play in Cannes and second in Competition, a Civil War potboiler about a wounded Union soldier who stirs up sexual tension at the all-girl's school in Virginia where he takes shelter. Coppola stalwart Kirsten Dunst stars alongside Nicole Kidman, Elle Fanning and Colin Farrell in this second big-screen adaptation of Thomas Cullinan's Southern Gothic novel, originally titled The Painted Devil (Don Siegel directed the 1971 version starring Clint Eastwood). Coppola was previously in Cannes with Un Certain Regard entry The Bling Ring in 2013, Competition selection Marie Antoinette in 2006 and her feature debut The Virgin Suicides in Directors' Fortnight in 1999.
North America contact Focus Features International contact Universal Pictures International
The Day After (S Kor)
Dir: Hong Sangsoo
Hong returns to Competition for the fourth time — after Woman Is The Future Of Man in 2004, Tale Of Cinema in 2005 and In Another Country in 2012 — with The Day After. Kim Minhee, who picked up the Berlinale's best actress Silver Bear in February for her performance in Hong's On The Beach At Night Alone, stars as Areum, a new employee at a small publishing company with a philandering boss. The Day After also features Kwon Haehyo and Kim Saebyuk. Shot in Seoul, the black-and-white film is produced by Hong's Jeonwonsa Film Co.
Contact Finecut cineinfo@finecut.co.kr
Good Time (US)
Dirs: Benny Safdie, Josh Safdie
Having previously brought two films to Directors' Fortnight — The Pleasure Of Being Robbed in 2008 and Go Get Some Rosemary (Daddy Longlegs) in 2009 — the filmmaker brothers step up to Competition for the first time. UK heartthrob Robert Pattinson stars in the crime drama as a bank robber on the run from dangerous criminals on the streets of New York. Jennifer Jason Leigh and Barkhad Abdi also star. Production companies are Elara Pictures and Rhea Films. Encouragingly for the Safdie siblings, Moonlight producer-distributor A24 holds US rights.
Contact Memento Films International sales@memento-films.com
Happy End (Fr-Ger-Aust)
Dir: Michael Haneke
Sure to be one of the Croisette's hottest tickets, Haneke's 12th big-screen project brings together Isabelle Huppert, Jean-Louis Trintignant, Mathieu Kassovitz and Toby Jones with newcomers Fantine Harduin, Franz Rogowski and Laura Verlinden in an exploration of what it means to be oblivious to the suffering of others. Featuring a bourgeois French family living in Calais and set against the backdrop of the refugee crisis, Happy End — likely an ironic title — is produced by France's Les Films du Losange, Germany's X Filme Creative Pool and Austria's Wega Film. Sony Pictures Classics has US rights. If Haneke wins the Palme d'Or, it will be for a record-breaking third time.
Contact Bérénice Vincent, Les Films du Losange b.vincent@filmsdulosange.fr
In The Fade (Ger-Fr)
Dir: Fatih Akin
Turkish-German filmmaker Akin returns to Competition for the first time since The Edge Of Heaven in 2007. In The Fade is a thriller set in Hamburg about a woman who takes revenge for the death of her family in a bomb blast. Germany-born, France-based Diane Kruger stars in her first German-language film. Denis Moschitto, Ulrich Tukur and Numan Acar co-star in the Germany-France co-production between Akin's Bombero International and Warner Bros Film Productions Germany with Macassar Productions, Corazon International and Pathé.
Contact The Match Factory info@matchfactory.de
Jupiter's Moon (Hun-Ger)
Dir: Kornel Mundruczo
Mundruczo promises to bring a magic-realist touch to this film, set in the near-future, which delves into Europe's present social and political upheavals. Jupiter's Moon — which had the working title Superfluous Man — is about a 17-year-old boy who illegally crosses the border into Hungary, is subsequently shot by a police officer and, as result of his injuries, is endowed with the ability to levitate. The film is Mundruczo's fifth feature to screen in Cannes and his third to play in Competition following Delta, which won the Fipresci prize in 2008, and Tender Son in 2010. Joan and White God were selected for Un Certain Regard in 2005 and 2014 respectively, the latter winning the section's main prize. Jupiter's Moon is produced by Hungary's Proton Cinema and Germany's Match Factory Productions.
Contact The Match Factory info@matchfactory.de
The Killing Of A Sacred Deer (UK-US)
Dir: Yorgos Lanthimos
Greek writer-director Lanthimos returns to Competition in Cannes two years after The Lobster bowed to an enthusiastic reception and won the festival's jury prize. Colin Farrell stars opposite Nicole Kidman in a dark tale inspired by a Euripides tragedy. Co-written by regular Lanthimos collaborator Efthymis Filippou, the narrative follows a teenage boy who tries to integrate a charismatic surgeon into his broken family. The film is produced by Element Pictures, the Irish production house behind The Lobster and the Oscar-winning Room.
Contact HanWay Films info@hanwayfilms.com
Loveless (Fr-Rus)
Dir: Andrey Zvyagintsev
Zvyagintsev is an unflinching chronicler of life in modern-day Russia — and beyond — and in Loveless he trains his lens on the casual violence of family life. The film, inspired by Ingmar Bergman's Scenes From A Marriage, is about the disappearance of a 12-year-old boy who is caught in the midst of his parents' bitter divorce. It is Zvyagintsev's fourth feature to screen at Cannes following Competition titles The Banishment in 2007 and Leviathan, which won the best screenplay prize in 2014, and 2011 Un Certain Regard entry Elena. Loveless is produced by Zvyagintsev's regular Russian collaborators Alexander Rodnyansky and Sergey Melkumov, and France's Why Not Productions. It sold out to all major European territories at the European Film Market in February.
Contact Wild Bunch sales@wildbunch.eu
The Meyerowitz Stories: New And Selected (US)
Dir: Noah Baumbach
Remarkably for the director of The Squid And The Whale and Frances Ha, this will be Baumbach's first time on the Croisette. No doubt producer Scott Rudin and worldwide rights-holder Netflix used their heft to secure a Competition berth for this story about adult siblings dealing with their ageing father. Netflix collaborator Adam Sandler stars alongside Ben Stiller, Dustin Hoffman and Emma Thompson. The streaming giant will launch The Meyerowitz Stories worldwide later in the year.
Contact Matt Brodlie, Netflix mbrodlie@netflix.com
Okja (S Kor-US)
Dir: Bong Joon Ho
Bong (The Host) returns to Cannes with Okja, Netflix's first Korean feature production. The film stars Ahn Seo-hyun as a young girl who sets out to save her best friend, a massive animal named Okja, from a powerful multinational company. Also starring Tilda Swinton, Jake Gyllenhaal and Paul Dano, the film shot in New York, Vancouver and South Korea. Okja is a Plan B Entertainment, Lewis Pictures and Kate Street Picture Company production in association with Netflix. The online platform will premiere the film on June 28 in 190 countries, with Next Entertainment World (NEW) to release it theatrically in Korea.
Contact Kiki Yu, Milady Flores, Netflix kyu@netflix.com, miladyf@netflix.com
Radiance (Jap-Fr)
Dir: Naomi Kawase
Kawase returns to Competition for the fifth time with Radiance, which stars Masatoshi Nagase (An) as a photographer with failing eyesight. The acclaimed Japanese filmmaker previously won the Camera d'Or with 1997's Suzaku and the Grand Prix with 2007's The Mourning Forest. Her last Competition title was 2014's Still The Water, while An opened Un Certain Regard in 2015. Like her last two films, Radiance is co-produced by France's Comme des Cinemas and handled worldwide by MK2 Films.
Contact Ola Byszuk, MK2 Films ola.byszuk@mk2.com
Redoubtable (Fr)
Dir: Michel Hazanavicius
Six years after The Artist, Oscar-winner Hazanavicius offers up a different take on one of cinema's golden ages with this tale of the romance between New Wave director Jean-Luc Godard and actress Anne Wiazemsky, who he would marry in 1967 after directing her in La Chinoise. Louis Garrel and Stacy Martin (Nymphomaniac) star in a film dismissed by the real Godard as a "stupid, stupid idea". Hazanavicius and sales company Wild Bunch will hope Redoubtable is given a better reception than his last Competition entry, worthy 2014 war drama The Search.
Contact Wild Bunch sales@wildbunch.eu
Rodin (Fr-Bel)
Dir: Jacques Doillon
Doillon's biopic stars a bushy-bearded Vincent Lindon (best actor at Cannes 2015 for The Measure Of A Man) as moody proto-modernist sculptor Auguste Rodin. The film charts his stormy relationship with fellow artist Camille Claudel (upcoming French actress Izia Higelin), 25 years his junior, who would become his lover, model and co-worker until a messy break-up led, eventually, to her forced confinement in a psychiatric hospital — the subject of Bruno Dumont's 2013 Berlin contender Camille Claudel 1915. This is veteran director Doillon's first Competition foray since he boarded the Croisette with The Pirate in 1984.
Contact Wild Bunch sales@wildbunch.eu
The Square (Swe-Ger-Fr-Den)
Dir: Ruben Ostlund
Cannes was always likely to find a Competition berth for Ostlund's latest after its faux pas of 2014, when the widely feted Force Majeure was relegated to Un Certain Regard. With Magnolia Pictures snaring The Square for US distribution back in September, the only issue was whether this Swedish, Danish and English-language drama, set in the art world, would be ready in time (its last-minute inclusion suggests the answer is 'just'). The story centres on a museum director (Claes Bang) who is about to unveil a show featuring an artist (Dominic West) whose latest installation makes the news thanks to the shock tactics of a PR company. Elisabeth Moss also stars.
Contact Olimpia Pont Cháfer, The Coproduction Office olimpia@coproductionoffice.eu
Wonderstruck (US)
Dir: Todd Haynes
Word of Haynes' latest film was already flitting around the Croisette two years ago when his acclaimed Carol premiered in Competition. Wonderstruck is based on Brian Selznick's children's book of the same name and reunites Haynes with regular producer Christine Vachon of Killer Films and star Julianne Moore. The story jumps generations as a boy in 1977 pines for the father he never knew, while half a century earlier a girl dreams of a mysterious actress. Haynes screened Safe in Directors' Fortnight 1995 and Velvet Goldmine in Competition in 1998. Amazon Studios financed this latest project.
Contact FilmNation nyoffice@filmnation.com
You Were Never Really Here (US-Fr)
Dir: Lynne Ramsay
Joaquin Phoenix leads this thriller about a war veteran's attempt to save a young girl from a sex-trafficking ring. Director Ramsay is something of a Cannes darling, having premiered all four of her features to date at the festival including, most recently, We Need To Talk About Kevin in 2011. The UK's BFI and Film4 supported development of the project, which was produced by Why Not Productions and co-producer Page 114 (the company behind Jacques Audiard's Palme d'Or winner Dheepan). Amazon nabbed US rights at last year's Cannes after a frenzied bidding war that made it one of the market's hottest titles.
Contact Insiders sales@insiders-films.com, Samantha Deshon, Insiders MadRiver samanthad@madriverpics.com
Screen's Cannes guides: