Japan is launching a new promotional initiative designed to boost the global market for Japanese films, TV, manga and other contents – Japan Day Project (JDP) – at this year's Cannes Film Festival.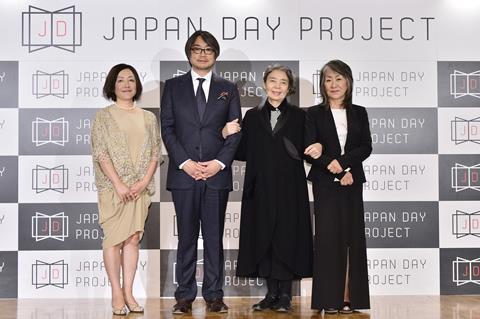 Backed by Japan's Ministry of Economy, Trade and Industr (METI), JDP is hosting a Japan Pavilion at Cannes that will showcase Japanese content, as well as organising a comprehensive programme of seminars, show reel screenings and networking events.
"Our goals are two-fold," said Japan Day Project brand manager Mika Morishita. "First, we will create platforms for Japanese industry professionals to build valuable business partnerships with international counterparts.
"Second, we will bring the best of Japanese culture and entertainment to influential audiences, establishing lasting personal connections between Japan and global consumers."
The seminars programme – New Gateways to the Japanese Industry – features speakers such as casting director Yoko Narahashi, who introduced Ken Watanabe and Rinko Kikuchi to Hollywood, and Paris-based producer Masa Sawada, whose credits include international co-productions such as Naomi Kawase's An and Kiyoshi Kurosawa's Journey To The Shore, which are both screening in Un Certain Regard.
Speakers also include Yuma Terada, co-founder of Cork, Inc, which represents Japanese writers and manga artists, and Metropolitan Filmexport's Samuel Hadida, who adapted Japanese games properties Resident Evil and Silent Hill.
JDP was conceived by writer and producer Kundo Koyama, who created the Iron Chef TV series and scripted Oscar-winning Japanese drama Departures. "Through this project, I would like to convey to the rest of the world that Japan is a treasure chest of culture and entertainment content," Koyama said.
JDP will also attend other major international events including Japan Expo in Paris in July, Taiwan Comic Exhibition in August and MIPCOM in October, before returning to Tokyo later that month.
Japan also has Hirokazu Kore-eda's Our Little Sister screening in Cannes competition and Takashi Miike's Yakuza Apocalypse in Directors' Fortnight. Cannes Classics is screening Mizoguchi Kenji's The Story Of The Last Chrysanthemums, Akira Kurosawa's Ran and Fukasaku Kinji's Battles Without Honor and Humanity.