EXCLUSIVE: Director working with electro-pop composer Igorrr and choreographer Philippe Decouflé. Musical "Jeannette" from "Slack Bay" director will shoot in August.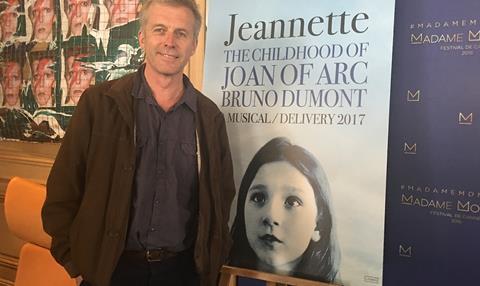 French director Bruno Dumont has revealed first details about his musical film Jeannette exploring French heroine Joan of Arc's spiritual and patriotic awakening as a child, which is due to shoot in northern France this August.
The new film work is based on The Mystery of the Charity of Jeanne d'Arc, a poem by 20th-century poet and essayist Charles Péguy capturing Joan of Arc's humble upbringing and the visions that sparked her decision to join the struggle against the English in the latter stages of the Hundred Years' War.
Speaking at a private presentation to buyers at the Carlton, organised by Paris-based sales company Luxbox, Dumont said the project had been born out of a desire to make a musical film rather than explore the life of Joan of Arc.
"I was like a composer looking for a libretto. I searched French literature for a text which was lyrical rather than wordy," he said.
"In the history of cinema, there have been 15 to 20 films about Joan of Arc. Everyone knows her story in adult life and her end but I don't want to re-visit what's already been done. What hasn't been explored so much is her childhood," said Dumont.
At the heart of the film will be the young girl's transformation from lowly peasant to warrior.
"What interests me is how Jeannette became Joan of Arc and that is what I will focus on, the moment when this little peasant girl has visions and then sets off to war to kick the English out of France," he added.
Joan of Arc grew up in the village of Domremy in the eastern French region of Lorraine but Dumont has decided to transpose the story to his home region of the Nord-Pas-De-Calais, where has he shot most his films.
The director has commissioned a modern, rhythmical score from experimental electro-pop composer Igorrr, also known as Gautier Serre, whose works include My Dear – Maigre and Hallelujah.
French choreographer Philippe Decouflé is also attached to the project produced by Paris-based 3 Productions with the backing of Arte.
There will be roles for Joan of Arc at the age of seven-years-old and then 14 years old, a best-friend and family members as well as Michael the Archangel, Saint Catherine and Saint Margaret, who according to legend appeared as visions to the heroine.
Dumont is casting amateur actors out of the Nord-Pas-De-Calais region. As part of the process, he has been running workshops at which the participants compose and sing their own works based on extracts of Péguy's poem.
Recordings of these sessions have then been forwarded on to Igorrr's to act as the foundation of his score. Dumont said he was keen for the music in the film to be modern and have an energy that would connect with younger generations.
"I want it to be rhythmical and modern even if the source material is from the Middle Ages. Watching the film should be a bit like going to a concert," said Dumont, joking. "I want theatres owners to take out the seats."