Weerasethakul, Davies and Van Dormael also rumoured to be headed to parallel section.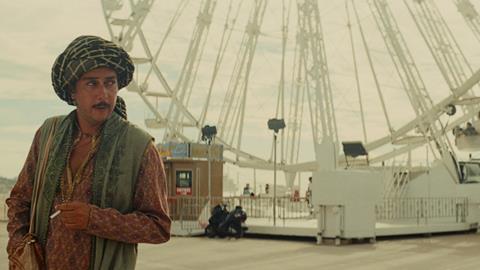 Portuguese filmmaker Miguel Gomes' Arabian Nights, a contemporary re-telling of One Thousand and One Nights, is set to premiere in Directors' Fortnight, a parallel section of the Cannes Film Festival (May 13-24).
"Arabian Nights, the film - or, even better, the three miraculous films - by Miguel Gomes, will be premiering at the Directors' Fortnight," said Directors' Fortnight artistic director Edouard Waintrop.
"The breathtaking triptych is inspired by the tales told by Scheherazade and by some events that occurred in Portugal between 2013 and 2014, while the country was subjected to a political power denying all forms of social justice. It will set the pace of our program. Each film, directed with a wild fantasy and a great freedom, will have its day."
Set against the background of the economic crisis in Portugal, a contemporary Scheherazade paints a picture of the country's woes, across three episodes: Volume 1, The Restless One; Volume 2, The Desolate One; and Volume 3, The Enchanted One.
Different mix
It looks set to be a topsy-turvy Cannes this year.
While Thierry Fremaux has sought to include new faces and Competition debutantes in Official Selection, Gomes is the third established filmmaker to be confirmed for Directors' Fortnight. He was last in Cannes as the jury head of Critics' Week in 2013.
Last week, it was announced that In the Shadow of Women by Directors' Fortnight habitué Philippe Garrel would open the section and Arnaud Desplechin's My Golden Days (Trois souvenirs de ma jeunesse) would also premiere there.
The exclusion of five-time Palme d'Or nominee Desplechin from Competition in Official Selection has prompted surprise in industry and journalist circles in France.
Other well-known auteurs rumoured to be on route for Directors' Fortnight rather than Official Selection include 2010 Palme d'Or winner Apichatpong Weerasethakul's Love in Khon Kaen, Terence Davies Sunset Song and Jaco Van Dormael's The Brand New Testament.
Space for upcoming filmmakers?
The non-competitive Directors' Fortnight, founded in the wake of the student protests of 1968 and in opposition to the Cannes Film Festival's Official Selection, has traditionally been the home of upcoming directors and quirkier fare.
Nagisa Oshima, Martin Scorsese, Otar Iosseliani and Ben Wheatley all made their Cannes debuts in the sidebar.
The expected inclusion of so many top names in Directors' Fortnight is now prompting concern in some quarters that newer names will not get a chance to premiere in the parallel selection.
The Directors' Fortnight line-up is set to unveiled in Paris tomorrow (April 21).
In the meantime, festival chief Thierry Fremaux also has up to another dozen films to announce for Official Selection in the coming days.