In a Cannes year where women (from their shoes to their films) have been making headlines, the Norwegians and Swedes are quietly celebrating some big gains in gender equality in their film industries.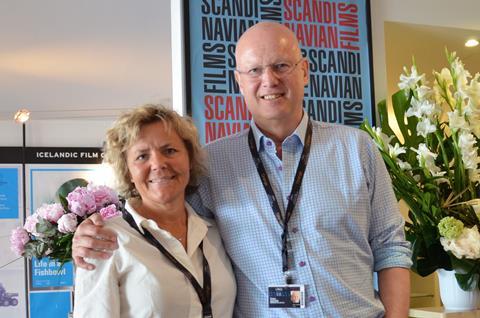 In Norway, the key staff (director, screenwriter, producer) of feature fictional films in 2014 was 53.9%. The figure is the highest percentage of women ever recorded, up a great deal from 27% in 2010.
In documentaries, the percentages was 34.4% and in short films a whopping 61.3%
In Sweden, proportion of feature length, commissioner-approved fiction films in 2014 with a woman as a director hit 50% for the first time, with 61% as screenwriter and 69% as producer. But for fiction features qualifying for automatic funding, the stats were only 17% female directors, 33% for screenwriters and 42% producers. Stats for female directors of feature documentaries were 47%, 42% for short fiction and 55% for short documentaries.
Anna Serner, CEO of The Swedish Film Institute, told Screen, "We've had our eyes on it all the time, monitoring it and raising awareness with our colleagues." The Swedish Film Institute came up with an action plan three years ago, including points such as making women in film more visible, working with educational opportunities, and tracking decisions one by one not just annually. Werner said, "You have to be clear with the industry, you need a leader to say, this is important. As Salma Hayek said in Cannes, money talks."
She noted that funding decisions made by commissioners rather than committees helped redress the balance. "It's harder when there are committees, you can hide behind each others' backs. But it's a lot of pressure on the commissioners, so we need to support them."
In Norway, gender equality has been important in government and corporate society (with a female prime minister and female members on all major corporate boards). Sindre Guldvog, CEO The Norwegian Film Institute, says, "But in the film industry the situation was not so good in the first part of the 2000s. We published a white paper in 2007 that said the goal was at least 40% [female] in leading positions on films…Since then we have discussed this every year and cooperated with industry, and with the film schools. Gradually results have been made stone by stone….Now we're not looking for 40% we're aiming for equality."
Despite the encouraging statistics, Serner warns that real change need to be evaluated over several years, as small production levels mean one or two films can skew the numbers in any given year.
And of course it's about films not just numbers. "We have heard the male perspective," Serner continued. "The main goal is showing all perspectives from all voices. There are so many stories we haven't heard yet."
Guldvog added: "The first and foremost goal is quality. And that's quality you only get when you have a diverse film market."
He said, "We both for one year reached this 50% target. Now it's important to keep the focus on this issue."
Serner said Cannes, and the wider industry, can do more for gender equality in future. "Cannes can obviously do more, women are only 12% of this year's selection. But it's not only Cannes. And it's not only women — men have to be involved. It's so important they understanddand they need to partner."
Guldvog agreed, "It's not either/or. It's about men and women joining forces."