BoostNL will aim to increase support for Dutch features and international co-pros presented at the two festivals.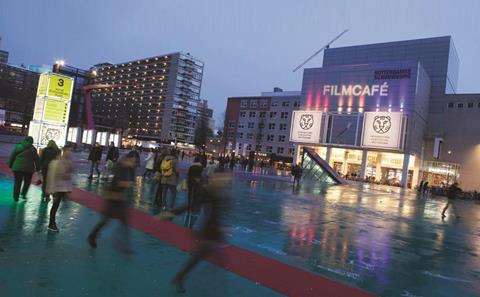 Two of the Netherlands' major festivals, International Film Festival Rotterdam (IFFR) and Netherlands Film Festival, have launched a new co-production initiative together.
BoostNL is a partnership between the co-production events at the two festivals, CineMart and the Holland Film Meeting (HFM).
The collaboration will maximise market support for international feature projects that have already been presented at CineMart or supported by the Hubert Bals Fund, and for Dutch feature projects currently in development.
BoostNL targets projects that are already recognised for their potential and quality.
Throughout the new initiative, project participants will benefit from ongoing support and guidance, whether in terms of business planning or creative decision-making, and participants will be encouraged to incorporate inspired feedback into their project.
One-on-one sessions with key international mentors will deliver bespoke festival, sales and marketing strategies that will support the project through all stages of development, from advanced script to post-production stage to marketing and distribution.
The selection of international projects will be announced at the end of June, while the Dutch projects will be announced by the end of July/early August.
Three stages
The programme, co-managed by CineMart's Marit van den Elshout and HFM's Vanja Kaludjercic, will run in three stages, kicking off at the Holland Film Meeting 2016 (Sept 22-25).
A follow-up session is scheduled for October/November and the third stage will take place during CineMart in late January 2017.
"What we have not been doing well enough and what we are now going to be doing is talent development - but in a more structured way," IFFR director Bero Beyer told Screen, talking about the new alliance between the two festivals.
Beyer said the "door was wide open" for further collaborations in a similar vein. "This idea of partnering up is so logical that it should be logical for others as well."
Join forces
"The Holland Film Meeting and CineMart have always been friendly partners, but we are very glad to join forces in a more structured way," added CineMart's Elshout.
"By doing so we will be able to offer a lot more services to projects that have already proven their quality. We are doing more for less in an overcrowded project market landscape."
Kaludjercic, the newly appointed head of HFM, said: "Every year some 20 international projects are selected for the HFM whose mission is to stimulate the production and funding of independent cinema.
"Dutch and international producers are becoming increasingly involved in high quality co-productions. What we are offering through this new and exciting collaboration with CineMart is more elaborate, longer-running support that will prove invaluable to the chosen projects."