EXCLUSIVE: Finance secured for Thai boxing feature starring Joe Cole; first-look image.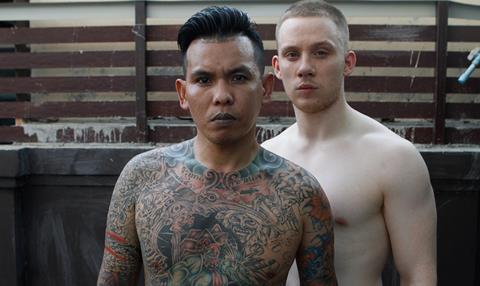 Chinese financier Meridian Entertainment, through its production deal with James Schamus' Symbolic Exchange, has boarded finance on action film A Prayer Before Dawn, starring rising actor Joe Cole (Peaky Blinders, Green Room).
Principal photography got underway in Thailand last week on the sophomore feature from director Jean-Stéphane Sauvaire, whose debut Johnny Mad Dog premiered in Un Certain Regard in 2008.
Former Wild Bunch exec Rita Dagher (Soy Nero), Sol Papadopoulos and Roy Boulter (Sunset Song) and Nicholas Simon are producing. HanWay handles international sales, CAA reps the US.
Former Focus CEO Schamus (Brokeback Mountain) will executive produce with Meridian's Jennifer Dong and Woody Mu, along with Hanway's Thorsten Schmuacher. Writer is Jonathan Hirschbein (Bad Country), based on a prior draft by Nick Saltrese.
Cole will star as Billy Moore, whose autobiography is the basis for the film, which tells the story of Moore's incarceration in a notorious Thai prison.
Behind bars, Moore discovered the art of Muay Thai boxing, joining other imprisoned fighters as they trained for and fought in lethal prison-sponsored matches.
"Jean-Stéphane Sauvaire is a director of astonishing vision and originality, and in Joe Cole he has found an actor of uncompromising fearlessness with whom to partner," said Schamus.
"With an extraordinary Thai cast and crew, they are bringing to life an utterly cinematic story."
Schamus' Symbolic Exchange has a first-look and financing deal with Meridian and the two recently announced their first project together, Kitty Green's feature documentary Casting JonBenet.
Meridian's Chinese investments include Chinese box office hits Running Man and Mojin: The Lost Legend.
Schamus's directorial debut Indignation will open in July.