European Commissioner spoke with the film industry in Cannes.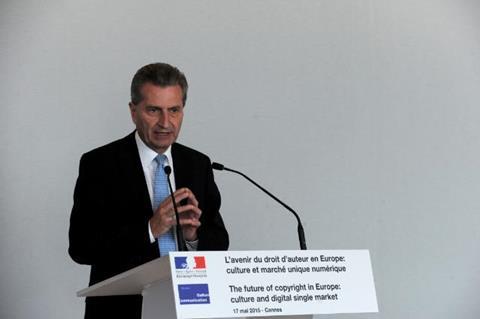 The debate on the European Commission's Digital Single Market (DSM) strategy moved from Brussels to Cannes on Sunday (May 17), with the arrival of Gunther Oettinger on the Croisette.
The European Commissioner for Digital Economy and Society flew to the South of France for a whirlwind schedule of meetings with European directors and producers, most of them eager to convey their anxieties over his plans for a DSM and related changes to copyright law.
Speaking at a conference on culture and the DSM, organised by the French Ministry of Culture and Communication, Oettinger warned Europe risked being left behind if it did not find a way to unify its digital markets.
"It's Google, it's Amazon and Microsoft, which will be taking the decisions, with a clearly American strategy, the aim being to dominate Europe," he said.
"The Americans, the South Koreans have a greater digital superiority compared to us and we need to position ourselves to be on a equal footing with the rest of the world. We need more digital sovereignty in Europe, more digital authority."
Oettinger's trip to Cannes followed the recent publication of the European Commission's strategy for a DSM – which he co-drafted – on May 6.
It sounded alarm bells within the European film industry over proposed changes to copyright and the liberalisation of territoriality rules, which currently underpin the funding of creativity in the region.
In addition, many parts of the industry say it does not do enough to address the really key issues of piracy and the unequal production and fiscal obligations for operators, domiciled in and outside of the region.
Oettinger's speech on Sunday, however, suggested the commissioner is softening his stance vis-à-vis cinema.
He revealed that there were three sectors that could be granted "exception" status within the DSM: sport, broadcasting and cinema.
"I am quite convinced that portability on the one hand and maintaining a degree of territoriality on the other are necessary if we want to preserve cultural diversity in cinema in Europe," said Oettinger. "All I ask is that we don't forbid everything digital natives do."
Later on Sunday, he also attended a press meeting alongside Oscar-winning French director Michel Hazanavicius at which they outlined additional plans to explore how to tackle piracy and fiscal inequality within the audiovisual sector.
Oettinger said he wanted to reconvene with the European film industry in October for further discussions on the DSM strategy.
Mixed reaction
There was a mixed reaction from conference speakers and attendees which included filmmakers Lynne Ramsay and Volker Schlondorff, writer Douglas Kennedy, Arte president Véronique Cayla, Wild Bunch co-founder Vincent Grimond and Italian producer Marco Chimenz.
The latter, who is vice-president of the European Producers Club, grouping hundreds of independent producers, said the organisation was setting up a working group to respond to the proposals.
"We're all very worried by what we heard recently. We're setting up a working group and will reply to your proposals in the next few weeks. We're going to prove to you in an undeniable way that territoriality and justified geo-blocking are necessary," said Chimenz.
Schlöndorff said Europe's long-honed co-production system would "crumble" with the introduction of a DSM.
Polish director and producer Dariusz Jablonski concurred, saying that films like Pawel Pawlikowski's Oscar-winning Ida would never have been made.
"It was financed thanks to slices of finance, territory by territory. Poland, Denmark and UK and other distributors financed it for small amounts and then distributed it. Without territorialisation and geo-blocking this film would not exist. Its success shows films can travel," he said.
He said the real reasons the business model for film and TV in the digital age was not working were piracy and the unfair fiscal advantages enjoyed by US digital players domiciled in tax havens.
"I've heard some members of the Commission like to compare films to cars… but if we see someone stealing a car on the street we don't say he is facilitating access to transportation — we need a European anti-piracy act, not aimed at individuals but rather providers," she said.
Composer Max Richter, whose recent credits include Testament of Youth and Into the Forest, digital distribution was great for disseminating work but its economics rarely worked for the artist.
He revealed he had calculated his work would have to be downloaded 4.2 million times a month online for him to make a sum of money approaching a minimum wage.
Wild Bunch president Vincent Grimond said another issue holding back European digitally, was the lack of big multi-territory players offering an alternative to Netflix.
"What's really missing, terribly, are European distributors who are capable of handling several territories. Today, if I want to sell a series for TV across several territories… my only interlocutor is Netflix. If I want to distribute a film across several territories, the only interlocutors are the US studios… there is an enormous hole… it's incredible that a country like France which its cultural industry know-how and excellence has not proven capable of creating a real transnational media company," he said.
Peter Dinges, president of the European Film Agency Directors (EFAD), said the proposals sounded the death knell for European creativity.
"There is no need to touch territorialisation… if you do and there is no remuneration… there will be no composers, no authors or directors," he said. "European culture will consist of cats and dogs videos and this is not acceptable."